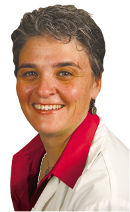 Michelle J. Sherman, R.Ph., A.A.H.I.V.P.
Michelle J. Sherman is a nationally recognized HIV specialist pharmacist practicing in Orange County, Calif. Sherman obtained her bachelor's degree in pharmacy from the University of the Witwatersrand School of Pharmacy, Johannesburg, South Africa. She moved to California in 1987 and has been involved in the HIV/AIDS community for over 20 years. Sherman has also completed the American Society of Consultant Pharmacists' HIV/AIDS Pharmacotherapy Traineeship, and is a CHEK Holistic Lifestyle Coach III and Certified Metabolic Typing Advisor l. She is also credentialed by the American Academy of HIV Medicine as an HIV Expert.
With the vision to create a holistic global community for people impacted by HIV/AIDS, Sherman founded MichRx Pharmacist Consulting Services, Inc., in 2005. MichRx Pharmacist Consulting Services, Inc., is a top provider of innovative services and solutions for people living with HIV/AIDS, HIV/AIDS caregivers and service providers. The mission of the company is to promote well-being through comprehensive pharmaceutical care, diet, exercise and emotional well-being. The company is committed to providing cutting-edge, quality educational programs and consultation services to physicians, nurses, case managers, pharmacists, corporations, associations, clinics, government agencies, community service providers, and people living with HIV/AIDS. Sherman's global portal to helping HIV-infected clients and caregivers is through https://www.facebook.com/michrxfans.
Sherman's professional affiliations and community service are extensive. She has been a volunteer at Shanti Orange County for over 18 years. She is a speaker, presenter and facilitator at numerous HIV conferences and continuing education programs. She is a past chair and current member of the City of Laguna Beach HIV Advisory Committee and an appointee to the California AIDS Drug Assistance Program Medical Advisory Committee. She is also an adjunct assistant professor of pharmacy practice at University of Southern California School of Pharmacy; assistant clinical professor of pharmacy at University of California San Francisco School of Pharmacy; and assistant clinical professor in the University of California Irvine College of Medicine Volunteer Faculty. Sherman is also a faculty member on "Ask the Doc" at AEGiS.
Sherman has also participated in four California AIDS rides, two as a rider and two as a member of the medical crew, and has been a roadie on the AIDS Life/Cycle.
Disclosures
Michelle J. Sherman, R.Ph., A.A.H.I.V.P., serves on speakers bureaus for Gilead Sciences Inc., ViiV Healthcare and Abbott Laboratories, now known as AbbVie.