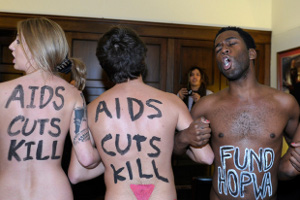 Image courtesy of queerocracy.org.
Yesterday we discussed how the federal deal only delays the impending Sequestration cuts, which have now been effectively postponed until March.
While many Congressional members may be breathing a sigh of relief, preemptively patting themselves on the back, those of us steeped in HIV/AIDS programs, services, and advocacy are still facing the same uphill fight over a potential $538 million in cuts. And unless Congress and the POTUS can come to a new agreement about which programs and services will be placed on the federal spending chopping block -- a feat which seems impossible given the acrimonious and stymieing history between the two -- these automatic cuts will come to fruition in two months, and we will again see how budgets are balanced on the back of the country's most vulnerable, namely the homeless, communities of color, and people living with HIV/AIDS.
Some of you wrote in yesterday, wanting to know how this $538 million in domestic HIV/AIDS funding is broken down, and so here is a cursory breakdown of the automatic cuts that we may see come March.
The CDC HIV Prevention program, which researches prevention strategy outcomes and provides materials, support, and technical assistance to AIDS service organizations, among other valuable services, is projected to lose $64 million
+
The Ryan White HIV/AIDS program, which provides care to low-income individuals living with HIV/AIDS will lose an astounding $196 million
+
The AIDS Drug Assistance Program, which has seen an a huge decrease in the number of people on the national ADAP waitlist, thanks to an increase in funding from President Obama, will lose a disheartening $77 million. Some experts predict that this decrease in funding may lead to 12,000 new people being placed on the national ADAP waitlist
+
The Housing Opportunities for People with AIDS (HOPWA), which delivers housing and related services to nearly 80,000 households, is set to lose $27 million
+
The National Institute of Health's AIDS Research program, which works on vaccines, medications, and behavioral interventions, will lose $251 million in funding
_________________
A cool $615 million is projected to be cut from domestic HIV/AIDS services and programs. In more tangible terms, Harbor Health Advocacy projects that under these cuts, the States' capacity to meet the needs of PLWA will be devastatingly reduced. Massachusetts, for example, will lose $573,043 in HIV prevention grants and perform 14,326 fewer HIV tests.
Additionally, PEPFAR (the President's Emergency Plan for AIDS Relief) and U.S. contributions to the Global Fund to Fight AIDS (for 2012, so far the U.S. has paid $837 million of the total $1.3 billion we have pledged).
While these cuts are not guaranteed, people living with HIV/AIDS, AIDS advocates and activists will certainly have a fight on their hands should new avenues or agreements fail to be reached.
Tell us how these cuts will affect you and your loved ones, and share on Facebook or Twitter.
Comment by: Richard
(Dallas, Texas) Fri., Jan. 4, 2013 at 4:33 pm UTC
The HIV/AIDS rate in Dallas is STAGGERING. Programs like Ryan White help not only me, but many people LIVE. Even though I work EVERY DAY, I simply cannont afford the $1,500 monthly cost for my ONE medication
Without programs like the ones threatening to be cut, many productive members of society , and good people would die and new infections would skyrocket.
It is simply unacceptable that a nation would turn it's back on a group of people that have literally no other option, aside from death.