Driving Down New HIV Infections: CDC's High-Impact Prevention Approach
Although persisting at far too high a level, HIV incidence has been reduced by more than two-thirds since the height of the U.S. HIV epidemic, and HIV prevention efforts are estimated to have averted more than 350,000 HIV infections in the United States to date.5 Additionally, despite continued increases in the number of people living with HIV over the past decade,6 new HIV infections have not increased, indicating that HIV testing, prevention, and treatment programs are effectively reducing the rate of transmission overall. New data indicating a decrease in HIV infections among black women need to be viewed cautiously and substantiated by additional years of data, but raise the hope that intensified education, prevention, and testing activities in this community may be producing meaningful results. At the same time, it is critical to reverse persistent racial disparities in HIV infection and increases in incidence among young men who have sex with men.
To achieve the goal of an AIDS-free generation in the United States, renewed energy and bold commitment are needed at all levels to drive down new infections. HIV incidence estimates provide important information about the course of the epidemic, which helps guide HIV prevention efforts. Through High-Impact Prevention, CDC is pursuing a new approach that focuses on implementing the most cost-effective and scalable interventions in the geographic areas and populations most heavily affected by HIV (see www.cdc.gov/hiv/strategy/hihp/report/index.htm). CDC's efforts are focused in five main areas: supporting prevention programs through $415 million in current funding to health departments and community-based organizations; tracking the epidemic through comprehensive national surveillance systems; supporting HIV prevention research to develop new biomedical and behavioral prevention strategies; raising awareness through efforts like the "Act Against AIDS" communications campaign, which works to ensure that all Americans know the facts about HIV, are aware of their HIV status, and understand how to protect themselves; and supporting structural interventions by working with federal agencies and funding states and community organizations to address the structural barriers to HIV prevention.
In addition to CDC's efforts, ongoing and expanded involvement on the part of African American, Latino, gay, and other community leaders is needed to help achieve broader action to stop the spread of HIV. And all individuals can learn the facts about HIV, get tested, and take action to protect themselves and their partners.
Figure 7: HIV Prevalence and Incidence, 1980-2010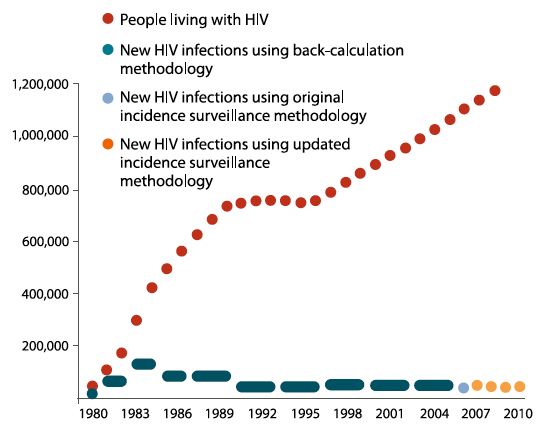 HIV: Protect Yourself
Be smart about HIV. Here's what you can do to reduce your risk of infection:
Get the facts -- Arm yourself with basic information: Are you at risk? How is HIV spread? How can you protect yourself? (See www.cdc.gov/hiv/topics/basic.)
Take control -- You have the facts; now protect yourself and your loved ones. Effective strategies for reducing HIV risk include:
Abstinence: The most reliable way to avoid infection is to abstain from sex (i.e., anal, vaginal or oral).
Mutual monogamy: Mutual monogamy means that you agree to be sexually active with only one person, who has agreed to be sexually active only with you. Being in a long-term mutually monogamous relationship with an uninfected partner is one of the most reliable ways to avoid HIV infection.
Reduced number of sex partners: Reducing your number of sex partners can decrease your risk for HIV. It is still important that you get tested for HIV, and share your test results with your partner.
Condoms: Correct and consistent use of the male latex condom is highly effective in reducing HIV transmission. Use a condom every time you have anal, vaginal or oral sex.
New, sterile needles: HIV can be transmitted by injecting drugs through needles, syringes and other works if they are contaminated with the blood of someone who is HIV infected. It is vital that individuals who inject drugs use only new, sterile needles, syringes and other works -- and never share them.
Put yourself to the test -- Knowing your HIV status is a critical step toward stopping HIV transmission, because if you know you are infected, you can take steps to protect your partners. Also, if you are infected, the sooner you find out, the sooner you can receive life-extending treatment. In fact, CDC recommends that all adults and adolescents be tested at least once in their lifetime and those individuals who practice more risky behaviors be tested more frequently. Call 1-800-CDC-INFO or visit to find HIV and STD testing locations near you.
Start talking -- Talk to everyone you know about HIV -- friends and family, coworkers and neighbors, at work and at places of worship. Have ongoing and open discussions with your partners about HIV testing and risk behaviors. Talking openly about HIV can reduce the stigma that keeps too many from seeking testing, prevention and treatment services, and the support they need.
HIV does not have to become part of your life. Each of us can and must be part of the solution.
HIV/AIDS Information and Resources

* Available at www.cdc.gov/hiv/topics/surveillance/resources/reports/#supplemental.
** A four-year period (2007-2010) was chosen for this analysis, to maximize the number of HIV surveillance areas contributing data. However, four-year trends can be influenced by short-term changes in data, and should be interpreted within the context of longer-term trends. Because the estimated number of new HIV infections in 2007 was high relative to the preceding and following years, analyses of changes in incidence for this report are limited to comparison of 2008, 2009, and 2010 incidence estimates. Researchers caution that additional annual estimates will be needed to substantiate the short-term trends seen in this report.
References
Centers for Disease Control and Prevention. Estimated HIV incidence among adults and adolescents in the United States, 2007-2010. HIV Surveillance Supplemental Report 2012;17(No. 4). Published December 2012.
Prejean J et al. Estimated HIV incidence in the United States, 2006-2009. PLoS ONE 2011;6(8):e17502.
Purcell D et al. Estimating the population size of men who have sex with men in the United States to obtain HIV and syphilis rates. The Open AIDS Journal 2012; 6(Suppl 1: M6): 114-123.
Farnham PG et al. Medical costs averted by HIV prevention efforts in the United States, 1991-2006. J Acquir Immune Defic Syndr 2010; 54:565-67.
CDC. Monitoring selected national HIV prevention and care objectives by using HIV surveillance data -- United States and 6 U.S. dependent areas -- 2010. HIV Surveillance Supplemental Report 2012;17(No. 3). Published June 2012.