The latest CDC estimates of new HIV infections (HIV incidence) in the United States indicate that HIV remains a serious health problem, with an estimated 47,500 people becoming newly infected with the virus in the United States in 2010.1 The data are included in a new CDC report, Estimated HIV Incidence Among Adults and Adolescents in the United States, 2007-2010,* which includes new HIV incidence estimates for 2010 and updates previously published estimates for 2007 through 2009.2
HIV incidence has remained relatively stable at about 50,000 infections per year since the mid-1990s.3 According to the new analysis, there were 53,200 infections in 2007; 47,500 in 2008; 45,000 in 2009; and 47,500 in 2010. Certain groups, including African Americans, Latinos, and gay and bisexual men of all races/ethnicities, continue to be disproportionately affected by HIV.
The new analysis also finds two noteworthy trends among heavily affected populations: early signs of an encouraging decrease in new HIV infections among black women (21 percent decrease between 2008 and 2010**), and a troubling and continuing increase in new infections among young gay and bisexual men (22 percent increase over the same time period).
Figure 1: Estimated New HIV Infections in the United States, 2010, for the Most-Affected Sub-Populations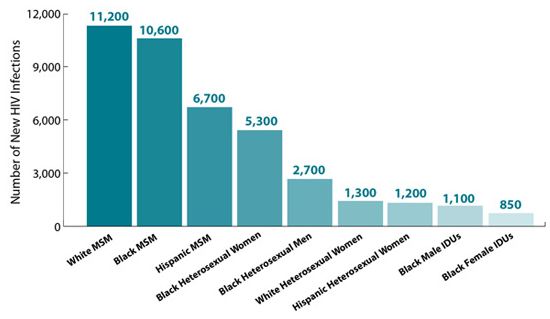 HIV Infections by Route of Transmission
Men Who Have Sex With Men
Figure 2: Estimated New HIV Infections, 2010, by Transmission Category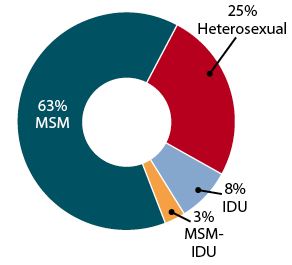 Figure 3: Estimated New HIV Infections Among MSM Aged 13-24, 2008-2010
Figure 4: Estimated New HIV Infections Among Heterosexuals, 2010, by Gender and Race/Ethnicity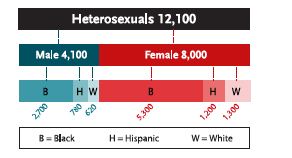 Men who have sex with men (MSM) remain the group most heavily affected by HIV in the United States. CDC estimates that MSM represent approximately 4 percent of the male population in the United States4 but male-to-male sex accounted for more than three-fourths (78 percent) of new HIV infections among men and nearly two-thirds (63 percent) of all new infections in 2010 (29,800). White MSM continue to represent the largest number of new HIV infections among MSM (11,200), followed closely by black MSM (10,600) and Hispanic MSM (6,700).
The number of new infections among the youngest MSM (aged 13-24) increased 22 percent, from 7,200 infections in 2008 to 8,800 in 2010. Young black MSM continue to bear the heaviest burden, accounting for more than half (55 percent) of new infections among young MSM (4,800). In fact, young black MSM now account for more new infections than any other subgroup by race/ethnicity, age, and sex. There was a 12 percent increase in HIV incidence among MSM overall, from 26,700 in 2008 to 29,800 in 2010.
Although the analysis did not examine the factors driving the increases in young MSM, other studies indicate that individual risk behavior alone does not account for the disproportionate burden of HIV among young MSM. Other factors are likely at work, including: higher prevalence of HIV among MSM, which leads to a greater risk of HIV exposure with each sexual encounter; the high proportion of young MSM (especially young MSM of color) who are unaware of their infection, which increases the risk of unknowingly transmitting the virus to others; stigma and homophobia, which deter some from seeking HIV prevention services; barriers, such as lack of insurance and concerns about confidentiality, that result in less access to testing, care, and antiretroviral treatment; and high rates of some STDs, which can facilitate HIV transmission. Additionally, many young MSM may underestimate their personal risk for HIV.
Heterosexuals
Heterosexuals accounted for 25 percent of estimated new HIV infections in 2010 (12,100). About two-thirds (66 percent) of those infected through heterosexual sex were women. The number of new HIV infections among females attributed to heterosexual contact decreased by 18 percent, from 9,800 in 2008 to 8,000 in 2010, largely because of a drop in infections among black heterosexual women (see "Black Women" below.) Comparing 2008 to 2010, there was no statistically significant change in overall HIV incidence among heterosexual males.
Injection Drug Users
Injection drug users (IDUs) represented 8 percent of estimated new HIV infections in 2010 (3,900). Comparing 2008 to 2010, there was no statistically significant change in overall HIV incidence among IDUs.