NASTAD recently redesigned its assessment of access restrictions including resetting the baseline for cost containment measures to April 1, 2012. We believe this will allow us to present a more accurate picture of the current state of ADAPs across the country.
As of December 13, 2012, there are 58 individuals on ADAP waiting lists in four states. Georgia eliminated their waiting list in November. Florida is currently enrolling new clients into their program and does not have any individuals on their waiting list; however, they have not formally closed their waiting list. Louisiana saw a decrease of 39 individuals on their waiting list. Idaho and South Dakota added seven and three individuals, respectively, to their waiting lists.
The potential for new waiting lists developing this fiscal year (ending March 31, 2013) continues. Three states currently report having capped enrollments. One additional state anticipates capping enrollment and another anticipates instituting a wait list prior to the end of FY2012. To see a list of states with access restrictions please visit NASTAD's website.
Advertisement
ADAP enrollment is not static and ADAPs continue to experience increased strain on their programs due to increased efforts to identify new individuals living with HIV leading to increased enrollment, as well as re-engagement of individuals lost to care. Even with the recent receipt of federal Emergency Relief Funding (ERF), some states were not able to eliminate their waiting lists entirely.
House and Senate leaders passed and the President signed a six month Continuing Resolution (CR) that funds the government through March 2013 at the Budget Control Act level. This CR does have a minimal increase of 0.6 percent from FY2012 which may provide a slight increase to overall ADAP funding. However, formula calculations associated with the Ryan White Program may result in fluctuations in ADAP funding for various jurisdictions. The current fiscal cliff negotiations and the possible sequestration impacts on ADAP are not known at this time.
In an effort to streamline and assist clients in need of medications, the Common Patient Assistance Program Application (CPAPA) was launched on September 12, 2012 and is now available on the NASTAD website and the HRSA website. This single common application allows uninsured individuals living with HIV and/or their providers/caregivers to use one application to apply for multiple patient assistance programs that together provide an entire course of antiretroviral therapy. To see additional information on pharmaceutical company patient assistance or co-payment assistance programs, please visit the Positively Aware website or the Fair Pricing Coalition's website.
ADAPs With Current or Anticipated Cost-Containment Measures, Including Waiting Lists, December 5, 2012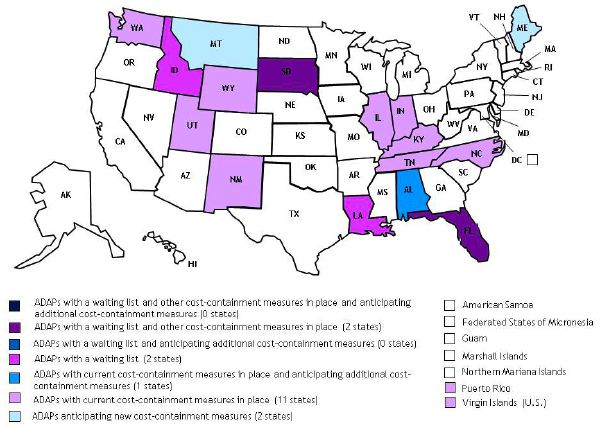 Factors Leading to Consider or Implementation of Cost-Containment Measures: ADAPs reported the following factors contributing to consideration or implementation of cost containment measures:
Increased clients/demand due to neighboring state's cost-containment measures/waiting list (22 ADAPs)
Reduced or insufficient federal ADAP funding (19 ADAPs)
Increased HIV testing leading to higher client enrollment (17 ADAPs)
Escalating drug costs (16 ADAPs)
Reduced or insufficient state ADAP funding (14 ADAPs)
ADAPs With Waiting Lists
(58 Individuals in 4 States, as of December 13, 2012)
State
Number of Individuals on ADAP Waiting List
Percent of the Total ADAP Waiting List
Increase/Decrease From Previous Reporting Period
Date Waiting List Began
Florida
0
0%
0
June 2010
Idaho
15
26%
7
October 2012
Louisiana*
19
33%
-39
June 2010
South Dakota
24
41%
3
August 2012

* Louisiana has a capped enrollment on their program. This number represents their current unmet need.
Waiting List Client Demographics
ADAP Waiting List Clients, by Race/Ethnicity, as of December 5, 2012

ADAP Waiting List Clients, by Gender, as of December 5, 2012


Access to Medications: All four ADAPs with waiting lists confirm that case management services assist clients in obtaining medications through either pharmaceutical company patient assistance programs (PAPs) (3 ADAPs) or Welvista (1 ADAP) while clients are on the waiting list. Case management services are provided to ADAP waiting list clients through Part B (1 ADAP) as well as, other agencies, including other Parts of Ryan White (3 ADAPs).
Waiting List Organization: Waiting list clients are prioritized by one of two models:
First-come, first-served model is to place individuals on the waiting list in order of receipt of a completed application and eligibility confirmation (3 ADAPs).
Medical criteria model is based on the hierarchical medical criteria based on recommendations by the ADAP Advisory Committee (1 ADAP).
ADAPs With Other Cost-Containment Strategies (Since April 1, 2012**, as of December 5, 2012)
Enrollment Cap:
Indiana
Utah
Wyoming
Expenditure Cap:
Illinois: (monthly)
Kentucky: (annual)
New Mexico: (monthly)
South Dakota: (annual)
Formulary Reduction:
Alabama
Florida
Illinois
North Carolina
Puerto Rico
Tennessee
Utah
Virgin Island (U.S.)
Other:
Washington: pay insurance premiums only if client is prescribed and taking ARVs
** ADAPs may have other cost-containment strategies that were instituted prior to April 1, 2012.
ADAPs Considering New/Additional Cost-Containment Measures (Before March 31, 2013***)
Capped Enrollment:
Alabama
Formulary Reduction:
Maine
Waiting List:
Montana
***March 31, 2013 is the end of ADAP FY2012. ADAP fiscal years begin April 1 and ends March 31.
ADAPs That Eliminated/Modified Cost-Containment Measures (as of October 1, 2012****)
Formulary Increase:
Kentucky
Virginia
Increased Financial Eligibility:
North Carolina
**** ADAPs may have eliminated/modified other cost-containment strategies prior to October 1, 2012.