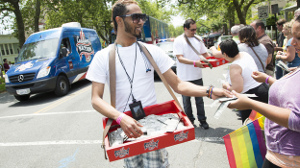 Image from NPR.org.
Lately I've been interested in the decreasing media coverage of HIV/AIDS issues and how widespread this trend has spread.
Serendipitously, in a webinar I took this afternoon, Chris Fleisher, an award-winning health reporter for the Valley News, a newspaper covering issues in and around the Vermont/New Hampshire border, also noted that AIDS issues just don't generate the same press that it used to. His thoughts were that unless there is some fantastic new development in the disease, the coverage will continue to dwindle.
But believe it or not, this coverage is important. In a national survey conducted by the Kaiser Family Foundation, 72% percent respondents reported that the majority of the information that they receive about HIV/AIDS comes from the media, such as television, newspapers, and the radio. That means that nearly three-fourths of those surveyed are now seeing -- or not, in fact -- a devastating loss in education, prevention, and information on HIV/AIDS stigma, transmission, and treatment.
While there is a very strong consensus that this drop in media coverage, aka "AIDS fatigue," has contributed to the public's declining perception of the urgency of HIV/AIDS issues, it remains to be seen if this lessened coverage has any correlation to the increase in infections among certain populations.
Advertisement
Data shows that HIV infections are increasing among gay, bisexual, and MSM of color. "Still, young gay and bisexual men are the only group for whom new infections rose between 2006 and 2009." In fact, in an NPR story that ran this summer, various youth that were interviewed stated that they didn't think AIDS was "that big of a deal." Indeed, it is very telling that one respondent refers to HIV/AIDS as a folklore or myth that only occurred in the past. "Sutton Resler says AIDS seems like something from another time -- the monster under your bed that used to remind you of the dangers of unprotected sex. 'It, to me, has been somewhat of a myth -- almost like a folklore, like, precautionary tale of 'be safe, always have safe sex.'"
What can we make, if anything, of this statement? Is Sutton Resler's perspective of HIV/AIDS as something of a "myth" in part because HIV/AIDS issues have ceased to be a "story" for media outlets?
In other words, has "AIDS fatigue" done a serious disservice to younger generations?
Well, when one youth compares "having sex with an HIV-positive person as no different from having sex with someone who has a cold," I think it might speak to a larger problem.
While many AIDS organizations across the country continue to work with youth everyday about safe sex and sharing education and prevention messages, our work could certainly be buttressed by additional coverage in the media.