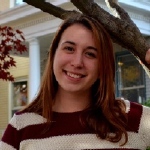 Melissa Donze
On the evening before World AIDS Day, I took a walk down to the White House after work. As a recent transplant to D.C., the sight of the White House, the Washington Monument, and the Capitol still make me smile like a tourist. But this time, as I turned the corner and crossed through Lafayette Square, the sight of the White House took my breath away.
Draped across the North Portico was a big, red ribbon. It stood out so vividly against the white backdrop, and for a moment I stood there, frozen, completely entranced. It was an incredibly beautiful sight.
It's been seven years since I first became actively involved in the fight against HIV/AIDS; seven years since I first started informing my high school peers about HIV; seven years since I found out that most people in my small hometown didn't want to talk about sex or drugs or race or poverty because HIV "didn't affect them."
Admittedly, I was one of those people. I thought I was invincible, untouchable, unaffected. That all changed at the age of eleven, when I was diagnosed with latent tuberculosis. Nine months of medication, blood tests and doctor's visits later, I stand here at the age of 22, happier and healthier than ever. I knew that the reason for my good health was the medicine I was taking, and despite financial struggles, there was never any question about affording my medication. I knew that in some way, I wanted to help those who weren't given the chance to live, a chance I had been given without restriction or hesitation. It was a few years later on World AIDS Day 2005 that I learned about HIV through an amazing documentary, and it struck me like no other issue has struck me before; it is so incredibly preventable, yet there are still 30 million people living with HIV/AIDS today, over 1 million of which are in the United States.
Advertisement
Despite the fact that I had been commemorating World AIDS Day for years, this time felt different. It felt exhilarating. As I stood in front of the White House that night and gathered with strangers for a candlelight vigil the next day, I felt empowered in a way I had never felt before. There I was, standing in our nation's capital, witnessing a fight that has always been so personal converging with the work I do daily in an incredibly powerful way. I am grateful every single day that I work at AIDS United as the Zamora Fellow, an opportunity that allows me to channel my truest passion into real, tangible progress and policy.
Just in the seven years that I have been involved in this fight, I have witnessed enormous progress. I have seen the advent of new science provide breakthrough methods of treatment and prevention. I have seen declines in transmission rates in many countries around the world. I have seen community-based organizations take innovative approaches to encourage testing and disseminate awareness about HIV-related issues. I have seen President Obama release the first ever National HIV/AIDS Strategy, which aims to reduce new HIV infections, increase access to care, reduce health inequities and HIV-related disparities, and coordinate a more effective response to the national epidemic.
At the same time, however, I see that incidence rates in the United States remain at around 50,000 new infections per year despite an abundance of information and resources to actually reduce the number of new infections. I see a huge disconnect in the number of people diagnosed with HIV and the number of people who have regular access to care and treatment. I see certain groups, especially young, African-American men who have sex with men (MSM), disproportionately affected by HIV. I see outdated policies and misguided notions perpetuate stigma and discrimination. I see newspaper columnists and government officials talk about the "global AIDS epidemic," yet fail to consider HIV in the United States as part of this epidemic. I see an increasingly disillusioned population, in particular the youth, who do not care about HIV, who believe HIV doesn't impact their lives in any way.
To them, I ask: Do you have sex? Do you have friends who have sex? If the answer is yes, then HIV has an impact on your life. Are you between the ages of 13-24? If the answer is yes, you are a part of the population that accounts for 25% of new HIV infections. HIV has an impact on your life. Do you live in an urban area or in the South, areas in which rates of HIV tend to be higher? If the answer is yes, HIV has an impact on your life. Do you have friends who have been tested for HIV? Have you yourself been tested for HIV? Regardless of your answer, HIV has an impact on your life.
This World AIDS Day, I remembered those we have lost, celebrated those still with us and reflected on the great strides we have made. In the face of the many challenges that confront us, I renewed my commitment to end this epidemic. We have come so far, and our success should be recognized. But we can't let our past success preclude us from taking action today. We are at a crossroads in history; we have the science, political momentum and expertise to actually see the end of AIDS, but it requires us to take aggressive and coordinated action now.
I truly believe I will see the end of AIDS in my lifetime. Today, more than anything else, I have hope. And it is this hope that keeps me fighting every day.