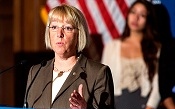 Sen. Patty Murray
At the end of the second full week of the lame duck session of the 112th Congress there seemed to be no substantive progress on a proposal on the various issues that make up the "fiscal cliff," which includes the automatic spending cuts known as sequestration and the expiration of the Bush-era tax cuts. There were signs, however, that some Congressional Republicans reluctantly are accepting the idea that tax rates will have to increase for the top 2% of taxpayers. President Obama has maintained an unwavering stance on the need for the tax cuts to be extended for all but wealthier individuals and families. Polling data shows overwhelming support from the public that taxes for rich people need to increase as part of any balanced plan to reduce the federal deficit. Polls also show that the majority of Americans will blame Republicans if there is a failure to reach an agreement to avoid the fiscal cliff.
Advocates, including we at AIDS United, are maintaining close attention to the fiscal cliff issues in the lame duck session. Over 200 advocates for non-defense discretionary (NDD) programs attended an NDD Town Hall Meeting on Tuesday, Dec. 4. A keynote speaker was Senator Patty Murray (D-WA). Senator Murray called for continued solidarity in the NDD community and noted that a "bad deal" should not be accepted, saying "But taking an even worse deal [than sequestration] simply for the sake of getting a deal would be deeply irresponsible, and it would hurt families far more than sequestration in the long run."
A key message from the Town Hall Meeting was that spending for NDD programs has already been cut deeply as a result of the Budget Control Act of 2011. These cuts total nearly $1.5 trillion over 10 years. Any balanced approach to deficit reduction must include the NDD spending cuts already enacted and should not include further NDD spending cuts. NDD programs include all domestic HIV programs such as the Ryan White Program, HIV prevention, HOPWA (Housing Opportunities for Persons with AIDS), and HIV/AIDS research. An NDD Day of Action has been planned for Monday, Dec. 10. Advocates are urged to make calls, visits, send e-mails, letters, and Tweets to Members of Congress. A suggested "ask" for HIV advocates is:
We urge you to support a balanced approach to deficit reduction that does not include further cuts to non-defense discretionary (NDD) programs such as the Ryan White Program and HIV prevention [other HIV priorities can be substituted or added]. These programs already have contributed to deficit reduction through the bipartisan Budget Control Act (BCA) and prior spending cuts.
Click here to read Senator Murray's remarks at the NDD Town Hall Meeting.
For more information on the NDD Day of Action, click here.