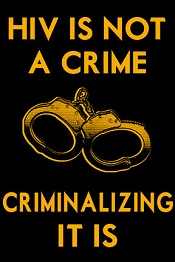 On December 4, the United Nations Development Programme (UNDP), Center for HIV Law and Policy, and the National Alliance for State and Territorial AIDS Directors (NASTAD), in conjunction with Representative Barbara Lee (D-CA), hosted "The United States National Dialogue on the Criminalization of HIV Transmission, Exposure and Non-Disclosure: The Role of States and the Federal Government." The landmark event brought together 40 civil society representatives, people living with HIV, and other experts to discuss how to lessen criminalization laws and how to enhance peoples' ability to disclose their status. Representative Barbara Lee (D-CA) highlighted her work as the U.S. Representative to the Global Commission on HIV and the Law. She noted the surprising number of prosecutions of people living with HIV for failing to disclose their status despite lack of actual transmission, or evidence of intent to transmit. Rep. Lee also indicated that there is clear evidence showing that these prosecutions make it more difficult for people to get tested and treatment. Many criminalization laws were passed before the advent of anti-retroviral therapy and are based on a long-outdated understanding of HIV.
Panelists from UNDP highlighted a July 2012 report by the Global Commission called "Risks, Rights and Health" that served as the background for the presentation. The report and accompanying materials can be found here.
Randy Mayer, AIDS Director for the Iowa Department of Health, and Iowa State Senator Matthew McCoy (D), discussed actions being taken at the state level. Iowa has one of the harshest HIV criminalization laws in the U.S., requiring sentences of people living with HIV to more than 25 years in prison whether or not transmission actually took place or the person took efforts to minimize the possibility of transmission. Iowa's law also requires the person register as a sex offender. Senator McCoy has introduced legislation to: 1) amend that state's HIV statute to limit it to cases of malicious intent to harm someone, 2) change the penalty based on actual transmission, and 3) remove the registration requirement. Mayer has also worked to educate lawmakers about more effective ways to address the issue of transmission. NASTAD has created guidelines for state directors in helping to deal with this issue, which can be found here. Senator McCoy indicated he did not believe the issue broke down around partisan lines as much as around lines of the "informed and uninformed." According to Senator McCoy, it is important that everyone understands the benefits of ending outdated criminalization laws.
Lisa Fager-Bediako from the Congressional Black Caucus Foundation's Act Against AIDS Project moderated a discussion among the civil society representatives and audience about the risks and consequences of HIV transmission, HIV in hard-hit U.S. communities, HIV prosecutions and disclosure, promotion of safe and voluntary HIV disclosure and the identification of solutions and next steps. Participants in the room agreed to keep working to change laws and planned to create additional spaces for future discussions of HIV criminalization.
(Please note: Your name and comment will be public, and may even show up in
Internet search results. Be careful when providing personal information! Before
adding your comment, please
read TheBody.com's Comment Policy
.)