Landmark Federal Decision Finds That "Evidence Is Not Just 'A Thick Cloud of Smoke,' It Is a Smoking Gun"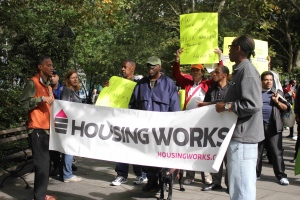 New York, NY -- In a landmark decision issued last night, U.S. District Court Judge Samuel Conti ruled in Short v. Manhattan Apartments, Inc. that two New York City Realtors, Manhattan Apartments, Inc. (MA) and Abba Realty Associates, Inc. (Abba), discriminated against Keith Short and other individuals living with AIDS on the basis of their lawful source of income, a housing subsidy from New York City's HIV/AIDS Services Administration (HASA). Assessing the evidence presented by the plaintiffs during a week-long trial in October, Judge Conti observed that the evidence of defendants' discrimination "is not just 'a thick cloud of smoke,' it is a smoking gun." "The evidence clearly shows that MA, at the behest of landlords, refused to assist Mr. Short because he was on HASA," Judge Conti announced. The judge also ruled that "direct evidence" established that Abba similarly "refused to show HASA clients certain apartments because those apartments were not available to persons with HASA or other government rental subsidies." Both MA and Abba "weeded out the HASA clients before they could submit an application." Moreover, as Judge Conti observed, discrimination in this context is particularly deleterious: "Housing is especially important for persons with symptomatic AIDS because their compromised immune systems, leaving them susceptible to a variety of other illnesses ... for people with AIDS, 'housing is healthcare.'"
As Judge Conti noted, "MA is one of the largest brokers in New York City, with approximately 1,000 rental listings at any given time," and with "about 150 licensed realty agents." In fact, MA is New York's second largest broker for rentals, while Abba operates offices in both Brooklyn and the Bronx. The Fair Housing Justice Center (FHJC), utilizing a crew of trained "testers," conducted a comprehensive, four-month investigation that corroborated Mr. Short's account of the discrimination he suffered.
In 2008, the City Council passed Local Law 10, prohibiting landlords and their agents from discriminating based on lawful source of income, such as HASA rent subsidies and Section 8 vouchers. This is the first decision ever rendered under the law on behalf of a HASA client. "This decision reveals that notwithstanding the law, companies continue blatantly to discriminate against indigent, disabled individuals who rely on government subsidies to pay their rents," said Armen H. Merjian, senior staff attorney at Housing Works, co-counsel in the case along with Emery, Celli, Brinckerhoff & Abady LLP (ECBA) attorney Diane Houk. "It's hard enough for such individuals to find affordable housing in New York City without facing this crushing and widespread discrimination."
Fred Freiberg, executive director of the FHJC, said, "The unmistakable message in this decision for housing providers is that source of income discrimination will not be tolerated. HASA rental subsidies provide a vital safety net for New Yorkers who are living with AIDS and who are homeless or at risk of homelessness. The FHJC will continue to dismantle barriers to housing choice so that vulnerable populations with rental subsidies, including people with disabilities, need not endure the insult, expense, and indignity of discrimination."
Diane Houk, an attorney for the plaintiffs at ECBA, stated: "We are gratified that the judge recognized the tragedy of discriminating against persons living with AIDS. Discrimination in housing should never be tolerated."
Judge Conti awarded both Mr. Short and FHJC compensatory damages and issued an injunction prohibiting the defendants from discriminating on the basis of a lawful source of income and requiring the defendants, among other things, to undergo fair housing training and to adopt and post non-discrimination policies.