Going Viral: Celebrity Tweets from World AIDS Day
December 7, 2012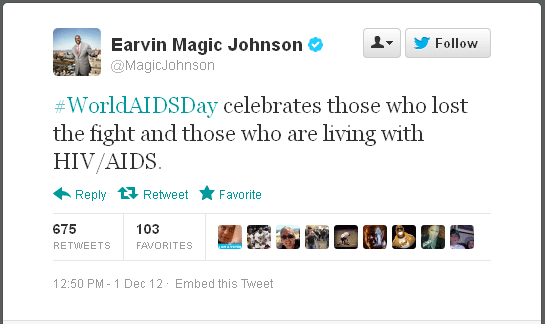 @MagicJohnson is not only a famous basketball player, but he was one of the first celebrities in America to come out at HIV-positive, forever changing the conversation around HIV and showing that not only gay men were afflicted by HIV/AIDS.
---

This article was provided by TheBody.com.
---
Comment by: Scott D
(Palm Springs CA) Sun., Dec. 16, 2012 at 11:23 pm UTC
Miss J thank you for keeping it real.
Add Your Comment:
(Please note: Your name and comment will be public, and may even show up in
Internet search results. Be careful when providing personal information! Before
adding your comment, please
read TheBody.com's Comment Policy
.)