Rev. Andrena Ingram
Even though World AIDS Day was yesterday, I commemorated it today, during our church service. I should say, WE commemorated it, because that is exactly what happened. Today's gathered assembly commemorated it. Did they ever! Other years my WAD services have fallen short: both of attendees and of support. This year, I was more intentional with publicity, and this year, I did it on a Sunday, and combined it with a healing service.
As you can see, the name of my blog is "Is the Ribbon Enough?" ... My theory being that when these "commemorations" take place, everyone takes out their ribbons, and puts them on, only to take them off and shove them in a drawer somewhere until the following year. Hence the name: Is the Ribbon Enough?
Ironically, I went out and bought some red material, cut them into 4-inch strips and began making little HIV ribbons held together with tiny safety pins. I began pinning them together at our Saturday Community Meal, when one of my congregation members took them from me and said she would finish them up at home. I had cut 50 strips. The ribbons were placed in the chairs before worship began. We had a good gathering, including a few visitors. Again, we had no heat and it was really cold. But folks bundled up in their coats and knitted afghans -- and we began worship.
It was my intention to preach an HIV sermon, and then move into the healing service, by talking about how from outward appearances, it looks easy for me to be as vocal as I am. This couldn't be farther from the truth. I explained that it is very hard ... and it does take its toll on me. I spoke about meeting the guy from Dunkin' Donuts the day before who had never met anyone with HIV (and I told him that he probably had, but just didn't know it).
I included the lyrics to Sarah McLachlan's song: "In the Arms of The Angel," in the worship bulletin. It is a song which she actually wrote after her friend Jonathan Melvoin (of the band The Smashing Pumpkins), died from an overdose on heroin in 1996. I explained that while the song is about someone who died from an overdose, the "feelings behind the drug use" are the same: The feeling of hopelessness, the feeling of despair, the feelings of incredible sadness -- can all resonate with someone who has just been diagnosed, or with a caregiver, or a family member of someone who has gotten sick and died from this disease. The feelings resonate with someone who is living in silence and shame and fear. The feelings are very real and tangible. The feelings also can resonate with someone like me, who gets tired every once and awhile.
Then I took off my stole (which is made up of red ribbons), wrapped it around the cross and began:
I asked that everyone take their ribbon, and if they wished, bring them up, and tell me the name of the person they wished to honor and to pin the ribbon on my robe.
There is a cliché that goes something like this: "God won't give you any more than you can bear" (which I never tell anyone who is going through anything, because truth be told: Sometimes it IS too much to bear!) However, I learned today, AGAIN ... that God does have an uncanny ability (at times), to give us MORE than what we ask for. Today, I simply asked for "names."
A trickle of folks began coming up, to give me names of loved ones, and of friends.
They gave me names, AND they gave me mini-stories of those named. I anointed each person with oil. At one point, I looked up and the tiny trickle had become a stream ... and God's people were lined up in the center aisle all the way to the back of the room. I got name after name, story after story -- and then tears after tears. Grown men and women alike. A few shared with me that they too, had never met anyone with HIV.
Tears, tears and more tears ... at one point, my tears were falling as well. Not for me, but for that gathered Assembly of God's people, and for the angels that were being pinned not only on my robe, but in my heart.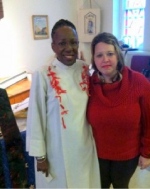 Wendy and I
This disease has wreaked havoc on humanity. The gathered were black, white, seasoned and young, gay and straight ... a microcosm of humanity, encapsulated in the four walls of St. Thomas Hall. I don't care about the "strides we have made" ... the pain is still palpable.
But so is the hope ...
... and I don't know that the cure for the virus is more crucial than the cure for the stigma and discrimination that causes the silence and fear and shame. I kept hearing over and over: "They were sick and didn't tell anyone," "we didn't find out until they died," "they were afraid," "they stopped going to church," "I didn't know" ... and in one honest exclamation: "I was one who judged -- the church I belonged to taught us that."
Even still, hope abides ...
As I anointed each forehead, I had a flash memory of the verse from Psalm 23: "Thou anointed my head with oil, my cup runneth over." My cup ran over as I received ribbon after ribbon, name after name, story after story. My vision cleared enough to see my son bringing up the rear. He was last one to approach me, with just a hug. "Surely goodness and mercy shall follow me all the days of my life, and I will dwell in the house of the Lord, forever." No matter what. Hope tells me that.
And then, I danced: Arms of the Angel.
In this Advent season as we await the coming of the Christ Child. We wait and hope. We wait and pray. We wait in expectation that one day, humanity will be humane. We wait expectantly for the second coming of Christ, when we will at the last be gathered up with all the angels in our lives.
And so, as I come full circle, ending this post, it is apparent that today, and for all World AIDS Days past and present, it would seem that: "The Ribbon IS Enough." Enough to commemorate and memorialize those who have died, those who are suffering in silence, to bring awareness to the stigma, to get re-focused, to draw strength from one another and comfort one another.
I have unpinned all the ribbons from my robe, and put them in a little bag, and put them in my drawer. For next year. These ribbons have been truly blessed ... and so have I.
Read Andrena's blog, Is the Ribbon Enough?