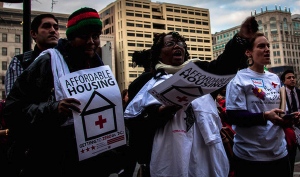 Getting to Zero brought out more than 100 supporters. Credit: Larry Bryant.
The Getting to Zero Rally held at the John A. Wilson building in Northwest yesterday drew more than 100 supporters and activists who searched for answers. The press conference and rally was organized to demand that Mayor [of Washington, D.C., Vincent] Gray and his Commission on HIV/AIDS write and implement a comprehensive HIV Care Plan that mirrors the National HIV/AIDS Strategy. The rally was organized by the D.C. Community Coalition, Mary's Center, The Women's Collective, Housing Works, and D.C. Fights Back.
Rally attendees are calling for social action that will lower new infection rates and AIDS-related deaths. They command a plan that includes easy re-entry for formerly incarcerated citizens, healthcare treatment for undocumented individuals, housing for all people in the District who are living with HIV/AIDS, and no cuts in HIV services.
Click here to view photos from the rally and review the complete list of demands.
Read Candace's blog, D.C. HIV/AIDS Examiner.
(Please note: Your name and comment will be public, and may even show up in
Internet search results. Be careful when providing personal information! Before
adding your comment, please
read TheBody.com's Comment Policy
.)