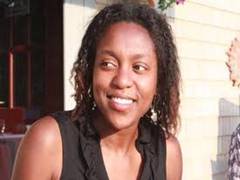 Maya Feller, M.S., R.D.
Maya Feller, M.S., R.D., is currently working as the food and nutrition program manager at a community-based organization that serves people living with HIV/AIDS in Brooklyn, N.Y. In addition to overseeing the program and counseling clients Maya runs a soup kitchen and food pantry for the clients. Maya works closely with community supported agriculture programs (CSAs) to bring fresh organic foods to her clients. Maya is passionate about making wholesome, fresh, organic and local foods available to all people with the hopes of reducing the incidence of food insecurity.
Before becoming a dietitian, Maya studied experimental theatre and received a BFA from NYU's Tisch School of the Arts. Maya was drawn to the science of nutrition while she was training for the 2005 Boston Marathon. After running Boston, Maya decided to explore the world of clinical nutrition. Maya received her Master of Science degree at New York University and completed her training at Memorial Sloan-Kettering Cancer Center in affiliation with NYU. Maya is a member of the Academy of Nutrition and Dietetics, the Greater New York Dietetic Association, the Ryan White Dietitians Group and New York Coalition of HIV/AIDS Nutrition Services (NYCHANS). In addition, Maya is the nominating committee member of the Academy of Nutrition and Dietetics, Women's Health Dietetic Practice Group. Maya has adjunct taught in the nutrition department at New York University and given talks on health, chronic disease and nutrition.
In addition to her job, Maya has received grants to present nutrition education to elementary school-aged children and their parents. In the past she has been very active in her son's school and the foods that they provided for the children as a part of the morning café. Maya worked with the teachers to create healthy café lists that ensure that the children were being exposed to a diverse variety of fruits, vegetables and whole grains on a daily basis.
When Maya is not working she can be found running in the park, playing at the museum or gathering her family's produce and meat share from her local CSA (which happens to be one of her favorite things to do!), or spending time with her family. Maya lives in New York with her husband, their son and their dog.
For individual nutritional counseling or questions, you can contact Maya at mayafeller@me.com.