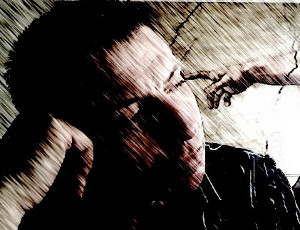 Jeffery Allen
Occasionally, we here at TheBody.com are lucky enough to hear from readers who volunteer to craft their own articles, sharing their stories and thoughts. This is one of those articles. This piece originally appeared on Thought Catalog.
We do our best.
We stay in step, as time goes marching by.
But there's something wrong
We don't start living until we almost die.

-- Melissa Etheridge
Twenty years ago this year, my life reached a turning point and I began a journey that would take me from terror and despair to a place of profound peace, the likes of which I had never known. This journey of fundamental transformation started with an event that took me from the life before to the life after.
It was August 19th, 1992, one week after I had been to my doctor for my annual physical exam. His office called me at work and said he wanted to see me in-person about something. That seemed strange. He had run the usual routine EKG on my heart (I have a minor and benign congenital arrhythmia), but that provided immediate data showing my heart was just fine, so it couldn't be that. He checked me for skin cancer spots (the medical drawback of being fair-skinned), but again, determined right there that I was fine. My blood pressure was normal and my cholesterol was always astronomically low, so I wasn't concerned about that, but it had to be something that showed up in a blood test… what could it be ... OH MY GOD! I froze in terror. I'd have sworn that my pounding heartbeat was audible to my coworkers. I remembered ... as he was drawing my blood a week earlier, I nonchalantly said to him, "oh, you might as well throw in an HIV test so I can just get it out of the way now," not thinking for one second that the result would be anything but negative.
Hoping for the best, but prepared for the worst (or so I thought), I sat in his office and listened to him tell me from across his desk that I tested positive for HIV. At that moment, all time stopped. I remember I lost all audible perception of ambient sounds. His entire medical office and the whole world seemed to go completely silent, except for the sound of his voice in slow motion. It was like listening to a 78-vinyl record played at 33-speed the way he uttered those three letters: H-I-V. He offered me no words of comfort. For that matter he had no reassurances of any kind for the simple reason that there weren't any. It was also painfully obvious this general practitioner knew nothing about this disease or what my options were, not because he said as much, but by his gruff tone when I started asking him questions that he couldn't answer.
All of this occurred during my lunch break, so I had to go back to the office and try to keep my composure while digesting the revelation that I had contracted a fatal disease. My boss wasted no time chewing me out for returning late from lunch. I was in a fog, but I vaguely remember uttering some form of acquiescent apology. Something about my facial expression and affect must have caught his attention because he uncharacteristically backed down and told me it was okay. When he gave me something to deliver to another part of the office, I used that opportunity to duck into the stairwell and cry for about five minutes, until I heard someone enter. I tracked down Dario, who was my one close friend at work. I pulled him into the office kitchen, told him what happened and he stood there and cried with me for a minute.
At that time, I had a roommate who was himself HIV positive. As soon as I got home from work, I dropped the bomb. He wasn't a particularly warm and fuzzy kind of roommate, so I wasn't expecting him to break out singing, "the sun will come out tomorrow…" No, he just laid it all out for me in five minutes and what he lacked in emotion, he made up for in gory details. He told me what I had already known -- there was no cure and no viable treatment for what I had contracted and the only thing that medical science could give me was some comfort from the effects of the opportunistic infections and maybe a little extra time. I knew I had to come to terms with my imminent mortality. The fact is that twenty years ago, what was handed down to me was, in effect, a death sentence. In 1992, there were no treatments for HIV, besides AZT, which was the pharmaceutical equivalent to plugging up the hole in the Titanic with a wad of bubble gum. There was no getting around it. I was in for a slow and painful death. All conventional wisdom gave me a life span of roughly 10 years. My path through life had reached a continental divide separating life before HIV and life after.
There I was, a 26-year-old ambitious and vibrant young man and I was expected to suddenly accept the idea that I had fewer years in front of me than I did behind me. What made it worse -- I was alone. I don't just mean single, I mean alone -- no partner, no family, and only a handful of casual friends. Like every other storm I've weathered, I had to go it alone. That aspect of it was nothing new to me. I've had to learn how to manage loss and disappointment in my life simply because there was so much of it. When something particularly traumatic happens, I employ what I call the 24-hour rule. That means I give myself 24 hours to break down, cry and wallow in as much self-pity as I want. After that, I cut it off and move on. That way, I can express and validate my feelings, but not let them overtake me. However, I did bend the rule this one time and let it drag out for a few days.
I then did what I always do when I'm faced with an obstacle that I don't understand ... I sought to understand it. My roommate fixed me up with his doctor at a place called Pacific Oaks Medical Group. They were experts (in as much as there were any) on HIV. They were also one of only a handful of medical practices that were conducting focused, hard research on the treatment of this disease. I was very fortunate to be a patient there. I also found a support group.
My first few meetings with the doctor and the support group were of little comfort, simply because, quite quickly, I realized nobody knew what the hell they were doing. There were no established treatment protocols. There were no experts in the field. It was apparent that they were making things up as they went along and I was there not just to receive medical care, but also to provide them with valuable research data. I just rolled with it and learned to ask questions and keep asking them until I was satisfied with the answers. I sought to understand every bit of the decision making process, because I was in fact the one making all the decisions. The days of blindly accepting my doctor's advice and just trusting that he knows what's best were over. I got to know every aspect of that damn virus -- how it spreads, what it does, and how it reproduces. In the meantime, friends and acquaintances were dropping like flies. Every weekend, there was a funeral for someone I knew from the gym, or from a bar, or a friend of a friend. That didn't exactly strengthen my resolve. My outlook was pretty bleak. But somehow, somewhere in the midst of that solitary despair, I had an epiphany. Out of nowhere, it occurred to me that nothing was going to happen to me that wasn't going to happen to everyone -- I was going to die. There, I said it: "I'm going to die." There was something very liberating about saying it and finally accepting it. I'm going to die ... The acceptance of that truth started a profound transformation in me.