Laurindo Garcia took the stage of the XIX International AIDS Conference in Washington, D.C., like a seasoned Olympic athlete. Garcia, representing the Asian & Pacific Islander community, was in his element. He spoke with a cool, conversational tone, and yet he imbued his speech with a focused sense of urgency.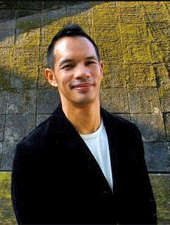 Laurindo Garcia (Credit: Alan Seah)
"From the onset, let me say that there are people who are absent from this stage right now," Garcia said as he opened his speech in front of thousands on the conference's main stage. "Archaic travel restrictions have prevented international advocates for sex workers and people who use drugs from sharing this stage with me now. In addition, women, transgender people and young people from my region should be standing here beside me, as well," Garcia noted to thunderous applause. Garcia speaks with urgency because he comes from the Philippines, one of nine countries in the world with a rising HIV infection rate; a country where an increasingly robust activist community is trying to turn the rising tide of HIV. The face of HIV/AIDS in the Philippines is changing: What was once a female, heterosexual disease is now a disease that highly affects men -- and especially young men who have sex with men (MSM).
Yet Garcia's words remind us that, with every story told, with every person with HIV who speaks out, there is the reality that someone else may be silenced and their story untold. Though the number of infected MSM is on the rise, it doesn't make the situation of any group -- regardless of gender, sexual identity or mode of transmission -- less dire or less worthy of attention. Though a heavily Catholic Philippines often does a disservice to its LGBT population, grass-roots resources have also shifted to help these groups.
Advertisement
Meanwhile, many people are still trying to empower those who used to be considered the face of HIV in the Philippines (and are still in need of empowerment): women who were infected through heterosexual contact. But, as Garcia so powerfully noted in his speech at the XIX International AIDS Conference, there are still Filipino groups out there with fewer vocal advocates who are strongly impacted by HIV: overseas workers (particularly women), the trans population, intravenous drug users (IDUs) and young people.
The Bagong Bayani
Making up almost 10% of the Philippines population, overseas Filipino workers (OFWs) are those Filipinos who live abroad and work -- most in some form of domestic labor. Though they live abroad, they are still counted in the Philippines' total population, as well as the Philippines' HIV data. The majority of OFWs live in the U.S. -- 3.5 million -- while the Middle East houses many others, especially in Kuwait, Qatar and the United Arab Emirates.
Advocates often refer to labor as the "Philippines' greatest export." The tradition of OFWs has been in place since the 1970s, when longtime dictator President Ferdinand Marcos decided to address an economy in crisis by urging Filipino citizens to go abroad, make money and send back remittances to their family in the Philippines. He dubbed the people we now call OFWs as the bagong bayani of the nation -- the "new heroes." (Of course, due to government corruption, President Marcos and the wealthy elite allegedly pocketed much of the money circulating through the national government.)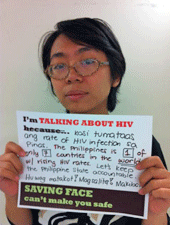 Melanie Dulfo, MSW
"These different workers are still considered part of the Philippines. Because not only do they contribute to the economy; they are a cultural institution. When we're growing up, we are geared to work abroad," says Melanie Dulfo, a veteran Filipino activist who works with female domestic workers, many of whom work overseas.
However, these new national heroes are often at great risk for HIV infection once they go abroad. Though they make up only about 10% of the entire Philippines' population, OFWs make up 19% of all reported HIV-positive Filipino citizens. In 2012, only 5% of all new infections were among women, while 13% of new infections among OFWs were women. Also, all infections among OFWs were through sexual contact.
"Migration is becoming more feminized," says Dulfo. "The issues that exist for women come back to their ability to be able to protect themselves. And that's something that's hard to do. "You have women who may not be able to negotiate condom use because of gender inequality, and you have women who may not be able to negotiate condom use because they're exchanging sex for money. Access, ability to negotiate condom use, even trying to get over the shame of having to talk about sex and the need to protect themselves -- it's associated." However, Dulfo stressed that sex workers were not the only female-heavy population that found it hard to negotiate condom use and were often at the mercy of their economic and social situations.
Dulfo recalls many stories of "people arriving in boxes, of women being raped, of being trafficked, of being in domestic servitude, their papers taken. When you have people who are exported for labor, you should expect that there will be exploitation of every kind, including sexual exploitation." She adds, "So they are at real risk of contracting HIV and STIs [sexually transmitted infections]."
Living on the Margins
While OFWs face challenges with condom negotiation and disempowerment abroad, many groups of native Filipinos face homegrown forms of discrimination that keep them at risk for HIV infection. Not only do transgender people face social and sexual discrimination, the nature of gender in the Philippines poses a challenge for Filipinos. Though trans people are subject to stigma and cultural roadblocks in many cultures, it is especially strong in the Philippines, where the terms "trans" or "transgender" are foreign -- they use the terms bakla and bading -- both referring mostly to what we would call transwomen, though it is important to stress that there is no direct translation in the English binary gender system.
Garcia warns that people of the transgender experience "are accepted, to a certain extent, only if [they] fit a particular archetype, whether you're a hairdresser, or entertainer, or a comedian. You can make us look good and laugh, but that's about all you'll be allowed to do." Limited societal roles due to high stigma and discrimination, coupled with lack of self-esteem and marginalized status, make the risk of HIV infection a reality for Filipinos of the transgender experience. Unfortunately, there is little to no hard data on the HIV epidemic among the trans population of the Philipppines.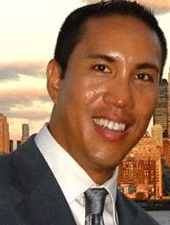 Bric Bernard Bernas
While both OFWs and the trans population have a few fierce advocates, IDUs, a population at extremely high risk for transmission, have fewer people voicing concern on their behalf. Though substance use is taboo almost everywhere in the world and drug users are often considered persona non grata, these attitudes are somewhat magnified in the Philippines due to its hyper-conservative Catholic culture. Few are advocating for the IDU population, which is highly concentrated in metropolitan areas such as Cebu, a province that is home to more than four million people. "Especially in Cebu right now, there is also a growing number of people who are infected through injecting drugs," says Bric Bernas, a Filipino HIV advocate. "And the fact that there are laws in this country that prohibit distributing clean needles, that is somewhat of a challenge for the Philippines in terms of HIV prevention."
Garcia added, "[The IDU] epidemic has been running for much longer than people realize, and experiencing peaks and troughs. But I think that because drugs are so taboo and it is such a public enemy, that very few people are willing to speak up for it. The level of community mobilization around drug use is decades behind." Just as condom distribution is spearheaded by activists who face jail time for doing so, needle exchange is extremely rare in the Philippines and is done under the threat of punitive measures. With harm reduction and prevention efforts for drug users at a standstill, advocates on their behalf are more important than ever.
Making New Heroes
Advertisement
Activists in the Philippines are in a unique position in regards to correcting the inequalities and reducing the stigma felt by OFWs, transgender people, IDUs and other marginalized groups. Unlike in America, Dulfo pointed out that activists usually have national attention and are revered by the media. The Philippines' "national unions, people who are part of alliances that try to advocate on behalf of different sectors, issues -- they are actually national figures in the Philippines," she explains. "They are shown in TV, news. Because politics in the Philippines is, like, 'We've made it big.' So you have all of these organizations that work in different sectors, and they have managed to create a system where they are heard."
In fact, whereas in the U.S., movie stars and athletes such as Rock Hudson or Magic Johnson became the face of HIV/AIDS, in the Philippines' media, it was the general citizenry who was put up as the face of HIV. Dolzura Cortez, a woman, was the first person living with HIV to gain national attention, and Sarah Jane Salazar, the second, was a sex worker.
A thriving activist community, backed by a national media that supports its efforts, is an indispensable weapon in the Philippines' arsenal in the fight against HIV. As the demographics of those infected with HIV continue to shift from heterosexual women to other groups, Filipino activists try to make sure that all voices are heard and represented, and no one is left behind. Though there exists a palpable feeling of solidarity among activists regarding the need for the Philippines to reduce its HIV rate, there are several different views as to which path will get them there.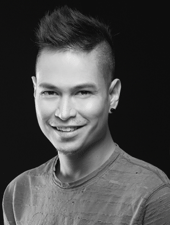 Niccolo Cosme
Niccolo Cosme, Filipino artist and activist, advocates sex education as the best way to get to zero. "We can only attain zero if we start with sex education. We lack sex education here in this country. If you know the demographics of the high-risk sectors, its' actually the young ones, from 15 to 21 years old. That's very young. When they get some bit of information and sex education, they're already exploring. So that's already too late. I really think that sex education should start at a very young age."
Garcia and Dulfo both emphasized empowerment as the key to getting to zero: Women, youth, MSM and other communities must be taught how to take control of their own sexual health if there is to be a difference, they said. Bernas stressed the importance of government resources, and of getting international and national support -- including from the Philippines' own private sector. Whether it be through education, advocacy or empowerment, one thing is clear: There is no dearth of activist power in the Philippines to move the mission forward.
In the 1970s, President Ferdinand Marcos spread an important message: Everyone had the potential to be bagong bayani -- "new heroes" -- by engaging in international labor for the Philippines. And, though he was a corrupt dictator looking to make money off the labor of his people, these activists' message is similar to Marcos' message: all citizens have the potential to be "new heroes." As resources and efforts to curb the rising tide of HIV in the Philippines go forward, Filipino activists know that it is not enough to advocate only for the gay population, and have begun to empower those even further marginalized -- including the trans, OFW and IDU populations in order to get to zero. The lesson is clear: whether at home or abroad, Filipinos empowered to advocate for sexual health -- their own or others'-- are working for the betterment of the Philippines' as a whole.
Mathew Rodriguez is the editorial project manager for TheBody.com and TheBodyPRO.com.
Follow Mathew on Twitter: @mathewrodriguez.
Copyright © 2012 Remedy Health Media, LLC. All rights reserved.