Dress You Up in His Love: Mondo Guerra Designs HIV Community-Inspired Dress for World AIDS Day
Mondo Guerra entered Season 8 of Project Runway hoping to gain notoriety for his chic fashion design skills. But after disclosing his HIV-positive status that season and later winning the series' first All-Stars edition, Mondo found himself sought after not only for his fashion bonafides, but also for his HIV advocacy.
For World AIDS Day, Mondo has created a new work of fashion art: a dress that was inspired by a community mural at this year's International AIDS Conference. Through his involvement in an awareness campaign, I Design (in collaboration with Merck), he empowers people to fashion their own HIV treatment plan and advocates for patient-physician communication. Mondo talked with TheBody.com about his own relationship with his doctor and explains how this unique dress is not only his own design -- it belongs to all those in the HIV/AIDS world.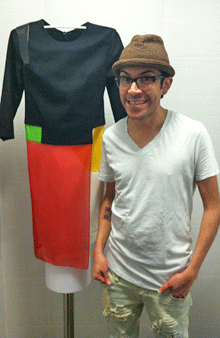 Mondo Guerra
When this dress was unveiled, to whom did you unveil it? Was it at a press event or was there a specific audience?
We unveiled it through our website, ProjectIDesign.com, and this dress is really inspired by the HIV community and, in a lot of ways, it was designed by the HIV community. We had the opportunity to go to the United States Conference on AIDS a couple of months ago in Las Vegas, and we had this interactive project, which was this mural. And, over the course of three days, we really encouraged the participants, or the creators as you might call them, to apply their inspiration to this visual "conversation" so to speak. And these are people that are attending the conference, so it's everybody in the HIV community from the medical field to advocacy and tons local ASOs (AIDS services organizations) around the country and, also, different publications like yourself. So, it was really fun to get them involved and interact in such a fun project, and, at the same time, delivering the campaign to them and talking to them and hearing their stories, more than anything.
Basically, what happened is, over the course of three days they added to this mural, which was this huge blank canvas at the beginning of the week. By the end of the three days it was completely covered in a saturation of color and shape and texture. It was a really extraordinary sight to see. Very involved. You know, beyond that, it was nice to talk to people that were living with HIV or deal with it on a daily basis, whether they're working at their ASO or their doctor's. Just amazing to hear everybody's story.
Advertisement
So, when I came away from USCA, I started to design the dress and when I first started the dress, I really started working on a black and white print. There were definite recognizable shapes from the mural, and it was just black and white. I got back, and I was just thinking to myself about all these stories I heard from the people, not just through the visual communication that was presented on the mural, but from their personal stories that were so honest and heartfelt. And I told myself, "This dress really needs to represent who they are, as well." So, I had to do something a little more abstract with the dress to allow them to visit ProjectIDesign.com and look at the dress to see how they applied their artistic integrity to it. I want them to look at it and remember that day when they created that flower or created that origami shape to put on the mural, and this is what he came up with.
I wanted to make it a little more abstract so they could relate to it and give their own interpretation of it. I was thinking about the stories and every story is different. You know, everybody has had a different journey living with HIV, so that's what the dress is really about. It's about communication, it's about the journey, and it's about the stories. If you look at the dress in person, if you're on the right-hand side of the dress, it's one dress. But if you go to the other side, the left-hand side, it looks like a totally different dress.
So, as you see the dress from different angles, it tells different stories?
Right, it's everybody's story. All of them are different, and very unique, and that's what I really wanted the dress to represent. I think it's a very successful design, and I hope the participants, the creators, from USCA, recognize how much they have contributed not only to this dress but to my creative process. Taking away from this dress, I've continued on this idea about the journey, the process, communication, dialogue, information, and applied it to my Fall/Winter 2013 collection. So there's definitely life beyond this very special dress.
You were inspired to make this dress from a mural, which is one type of artistic expression, and then you have your type of artistic expression, which is through fashion. What were some of the emotions that you felt when you were making this dress? What did you want it to say and translate from the mural to the dress?

The dress designed by Mondo Guerra, inspired by the HIV community
Well, I think, when I first started making it, I was like, "This isn't special enough. I'm really sticking to something that's safe, something that I know." And I wanted to make something that people could relate to in their own way. I wanted to get the personality of the dress through what they contributed. I feel like it had to be something that wasn't necessarily "off-the-rack." Something a little more high fashion. Something a little bit more interesting. Something we haven't seen, but something that is definitely a conversation piece. You know, if this girl walks into a room at any event, you want to ask her, "Oh, that's a cool dress, where did you get that from?" She can say, "Oh, Mondo Guerra designed it. He's working on this campaign, IDesign." What a great conversation opener, right? When you say "Who's that girl?" We want to know, we want to have that conversation, find out what this is all about. It should definitely be a conversation starter, so I had to push it a little bit. Honestly, it took me a long time to really nail down what I wanted to do, because I kept on wanting to make it very special, a very special dress, very unique.
Well, part of it is, you were inspired by this mural, which is a collaborative process, which involves many voices, and then you have dressmaking and fashion designing, which was your vision -- one person. I'm really curious, where do you think that the process of mural making and dress making can speak to each other? Where are the overlaps?
I think, working through the mural is really about, we can take away from the texture, and we can take away from the colors. If you look at the dress, there's definitely representation of the color from the mural. Most of it was the feeling behind participating and the feeling behind sharing your story, and the feeling of living with HIV. The dress, if you look at it, there's definitely a lot of structure to it. It's very tailored. Then there's some softness, there's some really beautiful detail work that really makes the dress. It's kind of like what we do in our proactive healthy life. We have to have this conversation, that's our structure, our foundation, to figure out what we need to achieve to be 100 percent, and then we do all the detail work. Beyond that, there's a little touch of love. You have to put in a little touch of love to continue to be responsible and proactive in your healthy life.
What are the plans for the dress? Is it going to be eventually for sale? Is it for sale now?
Well, we have big plans for the dress. We're not really ready to start talking about them yet. But I will say, that this is really echoed into my personal life, hearing these stories, but this whole idea of the journey and the process has echoed into my artistic work, so it will be echoed into the collection in the fall of 2013.
Advertisement
The theme of World AIDS Day this year is "Getting to Zero," which means zero new infections, zero AIDS-related deaths, and zero stigma. Since you did do this dress for World AIDS Day, how do you think the IDesign campaign figures into the theme of "Getting to Zero"?
Well, I think it's about conversation. That's one of the biggest things we talk about in the campaign, is having this conversation with your doctor to find proper treatment for you as an individual. I think it's also about having an inner dialogue. When you're being creative, you always second guess, you always ask yourself questions, you always want to make it the best, right? Why wouldn't you want to make your treatment the best? You really do have to have this conversation. I think the idea of "getting to zero" is a perfect theme, because we're only going to get to zero if we have this communication, whether it's communication with your doctor, or if it's communicating to someone who you think might not access this information and educate themselves. So, it's about all of us talking to each other. It's not an issue of being HIV negative or HIV positive; it's about really having an open conversation and having discussions about the topic of HIV/AIDS.
When I was reading about IDesign and the dress, so much of the mission and the agenda of the campaign is about personal responsibility and personal empowerment and the idea that you can't have the doctor do everything and make all the decisions. You have to be the best advocate for your own health. I was wondering, what is your relationship with your doctor and how has that grown in as many years as you have been seeing your doctor?
I will say one thing about that. I think that, once I started being proactive -- meaning being prepared, going in there, asking questions about CD4 counts, my viral load, talking about the side effects, and just asking all those other questions that come to mind, maybe I had a sore throat a couple days ago, whatever it was, I'd ask those questions -- when you're involved, when you go in there and ask questions, and you're interested, I can tell you that my doctor responded to that. It made me feel like my doctor was more interested in providing better care to me. It really is a give and take. It really has to be an open communication to really achieve your best self as part of a healthy life.
As a fashion designer, you get to combine your passion for fashion and design with your passion for HIV advocacy. What would you say to other people who want to pursue their passion while also working to advocate for HIV?
Advertisement
I think, if you're living with HIV, it's really easy to lose focus. I think there's such a huge emotional attachment to HIV. Yes, there's a huge responsibility to be healthy, physically, but there's also a huge responsibility to be healthy emotionally. I can tell you that, from my personal experience, that once I started taking the steps to be proactive in my physical life, it led to my happiness emotionally. You have to have that foundation of being happy physically to be able to go on and do your best work at the stuff that you really love to do from your day to day. Whether you're a banker or a painter or a baseball player or a fashion designer, it's all relative. You always have to be 100 percent on your physical to have that emotion to continue your passion. And I think there has to be a lot of patience when achieving your goals. I always am a goal-oriented person, and I always tend to knock a little off the block every time I'm moving forward. Just set your goal and look forward to it, but you have to have that goal of achieving your physical happiness, that's really important. And if you go to the website, ProjectIDesign.com, there's a checklist, a friendly reminder, to just remind you to ask about these questions and it gives you all the information that really prepares you to steer yourself in the right direction. We've really revamped the website in the last couple of months, so there's some stuff that shows the dress and the mural pictures from the USCA. Also, there's a new video with Dr. Michael Gottlieb and it's just really getting interactive and interesting, so if you have visited the website, make sure to revisit it, because it's a whole new, fresh website.
Your dress represents the three steps, or parts, of a fully realized relationship with your physician, which are "laying the foundation," "personalization" and "finishing touches." How has your own relationship with your doctor shaped the campaign and those three steps?
My foundation was realizing that I am HIV positive. For a long time, I was in denial, and HIV was defining who I was, not only as a person but as a creative person. So when I opened that dialogue with my doctor, that was my foundation. She knew that I was interested in being proactive and really finding out what's going on with me. Then the details are just all that information that she gives to me and all the information that I give to her. It isn't all about just my physical HIV. It's about my emotional, it's about my relationships; it's about everything. Your doctor should be somebody that you can trust and go into their office and talk about anything. I can tell you I talk to my doctor about everything. And the finishing touch, you know, is going home, taking that information, and doing your treatment.
Is there anything you want to add?
If you checked out the website, check it out again. You will see the dress, make sure to watch the video with Dr. Gottlieb, and download your checklist for sure! Even if you don't use it, download it; tape it to your bathroom mirror, and remind yourself of these questions that you want to ask your doctor.
Mathew Rodriguez is the editorial project manager for TheBody.com and TheBodyPRO.com.
Follow Mathew on Twitter: @mathewrodriguez.
Copyright © 2012 Remedy Health Media, LLC. All rights reserved.