Mondo Guerra entered Season 8 of Project Runway hoping to gain notoriety for his chic fashion design skills. But after disclosing his HIV-positive status that season and later winning the series' first All-Stars edition, Mondo found himself sought after not only for his fashion bonafides, but also for his HIV advocacy.
For World AIDS Day, Mondo has created a new work of fashion art: a dress that was inspired by a community mural at this year's International AIDS Conference. Through his involvement in an awareness campaign, I Design (in collaboration with Merck), he empowers people to fashion their own HIV treatment plan and advocates for patient-physician communication. Mondo talked with TheBody.com about his own relationship with his doctor and explains how this unique dress is not only his own design -- it belongs to all those in the HIV/AIDS world.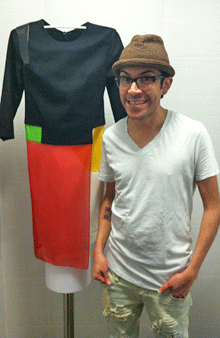 Mondo Guerra
When this dress was unveiled, to whom did you unveil it? Was it at a press event or was there a specific audience?
We unveiled it through our website, ProjectIDesign.com, and this dress is really inspired by the HIV community and, in a lot of ways, it was designed by the HIV community. We had the opportunity to go to the United States Conference on AIDS a couple of months ago in Las Vegas, and we had this interactive project, which was this mural. And, over the course of three days, we really encouraged the participants, or the creators as you might call them, to apply their inspiration to this visual "conversation" so to speak. And these are people that are attending the conference, so it's everybody in the HIV community from the medical field to advocacy and tons local ASOs (AIDS services organizations) around the country and, also, different publications like yourself. So, it was really fun to get them involved and interact in such a fun project, and, at the same time, delivering the campaign to them and talking to them and hearing their stories, more than anything.
Basically, what happened is, over the course of three days they added to this mural, which was this huge blank canvas at the beginning of the week. By the end of the three days it was completely covered in a saturation of color and shape and texture. It was a really extraordinary sight to see. Very involved. You know, beyond that, it was nice to talk to people that were living with HIV or deal with it on a daily basis, whether they're working at their ASO or their doctor's. Just amazing to hear everybody's story.
Advertisement
So, when I came away from USCA, I started to design the dress and when I first started the dress, I really started working on a black and white print. There were definite recognizable shapes from the mural, and it was just black and white. I got back, and I was just thinking to myself about all these stories I heard from the people, not just through the visual communication that was presented on the mural, but from their personal stories that were so honest and heartfelt. And I told myself, "This dress really needs to represent who they are, as well." So, I had to do something a little more abstract with the dress to allow them to visit ProjectIDesign.com and look at the dress to see how they applied their artistic integrity to it. I want them to look at it and remember that day when they created that flower or created that origami shape to put on the mural, and this is what he came up with.
I wanted to make it a little more abstract so they could relate to it and give their own interpretation of it. I was thinking about the stories and every story is different. You know, everybody has had a different journey living with HIV, so that's what the dress is really about. It's about communication, it's about the journey, and it's about the stories. If you look at the dress in person, if you're on the right-hand side of the dress, it's one dress. But if you go to the other side, the left-hand side, it looks like a totally different dress.
So, as you see the dress from different angles, it tells different stories?
Right, it's everybody's story. All of them are different, and very unique, and that's what I really wanted the dress to represent. I think it's a very successful design, and I hope the participants, the creators, from USCA, recognize how much they have contributed not only to this dress but to my creative process. Taking away from this dress, I've continued on this idea about the journey, the process, communication, dialogue, information, and applied it to my Fall/Winter 2013 collection. So there's definitely life beyond this very special dress.