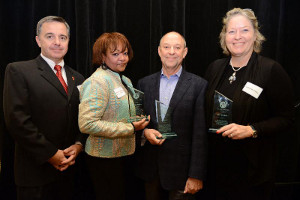 Pictured Left to Right: Michael Ruppal, Executive Director; Marylin Merida, Board President; Lew Sibert, Treasurer, The AIDS Institute; and Janet Schuessler McUlsky, Unsung Hero Award recipient. Photo courtesy of www.Route1Multimedia.com.
Washington, D.C. -- The Board and staff of The AIDS Institute hosted a reception Monday evening November 26, 2012 in recognition of the organization's 20 years of service to those impacted by and living with HIV/AIDS. The AIDS Institute began as a grassroots volunteer organization in 1985 and was formalized as a non-profit organization in 1992 known, at that time, as Florida AIDS Action.
"It is a great responsibility to lead an organization with a rich history built on years of hard work from the founding advocates and my predecessors," commented Michael Ruppal, Executive Director of The AIDS Institute. "As we have nurtured this legacy, The AIDS Institute has strengthened its commitment to the mission of promoting action for social change through research, public policy, advocacy, and education." Ruppal continued.
The AIDS Institute recognized four leaders and visionaries in the field of HIV/AIDS and Hepatitis advocacy at the reception.
Two Unsung Hero Awards were presented to deserving leaders and advocates who, all too often, go unrecognized for their contribution to the fight against HIV/AIDS. The first recipient was Janet Schuessler McUlsky who serves as Senior Director, National Alliance Development, at Pfizer. She has served on numerous national and community boards and has been a tireless advocate for patients, seniors, women, small-business, nursing and rural organizations. Janet is passionate about her programs that help partner with non-profit groups to build their capacity, credibility and "voice" with policymakers, the media and the general public.
Advertisement
The second recipient of the Unsung Hero Award was Linda H. Scruggs, a public health consultant, advocate, trainer and inspirational speaker. Linda is the former Director of Programs for the AIDS Alliance for Children, Youth & Families and has fought for, and been a compelling voice for, women, infants, children, youth and families for over 20 years. Linda was most recently a keynote speaker at the International AIDS Conference held in Washington, DC.
Two Exceptional Service Awards were given to long-serving volunteer Board leaders of The AIDS Institute. The first recipient was Lew Sibert, Board Treasurer. He is the longest serving Board member with over 15 years of service. Lew has committed his broad and valuable experience, skills and mentoring abilities to further the organization's mission and to support its staff, volunteers and fellow Board members. He is the former Vice President, Global Professional Affairs, at Tibotec, a Johnson & Johnson company. He has been integrally involved in the development of antivirals for a large portion of his 39 years in the pharmaceutical industry. Lew graciously shares his retirement time with The AIDS Institute.
Marylin Merida, Board President, was the second recipient. She has served on and supported the Board for over 10 years as both Vice President and President. Currently, she is serving an unprecedented 4th term as President. Marylin serves as the administrator of the Florida Family AIDS Network at the University of South Florida. She devotes a great amount of her time to eliminating health disparities and improving public health models and systems.
"The AIDS Institute is proud of its history, contributions and successes and, as it moves into its third decade of service to the HIV/AIDS community, I am deeply gratified to have had the opportunity to be of service" said, Merida as she received her award.