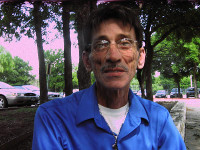 Ricky Allen Lanza
With the House of Representatives deciding whether to cut a deficit reduction deal or let sequestration run its course, it's important for lawmakers and people who shape opinion to see human faces -- real people with HIV, people like the many whom sequestration will hurt. At last April's National Healthy Living Summit, we had the privilege of talking to Ricky Allen Lanza, a very long-term HIV survivor and Executive Director of the Lorain County (Ohio) A.I.D.S. Task Force -- someone who has faced serious HIV stigma and is working today to help others who need HIV care and support.
This is a survivor's story. Ricky's faced major health challenges and walks with a cane now. We had to scramble to keep up. We think lots of people have to scramble to keep up with him.
Positive Voice: Ricky, can you tell us how HIV came into your life and how it has changed your life?
Ricky Allen Lanza: The time was September of 1996, and I just simply wasn't feeling well and decided it was time for a physical. And I found a general practitioner, and she was going to order all these tests and blood work. So I said, I would like you to do an HIV test as well, and she asked, Are you at risk, is there a reason you want it? I said, we're doing everything else, we might as well include it. So she went ahead and ordered all the lab work, and at that time, in 1996, it still took two weeks to get a result. And she wanted me to see another doctor, a gastroenterologist, because there's a lot of cancer in my family. And this doctor was at her office every other Wednesday, I said that was fine, and it was time for my appointment, I went to the office, and in the waiting room the nurse came out and siad, The doctor would like to speak to you, and I said, OK, that's why I'm here.
But she did not take me through to the exam room. She took me to the other doctor's private office. It had a tiny little light on the desk, and the rest of the office was just black. And I said, This is not the exam room, why am I in here? She said, The doctor is on the phone. So I picked up the phone and identified myself, and she said, Before you see the next doctor, I need to tell you, your test came back positive and you have AIDS, I can't treat you, and I wish you luck.
Advertisement
I was like, What?
Nor did she refer me to anyone. So I looked in the Yellow Pages, wondering, Who do I call? But that same week the other doctor called me, wanting other tests, and told me I needed to tell the technicians when I was having a test of my status. Which I did.
Now, I had taught ballroom and Latin dancing as a competitor, coach, and choreographer for 32 years, and I told one of the technicians, a radiologist, and the technician turned around and told the doctor. That doctor -- this is the same week -- turned around and started calling all my students and telling them that I had AIDS.
This is still in September of 1996. So I asked her for a meeting, we met at a restaurant, and I told her, You have no right to be telling my status to people. She said, You have no right not to. And I said, I'm asking you for doctor-patient confidentiality. And she refused.
That same week, I lost over half my clientele, I had to hire an attorney, and put a lawsuit against her to put a gag order on her. So at least she's not talking, but I had already lost half my clientele. So I wasn't long for working anymore.
And this was all in the same week I found out [about my HIV]. So I was, needless to say, devastated.
My family, like a lot of people still today, were uneducated about HIV -- as I was -- and when I'd go visit and use the bathroom, they didn't allow anyone to use the bathroom after me and sterilized it after I left.
Now, my partner is a wonderful chef, and he would always make food. We found out later that, right after we left, they'd throw the food away.
So I thought, my family needs to get educated. But I can't tell them until I get educated.
So I started doing a lot of research myself, because I still didn't have a doctor and still didn't know where to go. I hooked up with a doctor in a clinic, and they were very wonderful with me. But after going through that, I said, no one should have to go through this. I decided it was time for me to do something about it. That's when I decided to dedicate myself to helping other people get educated.
And then in 2000, I just totally collapsed.
My legs didn't work. I couldn't work. They said I had developed myopathy, which is a muscle degeneration, and neuropathy, which was hereditary, because I wasn't on meds yet. So I said, OK, now I can't work, now I've got something else I need to do. That's when I started talking to everyone in the HIV community to find out what there is to know about it, and I said, I'm not going to let this happen to anyone else.
My partner and I had been together for a long time, but then we had a two year split, and that's when I became infected. And he said, there's no one going to take care of you but me. And we've been together ever since, and we're going on 32 years this summer. Everything's been going fine.
I got involved in Lorain, Ohio, just going to Task Force meetings. They really weren't doing much, and I said, we should at least be non-profit. They said, Oh, that's too much work. So I decided, I will do it for them. I got the [non-profit] status going, and next thing I knew, I was the Executive Director. I ended up with the job because no one else wanted it. I met patients in parking lots, my house, their house, I'd go to the doctor's office, and we didn't even have a phone number for anybody to call, so I added a third line to my cell phone account. That became the phone number for everybody to call.
We still had nowhere to meet anybody, and there's a non-profit agency called Lorain County Health and Dentistry, they help people medically. I went to their office, and they had an information desk that no one was using, so asked them if I could use it three days a week, because the infectious disease clinic was in the same building.
They said that wasn't a problem. And once that happened, we started growing and growing and growing. And then the Mercer Region Medical Center, the people who owned the space, moved us into another office building, and the infectious disease clinic with us. So then we had this wonderful office -- Mercy Hospital gives us very cheap rent, they included utilities, the air, the heat, gave us internet access and four phone lines, and never charged us a penny for any of it. So I was glad someone was stepping up to the plate.
Advertisement
A bad part of my HIV was in 2005. I hadn't gotten very sick, didn't realize I was very sick, and I had become so lethargic, I didn't realize I had contracted PCP pneumonia. I woke up one morning and felt wet on by backside, and I thought, what's going on here? And Mithc came out of the shower, and I said, Mith, something's not right. That's all I remember. I woke up a week later in ICU. They induced me into a coma, because I was so lethargic with PCP, I had fallen asleep on a heating pad and didn't even know it and ended up with a third-degree burn over my entire right hip.
It was bad. They said I would not survive. And while I was in the coma, they called the family, I was given my Last Rites, they said I would not make it. I did come out of it -- on my own. I didn't even go to a step-down unit, they said, You're doing so well, we're going to put you in a regular room. I still was not aware of what was going on.
I was in the hospital for a month, and the doctor came in and said they were going to release me, but to a nursing home. I said, Why? She said, you have PML, which is a [viral, usually fatal] opportunistic infection which I had gotten on top of PCP pneumonia. She said, It means you have six months. I said, I'm going home. She said, I'd rather you go into a nursing home. I said, I am asking you to release me to go home, or I'll get out of here on my own.
At the same time, the neurologist came in and said, Ricky, we're so happy to see you're alive, but I need you to understand, you will never walk again. And I couldn't handle that. I said, I've been a competitive dancer all my life, and now you're telling me I can't walk?
I got them to let me go home, and three days later I had a stroke. I went back to the hospital, I was there for another month, I was given Last Rights a second time, and again they wanted to release me to a nursing home, and I said, No, I want to go home. And my partner came in and said, If anyone's going to take care of him, it'll be me. And after three months being in a wheelchair, he said, You don't belong there. I couldn't move my legs, so he did it for me. He got me from a wheelchair to a walker, two canes, then one cane, and for the last two years I've led our 5K AIDS Walk.
They tell me I am headed back to the wheelchair, my legs just keep getting weaker and weaker, but for awhile I didn't use a cane. I even went out dancing. Now I'm back using a cane....
This is how HIV has affected me. And I feel I've gone through so much of the bad part of it, I can teach other people how not to get to that stage. I want people to know their status, so I got certified as a counselor for HIV prevention, and I now do the testing. I've taken our agency from meeting people in parking lots to a network of over 30 agencies. That's agencies, not people. We don't ask anybody for money, we ask them for their support. And I have managed to get an entire community to collaborate together, even churches that frown upon us giving out condoms. They've come around, and we have a very successful, 100% all-volunteer agency. We are not funded by the government in any manner. We only raise $2,500 a year at our little AIDS Walk.
And then I became involved with NAPWA and SABER, and I was very honored that they asked me to come down to be a presenter [at the National Healthy Living Summit] this year, because I joined with NAPWA and SABER last year to build a coalition. Ours is in Ohio. We had Lorain City, Illyria City, and Lorain County Health Departments, the Ohio Department of Health, all involved with us. We got involved with the colleges, where we do regular testing, and we also connected with a Spanish-speaking agency called El Centro, the largest one in our area, and we do regular testing there. We attend all the Latin festivals and any health fair that will allow us to come. The only problem is in the faith-based hospitals, where we're not allowed to put condoms on the table. I remind them, You ask me to test people because you know they're having unprotected sex, they need to know how not to come back. So to avoid any confrontation, we brown-bag everything and call them safe-sex bags. And if people ask, What's in the bag, we say, They're give-aways, help yourself -- and it actually works. And when I test anybody, especially if they come out negative, I say, The only thing I ask you in return is, send a friend. Because everyone needs to know what his status is.
If I test someone today, and they come back positive, we get them into care the same day. They don't leave my office without taking an appointment, I take them to the lab for a blood draw, they do not leave my office without knowing everything they need to know about HIV and without having a doctor's appointment set up, so we can get them into care and keep them in care.
But when we have people who are negative, we teach them how to stay safe, we offer them condoms, and we tell them, as long as we have them we'll give them to you and you're always welcome to come back at any time.
So I was very honored to come down here as a presenter about our coalition. And I always tell people, HIV doesn't have me, HIV just happens to be in my life. We've already had three babies born HIV-negative and doing just fine, and I tell people, we need to keep pushing forward to teach the next generation to do what we do and continue our work, because we can't do it forever.
Positive Voice: Thank you, Ricky!