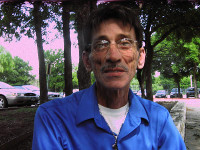 Ricky Allen Lanza
With the House of Representatives deciding whether to cut a deficit reduction deal or let sequestration run its course, it's important for lawmakers and people who shape opinion to see human faces -- real people with HIV, people like the many whom sequestration will hurt. At last April's National Healthy Living Summit, we had the privilege of talking to Ricky Allen Lanza, a very long-term HIV survivor and Executive Director of the Lorain County (Ohio) A.I.D.S. Task Force -- someone who has faced serious HIV stigma and is working today to help others who need HIV care and support.
This is a survivor's story. Ricky's faced major health challenges and walks with a cane now. We had to scramble to keep up. We think lots of people have to scramble to keep up with him.
Positive Voice: Ricky, can you tell us how HIV came into your life and how it has changed your life?
Ricky Allen Lanza: The time was September of 1996, and I just simply wasn't feeling well and decided it was time for a physical. And I found a general practitioner, and she was going to order all these tests and blood work. So I said, I would like you to do an HIV test as well, and she asked, Are you at risk, is there a reason you want it? I said, we're doing everything else, we might as well include it. So she went ahead and ordered all the lab work, and at that time, in 1996, it still took two weeks to get a result. And she wanted me to see another doctor, a gastroenterologist, because there's a lot of cancer in my family. And this doctor was at her office every other Wednesday, I said that was fine, and it was time for my appointment, I went to the office, and in the waiting room the nurse came out and siad, The doctor would like to speak to you, and I said, OK, that's why I'm here.
But she did not take me through to the exam room. She took me to the other doctor's private office. It had a tiny little light on the desk, and the rest of the office was just black. And I said, This is not the exam room, why am I in here? She said, The doctor is on the phone. So I picked up the phone and identified myself, and she said, Before you see the next doctor, I need to tell you, your test came back positive and you have AIDS, I can't treat you, and I wish you luck.
Advertisement
I was like, What?
Nor did she refer me to anyone. So I looked in the Yellow Pages, wondering, Who do I call? But that same week the other doctor called me, wanting other tests, and told me I needed to tell the technicians when I was having a test of my status. Which I did.
Now, I had taught ballroom and Latin dancing as a competitor, coach, and choreographer for 32 years, and I told one of the technicians, a radiologist, and the technician turned around and told the doctor. That doctor -- this is the same week -- turned around and started calling all my students and telling them that I had AIDS.
This is still in September of 1996. So I asked her for a meeting, we met at a restaurant, and I told her, You have no right to be telling my status to people. She said, You have no right not to. And I said, I'm asking you for doctor-patient confidentiality. And she refused.
That same week, I lost over half my clientele, I had to hire an attorney, and put a lawsuit against her to put a gag order on her. So at least she's not talking, but I had already lost half my clientele. So I wasn't long for working anymore.
And this was all in the same week I found out [about my HIV]. So I was, needless to say, devastated.
My family, like a lot of people still today, were uneducated about HIV -- as I was -- and when I'd go visit and use the bathroom, they didn't allow anyone to use the bathroom after me and sterilized it after I left.
Now, my partner is a wonderful chef, and he would always make food. We found out later that, right after we left, they'd throw the food away.
So I thought, my family needs to get educated. But I can't tell them until I get educated.
So I started doing a lot of research myself, because I still didn't have a doctor and still didn't know where to go. I hooked up with a doctor in a clinic, and they were very wonderful with me. But after going through that, I said, no one should have to go through this. I decided it was time for me to do something about it. That's when I decided to dedicate myself to helping other people get educated.
And then in 2000, I just totally collapsed.
My legs didn't work. I couldn't work. They said I had developed myopathy, which is a muscle degeneration, and neuropathy, which was hereditary, because I wasn't on meds yet. So I said, OK, now I can't work, now I've got something else I need to do. That's when I started talking to everyone in the HIV community to find out what there is to know about it, and I said, I'm not going to let this happen to anyone else.
My partner and I had been together for a long time, but then we had a two year split, and that's when I became infected. And he said, there's no one going to take care of you but me. And we've been together ever since, and we're going on 32 years this summer. Everything's been going fine.