When it comes to confronting HIV with activism, these four Filipino activists are not only ahead of the game, they're changing it altogether. They were gracious enough to give us their time and wisdom and tell us what it's like to fight HIV in the Philippines, one of seven countries in the world with a rising HIV rate.
Bric Bernard Bernas, HIV Advocate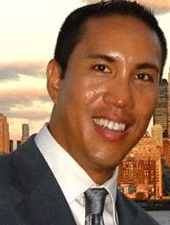 Bric Bernard Bernas
Bric has spent many years at the the AIDS Society of the Philippines and held two posts: as program manager for the Global Fund for TB, AIDS & Malaria, Round 6, and executive director, where he was actively involved with Philippine National AIDS Council in consultations, strategic planning and implementation on HIV prevention among the most at risk population.
As program manager at Asia Pacific Islander Coalition on HIV/AIDS in New York City, he oversaw the HIV Counseling, Testing & Referral Project. During his tenure, the number of clients accessing HIV testing services increased three fold. As a result, the state and city of New York departments of health and other HIV organizations recognized the agency as one of the pioneers on HIV counseling & testing in New York City.
In 2005, the NYC Department of Health Bureau of STD recognized him as the best collaborator in its "Keeping the World Safer from Sex" program. Lastly, he was a resource person on HIV and APIs for various ethnic and mainstream publications, such as Filipino Express, Filipinas Magazine, Thai New York, World Journal, Gay City News and The New York Times.
Niccolo Cosme, Creative Director, The Lighthouse Studio; HIV/Awareness Advocate; Conceptual Photographer, Visual Artist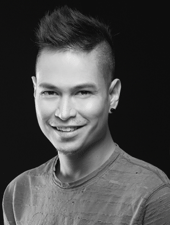 Niccolo Cosme
Niccolo Cosme started his career in the field of photography in 2001. In his successful years as a photographer, he has always been fascinated with meanings and symbolisms and in Christian iconography, which is present in most of his conceptual and some commercial works. Niccolo has worked on different campaigns in the Philippines and abroad and has photographed a number of celebrities and personalities.
He also cofounded The Red Whistle campaign in 2011, a community response to the alarming situation of HIV and AIDS in the Philippines. He considers activism an integral part of himself as an artist and as a humanitarian. In February 2012, he was among the 32 recipients of the Ani ng Dangal Awards (Harvest of Honors) by the National Commission on Culture and the Arts, Philippines.
Melanie Dulfo, MSW, Women and Youth Program Manager, APICHA Community Health Center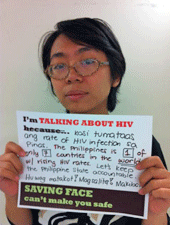 Melanie Dulfo, MSW
Melanie Dulfo has worked with immigrant women since 2007. She is the Women and Youth Program manager at the APICHA Community Health Center, where she implements HIV prevention programs with API women and youth. The Women's Project under the Women and Youth Program has been providing sexual health workshops for women who have been arrested for sex work, recent immigrants, and survivors of domestic violence. It also provides free and confidential testing and counseling for HIV and other STIs. Melanie has also worked with Filipina domestic workers at the KABALIKAT Domestic Workers Support Network.
Laurindo Garcia, Founder, B-Change.org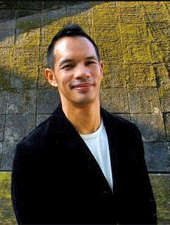 Laurindo Garcia (Credit: Alan Seah)
Laurindo Garcia is a civil society advocate based between the Philippines and Singapore. After working in technology, media and communications for more than 20 years, he is regarded as an expert in harnessing technology for social change with a specialization in social justice, diversity and health for minorities, especially LGBT people and people living with HIV. He is coordinator for two regional community networks that promote health for sexual and gender minorities.
He was one of the architects of a multi-country community systems-strengthening initiative for men who have sex with men and transgender people that succeeded in Round 10 of the Global Fund to Fight AIDS, Tuberculosis and Malaria. In 2011, Laurindo spoke at the opening ceremony of the 10th International Congress on AIDS in Asia and the Pacific making him the only gay, Asian man openly living with HIV to address an international plenary in 17 years. He was again called as the community speaker at the closing session of the 19th International AIDS Conference in Washington, D.C., in July 2012.
He has recently founded a regional social enterprise called B-Change which focuses on promoting social change through technology.
Copyright © 2012 Remedy Health Media, LLC. All rights reserved.