Due to stigma, the interviewees expressed that HIV prevention messages not only have to target behaviors, but beliefs and attitudes as well. Enter activists like Cosme, who was part of the Philippines' Red Whistle campaign, an online, youth-focused effort that aims to simultaneously prevent the spread of HIV and stigma in the Philippines. Cosme says, "The Red Whistle campaign was fashioned and created for the MSM, although the messaging and the facts and the branding of the campaign did not clearly state that it was an MSM campaign, because we did not want to drive away positive people who would not be comfortable being outed by an MSM campaign."
Empowering the New Blood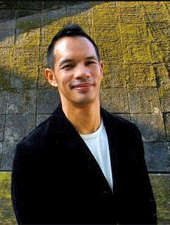 Laurindo Garcia (Credit: Alan Seah)
With the face of HIV in the Philippines changing, activists stressed the importance of response within the community. Garcia stressed that anyone can be an activist, as long as they keep their government accountable. "Governments are always kind of strange creatures. They rarely do what we want them to do," he says. "But in a way, that's kind of the point. ... Your governments are only as good as you make them to be. So if we want a better HIV response, then we need more people on the ground, more people demanding services."
Frustrated by inaction, Garcia sees ways for everyone to take action -- no matter how small. He urges a form of non-violent protest against the status quo: "The part where that pushes some people's comfort zones is that it means that you go to a clinic and say, 'Fuck you. This is not how I want to be treated as a patient. You are my health care professional. Be professional and give me the service that I need.'"
However, for such a movement to take hold, there needs to be more activists willing to push back against the system. "Where are the new faces? Where is the new blood? Where's the new energy?" Garcia asks. "If we are really out to try and address social justice, address inequalities, address the stigma and discrimination that exist, we can't do this without bringing new faces, new voices to the movement." The solution is self-feeding, Garcia suggests: If youth can be empowered to make better decisions about their own sexual health, they in turn can empower others to do the same. However, to start any cycle like this takes an initial spark.
There are no doubt many in the Philippines who hope that Cosme struck that spark when he publicly confronted health secretary Ona while dressed up as HIV. Since that moment, Cosme says, the secretary has tempered his statements and signaled a greater openness to reconsidering his country's approach to HIV prevention. "I'm very happy that he has sort of changed his mind towards HIV," Cosme says. Of course, in a situation as complex as that in the Philippines, a nuanced, multi-pronged response may be the only solution. There are youth to be empowered, there are government officials to be confronted, there are stigmas to be erased, and there are laws to be changed.
Each of these Filipino HIV activists is a cog in a new machine -- a machine that, though slow to move, is picking up the pace. While Laurindo Garcia speaks at conferences, Bric Bernas is on the ground in the Philippines. While Niccolo Cosme confronts politicians, Melanie Dulfo organizes Filipino domestic workers. Each act, unique, helps move the Philippines towards its own goal of "getting to zero." At the heart of each activist's actions is the desire to usher in a new generation of Filipino HIV activism and make a Filipino government that is proactive, not reactive, to its own HIV epidemic. Only time will tell, but for these Filipino activists, and thousands of at-risk people in the Philippines, the clock is ticking.
Mathew Rodriguez is the editorial project manager for TheBody.com and TheBodyPRO.com.
Follow Mathew on Twitter: @mathewrodriguez.
Copyright © 2012 Remedy Health Media, LLC. All rights reserved.