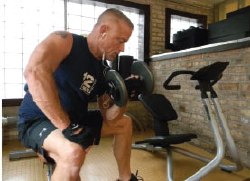 5:31 p.m.: Chicago. Staying fit and healthy in both mind and body is especially important for those living with HIV. I look forward to getting to the gym at least three days a week as a way to keep in shape, manage my stress, and boost my self-esteem.
8,404. That is the number of days that I've been living with the knowledge that I am HIV-positive. I started taking HIV meds (well, one actually, AZT) a few months after testing positive in 1989, so most of those 8,414 days were filled with a constant, daily reminder that I have HIV.
At some point, though, I realized that I wasn't going to die, that I was one of the lucky ones who'd survived long enough to take advantage of the medications that were actually suppressing the virus, allowing me to suddenly start to live with HIV.
Fast forward to 2012. That should be the end of the story, right? Unfortunately, it's not. In August, a policeman in suburban Detroit pulled a woman over for a traffic violation, and harassed her for half an hour because she did not disclose that she was HIV-positive until after he searched her car. "I don't want to catch nothing. I got a family," the officer tells her on the video taken from the cop's dashboard camera and posted on YouTube. HIV training is now being implemented for all of the law enforcement officers in the department.
For all of the advances we've made in the last 30-plus years of fighting this epidemic, we still have a long way to go. One of the biggest obstacles still hindering us in the fight against HIV is stigma. As David Fawcett points out in his article, stigma can sometimes prevent people from getting tested or accessing care, or cause them to miss doses of their medication because they are at a family event and are afraid of being found out.
Advertisement
A Day with HIV is Positively Aware's anti-stigma photo campaign that has begun to tear down the walls of shame and silence that surround HIV by showing that, despite HIV, life goes on. On September 21, nearly 200 people, both HIV-positive and negative, took a snapshot to show what it means to live in a world with HIV. By coming together on that one day, we build a virtual community of support and help raise awareness about HIV, not only in our own communities, but everywhere.
A number of photos came from people living outside the U.S., including Australia, Brazil, Canada, England, Germany, New Zealand, Scotland, South Africa, Uruguay, and the island of Cyprus. Participants included positive parents with negative children, and negative parents with positive children; organizations that assist and advocate for people living with HIV; Ji Wallace, the former Olympic medal winner from Australia who recently came out as HIV-positive; and HIV-negative individuals who just wanted to show their support.
For the first time we did a split cover run, so the cover you see is one of four that were produced from among this year's submissions. The four cover photos were chosen by a panel of three judges, who we cannot thank enough: Chuck Panozzo, HIV-positive co-founder and bass player of the band Styx; Sheryl Lee Ralph, former Dreamgirl and fierce diva/advocate for people with HIV; and Diego Sanchez, transgender advocate and legislative assistant to U.S. Congressman Barney Frank.
Finally, this issue of Positively Aware marks a new day for PA and the paper it's printed on. Ironically, the weak economy and the current state of the print industry have caused a dramatic drop in the price of coated (glossy) paper, now putting it within our reach. And it is only fitting that we see this extraordinary change starting with this issue, displaying some of the most inspiring and empowering images from A Day with HIV. Be sure to go to www.adaywithhiv.com to see all of the photos submitted.
So unless a cure is found in the near future, I will be spending the remainder of my days HIV-positive, however many they may be. But just like when I quit smoking, after a while I stopped counting, and started living.
Take care of yourself, and each other.