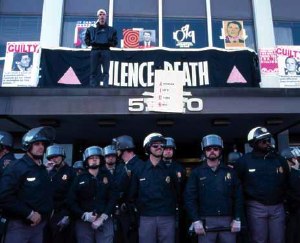 ACTing UP: Peter Staley heads a protest at the FDA.
There is a pivotal scene in David France's documentary film How to Survive a Plague that takes place at an ACT UP (AIDS Coalition to Unleash Power) meeting where co-founder Larry Kramer is to speak. Kramer is seen sitting and watching silently as people in the room bicker back and forth and talk over each other, until suddenly he explodes and shouts at the top of his lungs "PLAGUE! This is a PLAGUE!" He continues admonishing everyone until a hush falls over the room and you could hear a pin drop. It was all I could do to hold myself together and not break down in the darkly lit theater. I felt his anger, his rage, and it came from within myself.
This is a film that is far more than it ever set out to be, a movie that sits back and allows the spectacular footage from the early era of the epidemic and AIDS activism to take center stage and simply speak for itself. I was transfixed from the moment the screen lit up, as well as being transported back in time. There is a great deal I learned about activism in general and ACT UP's history in particular that I never knew -- it's fascinating stuff, and makes for intriguing drama. But the film is more than just a history lesson -- it shows how, amid desperation and devastation, a movement grew that forever changed how drugs in this country are developed, how policies are created, and how a demand for change from "outsiders" eventually led to full community participation and leadership from the inside out and top down.
Peter Staley, who was a successful bond trader in New York in the mid-'80s before leaving his job after being diagnosed with AIDS-related complex and given two years to live, is one of the film's protagonists. Staley was also a founding member of ACT UP, and the splinter group Treatment Action Group (TAG), before eventually going on to found AIDSMeds.com and serve on the board of amfAR. In the film, Staley delivers a powerful speech at the 1990 International AIDS Conference in San Francisco and reaches "across the aisle," asking researchers and scientists to join the activists and their cause. It was a tipping point not only in the film but also in the epidemic itself.
Advertisement
There are many other moments in the movie that stand out, such as when performance artist Ray Navarro, dressed up as Jesus and portraying a news reporter who goes by the name "J.C.," interviews people outside St. Patrick's Cathedral in New York, right before the famed 1989 ACT UP protest is set to take place inside. Outside the NIH, a mounted police officer slams his horse into a female protestor and then spins the horse around and starts beating the woman with a club, and I gasped out loud in the theater. At a memorial service in which fellow activists carry their fallen comrade's coffin in the rain, Bob Rafsky delivers an eloquent eulogy in which he denounces George H.W. Bush on the night before the 1992 election, tearfully ending with "ACT UP, fight back, fight AIDS," with barely a whisper and his voice cracking -- it's gut-wrenching and emotional.
I know and count as friends many of those featured prominently in the film, which makes it even that much more personal for me. But for anyone interested in the history of activism in general, or ACT UP in particular, gay history or the history of HIV/AIDS, civil rights or civil disobedience, or simply in learning about humanity and courage in the face of seemingly insurmountable odds, please see this movie. You will not be disappointed.
Go to www.surviveaplague.com.