Table of Contents
For Patients
Other Names: 744 LA, CAB, cabotegravir sodium, GSK1265744, GSK-1265744, GSK744, GSK744 LA, GSK744 LAP, S-265744, S/GSK1265744
Drug Class: Integrase Inhibitors
Molecular Formula: C19 H17 F2 N3 O5
Registry Number: 1051375-10-0 (CAS)
Company: ViiV Healthcare
Phase of Development: IIb
Chemical Image: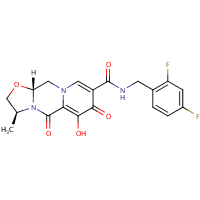 cabotegravir
Molecular Weight: 405.3553
(Compound details obtained from ChemIDplus Advanced,1 NIAID Therapeutics Database,2 and ViiV Healthcare website3)
What Is an Investigational Drug?
An investigational drug is one that is under study and is not approved by the U.S. Food and Drug Administration (FDA) for sale in the United States. Medical research studies are conducted to evaluate the safety and effectiveness of an investigational drug. These research studies are also called clinical trials. Once an investigational drug has been proven safe and effective in clinical trials, FDA may approve the drug for sale in the United States.
Advertisement
What Is Cabotegravir?
Cabotegravir (also known as S/GSK1265744) is an investigational drug that is being studied for the treatment and prevention of HIV infection.4
Cabotegravir belongs to a class (group) of HIV drugs called integrase inhibitors.2 Integrase inhibitors block an HIV enzyme called integrase. (An enzyme is a protein that starts or increases the speed of a chemical reaction.) By blocking integrase, integrase inhibitors prevent HIV from multiplying and can reduce the amount of HIV in the body.
Cabotegravir does not require boosting with an additional drug. (Boosting involves the use of a second drug to increase the effectiveness of the main [first] drug.)5
Two forms of cabotegravir are being studied: tablets that are taken by mouth (known as oral cabotegravir or oral CAB) and a long-acting injectable form that is injected into the muscle or under the skin (known as GSK744 LA).6,7 (A long-acting drug formulation works over a long period of time. Using this type of drug might mean that the drug could be taken less often, making a treatment or prevention regimen simpler to take.)4
How Are Clinical Trials of Investigational Drugs Conducted?
Clinical trials are conducted in phases. Each phase has a different purpose and helps researchers answer different questions.8
Phase I trials: Researchers test an investigational drug in a small group of people (20–80) for the first time. The purpose is to evaluate its safety and identify side effects.
Phase II trials: The investigational drug is administered to a larger group of people (100–300) to determine its effectiveness and to further evaluate its safety.
Phase III trials: The investigational drug is administered to large groups of people (1,000–3,000) to confirm its effectiveness, monitor side effects, compare it with standard or equivalent treatments, and collect information that will allow the investigational drug to be used safely.8
In most cases, an investigational drug must be proven safe and effective in a Phase III clinical trial to be considered for approval by FDA for sale in the United States. Some drugs go through FDA's accelerated approval process and are approved before a Phase III clinical trial is complete. After a drug is approved by FDA and made available to the public, researchers track its safety in Phase IV trials to seek more information about the drug's risks, benefits, and optimal use.8
In What Phase of Testing Is Cabotegravir?
Cabotegravir is currently being studied in Phase IIb clinical trials.2
What Have Recent Studies Shown About Cabotegravir?
In a Phase IIb study (known as the LATTE study), investigators looked at the safety and effectiveness of three different strengths of oral cabotegravir taken once daily in HIV-infected adults. Participants had never taken HIV medicines before entering the study (also called treatment-naive). The study consisted of two parts. During the first part, which lasted 24 weeks, participants were assigned to one of the following four regimens:
10 mg of cabotegravir plus two FDA-approved HIV medicines from the nucleoside reverse transcriptase inhibitor (NRTI) drug class.
30 mg of cabotegravir plus two FDA-approved NRTIs.
60 mg of cabotegravir plus two FDA-approved NRTIs.
600 mg of efavirenz (an FDA-approved HIV medicine from the non-nucleoside reverse transcriptase inhibitor [NNRTI] drug class; brand name: Sustiva) plus two FDA-approved NRTIs.6,9
Participants who were taking cabotegravir and who had successful viral suppression could continue to the second part of the study. (Viral suppression is when antiretroviral therapy [ART] reduces the amount of HIV in a person's blood sample to an undetectable level.) In the second part of the study, participants who were taking cabotegravir stopped their two NRTI medicines and added the FDA-approved NNRTI medicine rilpivirine (brand name: Edurant). Participants in the efavirenz group continued taking efavirenz plus the two NRTIs.6,9
In this study, oral cabotegravir showed antiviral activity at all three dosing strengths studied. Week 24 results showed that viral load (the amount of HIV in a blood sample) appeared to decline significantly faster in participants taking cabotegravir than in participants taking efavirenz.9,10 Week 48 results showed that cabotegravir plus rilpivirine, when used in participants with viral suppression, was as effective at controlling viral load as efavirenz plus two NRTIs. In terms of safety, no serious adverse events related to cabotegravir treatment were reported. Fewer participants in the cabotegravir dosing groups dropped out of the study because of an adverse event than in the efavirenz group.9
Another Phase IIb study will be looking at the effectiveness and safety of using oral cabotegravir followed by the long-acting injectable formulation of cabotegravir (GSK744 LA) for lowering viral load and maintaining viral suppression in HIV-infected, treatment-naive adults.7
Cabotegravir is also being developed as a medicine for pre-exposure prophylaxis (PrEP) for adults at risk of acquiring HIV. PrEP means using a medicine before possible exposure to a virus or bacteria to reduce the risk of becoming infected with the virus or bacteria. Two Phase IIa studies will be looking at the safety of GSK744 LA: one in HIV-uninfected men, and the other in HIV-uninfected men and women.11-13
What Side Effects Might Cabotegravir Cause?
In the Phase IIb LATTE study discussed under the previous question, mild to moderately severe headache occurred in some participants taking oral cabotegravir.14
Because cabotegravir is still being studied, information on possible side effects of the drug is not complete. As testing of cabotegraivr continues, additional information on possible side effects will be gathered.
Where Can I Get More Information About Clinical Trials Studying Cabotegravir?
More information about cabotegravir-related research studies is available from the AIDSinfo database of ClinicalTrials.gov study summaries. Click on the title of any trial in the list to see the ClinicalTrials.gov trial summary and more information about the study.
I Am Interested in Participating in a Clinical Trial of Cabotegravir. How Can I Find More Information About Participating in a Clinical Trial?
Participating in a clinical trial can provide benefits. For example, a volunteer participant can benefit from new research treatments before they are widely available. Participants also receive regular and careful medical attention from a research team that includes doctors and other health professionals. However, clinical trials may also involve risks of varying degrees, such as unpleasant, serious, or even life-threatening side effects from the treatment being studied.8
Your health care provider can help you decide whether participating in a clinical trial is right for you. For more information, visit NIH Clinical Research Trials and You.
References