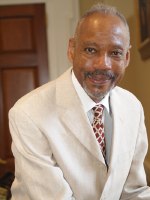 Frank J. Oldham, Jr.
Tuesday, October 10, was a day all of us here at NAPWA will remember as a milestone in our history. We announced officially what a few of us had known since late September: On September 21, Frank J. Oldham, Jr., who took the helm of a challenged organization in 2006, kept the doors open in the most difficult economic climate in our lifetimes, and led NAPWA in important new initiatives, announced he will resign as President of NAPWA, effective December 31.
"Leading NAPWA has been a tremendous honor and a deeply rewarding experience," Frank said, "and I have loved this opportunity to advocate for the 1.2 million Americans living with HIV today. As an openly gay, openly HIV-positive African American man who has lived with HIV for almost 25 years, I am grateful to serve my HIV-positive brothers and sisters and all Americans affected by HIV. Over the last six years, NAPWA has played a key national role in building partnerships between government, the HIV community, industry, academia, and all stakeholders in the campaign to end an epidemic we now know can be ended. I leave NAPWA with a sense of accomplishment, gratitude for many friendships, hope for the future -- and excitement at moving on to the next stage of my life."
We who work for Frank can say more: he has been a tough and inspirational leader. He has always asked for and expected our best work. He never let us forget who we really work for -- as NAPWA's mission statement says, NAPWA advocates for the lives and dignity of all people living with and affected by HIV/AIDS. PLWHA -- all of us -- are the boss Frank has reported to, in his six years at NAPWA and almost 19 years before NAPWA in HIV education and services.
Since he joined NAPWA's staff in January 2006, Frank has brought tremendous vitality to the organization. Under his leadership, NAPWA has strengthened its crucial role in both programs and policy -- establishing NAPWA as a national authority advocating for the 1.2 million people living with HIV in the United States -- and forged new partnerships with key allies including HealthHIV.
Advertisement
In addition to continuing and deepening our signature programs -- AIDSWatch, National HIV Testing Day, and CDC-funded Capacity Building Assistance (SABER) -- Frank moved NAPWA to found National Gay Men's HIV/AIDS Awareness Day (NGMHAAD) in 2008, to underscore the disproportionate impact of HIV/AIDS on gay and bisexual men. He also extended our reach into direct services, with peer health care navigation support programs (Consumer Advocacy Project, HealthCONNECT), Prevention with Positives for African American men who have sex with men (MSM) by African American MSM (the Bayard Rustin Project), and training programs (Common Threads, now organizationally independent) for HIV-positive African American men and women who want to raise HIV awareness and fight stigma in their home communities by standing up and telling their stories.
NAPWA's annual Staying Alive conferences have responded to dramatic improvements in HIV medicine by evolving under Frank's direction into the National Healthy Living Summit, premiered this April in Dallas-Fort Worth and tentatively scheduled next year for August in Denver, marking the 30th anniversary of the Denver Principles and the founding of NAPWA to make them a reality. Communications have been revitalized, with a new website (www.napwa.org) and partnerships with PozMatch.com, Arts & Understanding magazine, and TheBody.com to extend the reach of NAPWA's Positive Voice newsletter. We have increased our integrated media presence through Facebook and Twitter, cross-posting content daily to broaden the scope of our online messaging. Frank's commitment and vision have been instrumental to six years of success for NAPWA and our allies on many fronts.
The NAPWA Board of Trustees is committed to finding a new leader who will lead the organization into a new chapter as we recognize 30 years of service to the HIV/AIDS community, and who will continue the tremendous gains made in the last six years under the leadership of Frank Oldham, Jr.
"Moving forward, there is much work to be done," said NAPWA Board Chair Tyler Andrew TerMeer. "As with every major life transition, there is an opportunity for evolution and growth, and we truly believe 2013 -- our 30th anniversary year -- will be a phenomenal year for NAPWA. On behalf of the NAPWA Board of Trustees, its membership from coast to coast, and the 1.2 million people living with HIV in America, we are proud to thank Frank for his 6 years of dedication and service to the mission of NAPWA. He leaves NAPWA a stronger and more effective organization."