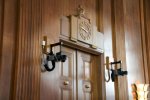 Entrance to the High Court Chamber
Canada's Supreme Court has delivered a decision that may affect the state of HIV law in the United States.
On October 5, in R. v. Mabior (2012 SCC 47), the court upheld three convictions of a Manitoba man for having had vaginal sex, with low or undetectable HIV viral load, but also without disclosing his positive HIV status and without using a condom. A fourth conviction was quashed because a condom had been used.
Press coverage has been mixed and interesting.
TheBody.com, republishing material from the CDC, reported, "On October 5 -- in what HIV/AIDS activists call 'a partial victory' -- the Supreme Court of Canada ruled that people with low levels of HIV who use condoms during sex do not have a duty to disclose their condition to sexual partners. The court -- in a 9-0 ruling -- reasoned that the decision reflects medical advances in treating the virus that causes AIDS." It's refreshing to see judges paying attention to science in deciding how criminal laws should be interpreted and enforced.
AIDSMap.com reported a more troubling aspect of the ruling: by clarifying the limits of enforcement for the various provinces' HIV non-disclosure laws, Mabior opens the door to more prosecutions.
Advertisement
More troubling still was the Court's outright rejection of the argument that HIV criminalization laws deter testing and treatment and so promote the spread of the virus. "The court also addressed," AIDSMap reported, "-- and firmly rejected -- public health arguments against overly broad criminalisation of HIV non-disclosure and potential or perceived HIV exposure. 'The only "evidence" was studies presented by interveners suggesting that criminalization "probably" acts as a deterrent to HIV testing,' wrote Chief Justice McLachlin. 'The conclusions in these studies are tentative and the studies were not placed in evidence and not tested by cross-examination. They fail to provide an adequate basis to justify judicial reversal of the accepted place of the criminal law in this domain.'"
If we read Justice McLachlin's language closely, the Court did not reject the public health argument because they believed it to be unfounded. They rejected it because studies supporting it had not been entered into evidence and argued before the Court. So, in Canada, there is room for future challenges using well designed studies showing that HIV criminalization really does deter testing, and (as several U.S. studies have found) that HIV criminal statutes have no detectable impact on sexual behavior. We think some U.S. jurisdictions, though, may be quick to read the Canadian decision -- not precedent, but influential, in U.S. courts -- as a rejection of the public health argument as bad science.
And we note something curiously lacking in the Mabior decision and in similar cases in this country. There is no discussion of whether the defendant's partners had an obligation to ask him what his status was, and then make a reasonable judgment about the reliability of his answer. It's a bad idea for the law to ask one partner, did you tell, without asking the other, did you ask?