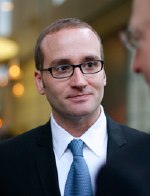 Human Rights Campaign's Chad Griffin
We are honored to welcome Chad Griffin, president of the Human Rights Campaign -- the largest civil rights organization working to achieve equality for lesbian, gay, bisexual and transgender Americans, representing more than one million members and supporters nationwide. A founding member of the American Foundation for Equal Rights (AFER) -- the sole sponsor of the Proposition 8 lawsuit in California -- Griffin recruited Theodore Olson and David Boies who have successfully argued the case, which now goes to the Supreme Court.
In this edition of Positive Voice, Chad previews some of the major legislative priorities related to HIV advocacy for 2013 and beyond that HRC is preparing to tackle, and discusses the impact of the November Elections on the National AIDS Strategy and critical spending priorities at the federal level. Chad also explains why full implementation of the Affordable Care Act (ACA), repealing laws that criminalize sex for HIV-positive people, and ensuring marriage equality nationwide is key to ultimately winning the war on HIV/AIDS.
Paul DeMiglio: What does HRC see as the top legislative and policy priorities related to HIV advocacy in the coming year? What will HRC's role be in building support for these objectives and to what extent do LGBT legislative efforts intersect with those on the HIV advocacy front?
Chad Griffin: Next year's priorities will, in many ways, be influenced by the outcomes of November election. Regardless, an immediate priority before the end of this year will be ensuring that however Congress deals with the looming across-the-board cuts to domestic programs, those serving vulnerable people living with HIV and AIDS are protected to the greatest degree possible. But that's not the end of the story. We'll have to once again focus on the appropriations process in 2013, pushing for strong funding for prevention, care and research and fighting against ideological restrictions like bans on syringe exchange.
Advertisement
What impact will the outcome of the 2012 Election have on these legislative priorities?
The election will have a tremendous impact. Will we have the president who has laid out a vision for fighting the epidemic in a first-of-its-kind National HIV/AIDS Strategy, or one who wants to drastically reduce the role of the federal government? Will we have a Congress controlled by leaders who support a robust federal response to HIV and AIDS, or those who would waste federal dollars on failed abstinence-only programs and stand in the way of prevention tailored to communities most in need, like gay and bisexual men of color?
Can you explain the relationship between marriage equality and HIV prevention in terms of marriage equality as a structural intervention?
When we make it safer for gay men to live openly with less fear of discrimination and violence, to form relationships that are not just tolerated, but respected and celebrated, fewer of them will live out their sexual lives underground, engaging in behaviors that increase their risk of becoming positive. Every time we expand the number of states with marriage equality, we show our community, and particularly the next generation of gay men, that their sexual orientation need not be a barrier to living the lives they want to live. We help build a nation that respects gay men and helps them to respect themselves.
How will full implementation of the Affordable Care Act (ACA) effect access to care for HIV-positive gay and bisexual men?
The ACA, when fully implemented, will ensure that all Americans have more access to more affordable care. The ban on discrimination based on pre-existing conditions will ensure that people with HIV cannot be turned away from coverage simply because of their status. Nondiscrimination protections in the state health insurance exchanges will also protect LGBT people, including those living with HIV and AIDS, from unequal treatment in finding and purchasing health coverage -- coverage that they may currently be unable to obtain through a same-sex partner or spouse's employer. The expansion of Medicaid will bring millions more low income individuals into care, including many of the most vulnerable members of our community.
What effect would repeal of laws that criminalize sex for HIV-positive people -- as well as lifting the federal ban on syringe exchange programs -- have on testing and linkage to care?
Laws that criminalize HIV transmission are all too often based on outmoded understandings of how the virus is spread and used to punish individuals who do not even transmit HIV or have any intent to do so. They stigmatize people with HIV and AIDS as individuals whose very bodies are "deadly weapons" and whose intimate relationships are potential criminal acts. Similarly, the ban on syringe exchange is contrary to scientific proof that this prevention program reduces transmission without increasing illicit drug use, and serves to stigmatize another vulnerable population. Laws like these, by creating stigma and encouraging discrimination, drive individuals away from testing and care and only further the spread of HIV and AIDS.
What is HRC doing in terms of fostering coalitions with HIV/AIDS organizations to ensure that priorities as well as strategies are aligned?
HRC actively participates in coalition with HIV/AIDS organizations, including the Federal AIDS Policy Partnership (FAPP) and turns to them for their expertise and input as we develop and implement our legislative and policy strategies. We look forward to continuing those partnerships.
Paul DeMiglio is deputy editor of Positive Voice.