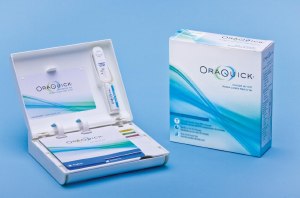 Image courtesy of National Latino AIDS Action Network
Earlier this week, a new at-home HIV testing kit was released on the market, populating the shelves of convenience store juggernauts such as Rite-Aid, Walgreens, and CVS, among others. The test is being sold at $40 per unit.
The test, branded OraQuick, has been heralded as a powerful tool that can "change the game" on HIV/AIDS across the country, giving people living with HIV/AIDS or who want to monitor their status the ability to do so in the privacy of their own homes. Indeed, when 1 in 5 American residents are unaware that they're HIV positive, adding another weapon in the arsenal against the spread of HIV/AIDS and empowering people to take an active role in their health can hardly be a bad thing.
Right? Housing Works certainly thought so earlier this year in May when we released an official paper on over-the-counter HIV testing, stating that at-home tests such as OraQuick "will be one more strategy among the many that exist [including free HIV testing in physicians' offices or free clinics] to increase the number of people who know their status." The real key, we argued, is that the test should be accompanied with a well-published and posted 1-800-number with live counselors to assist those who are seeking pre-or-post test counseling or in-person information in their communities.
And we haven't changed our position. But with the serendipitous arrival of a free and Fed-Exed OraQuick test to our DC office, we are cautiously reiterating that the test's advertised avenues of assistance may need some finessing.
Advertisement
The test itself arrived in a box the size of a frozen dinner and came with instructions, written in both English and Spanish, that the test will only be able to detect HIV/AIDS three months after exposure to the virus. This lapse in detecting the virus stands in stark contrast to the ways that OraQuick was originally marketed as a brief twenty minute test that two people could take before deciding to engage in sexual activity, making little mention of the 3-month waiting period. Larry Bryant, AIDS activist extraordinaire, noted, "At least 99% of the people I have talked to say that they wouldn't use the test because of this delay, or at least not in the ways the test is marketed."
Additionally, the OraQuick testing procedure requires at least one re-test, regardless of whether the test yields a positive or negative result. If the test reads negative, the test's directions note that there is a chance of false results, asking you to be sure that you used the test correctly, and if not, you should take the test again. Additionally, if you test positive, OraQuick recommends that you obtain a follow up test in a medical setting.
In fact, retesting via OraQuick is a recurring theme among the test's accompanying literature. Any calls to their advertised 1-800 number strongly encourages to you visit their website to read information on testing results, which recommends among other options, another $40 test. The 1-800 Oraquick operators -- who you can reach after two automated prompts -- seemed ill-informed about pre- or post-test counseling and only offer information related to the test, its procedure, and its functionality. Christine Rodriguez, the Oraquick test-taker, said, "While the 1-800 operators can give you referrals to counselors, etc., they are not qualified as counselors themselves. They're just the middle (wo)men in the process."
While the OraQuick test absolutely remains a tool in our arsenal in the fight against HIV/AIDS, it remains uncertain if the test will reach the marginalized populations that Housing Works serves. As Housing Works' Vice President of National Organizing and Advocacy Christine Campbell noted, "I'm just not sure that a homeless person who collects $40 will spend it on a over-the-counter test, let alone two sexually intimate homeless people pooling $80 to buy two tests instead of more immediate needs like food or medications. This tool will be useful for a very specific part of the population."
Along the same lines, Larry said, "I'm not against using HIV tools, but the people we work with -- the marginalized and the homeless -- are probably not as likely to use this test. I see it more for those who are affluent -- or at least able to afford multiple $40 tests -- or those who are in discordant relationships who would like to regularly test the partner who is HIV-negative."
While the Oraquick test emerges as an additional tool in curbing the spread of HIV/AIDS, it remains to be seen what impact the test will have among our most marginalized and vulnerable populations.