Damned If You Don't
By Ken Monteith

October 9, 2012
This article originally appeared on PositiveLite.com, Canada's Online HIV Magazine.
Let me start by qualifying my level of expertise. I have been a lawyer, but not for more than ten years, so I am reading these two judgments with a strange mix of past legal training, current political commitment and the often paranoid eye of someone who could be directly affected by it. If you're willing to swallow that (couldn't help myself), then feel free to read on and agree or disagree with me. For more rigorous legal analysis, I would suggest the Canadian HIV/AIDS Legal Network, the Coalition des organismes communautaires québécois de lutte contre le sida or the HIV/AIDS Legal Clinic of Ontario.
Background (Simplified Version)
Advertisement
The first Supreme Court of Canada ruling that started shaping the legal response to HIV came in the Cuerrier decision in 1998. The facts of that case are relatively important, as they come from a time before
HAART
(and therefore before we had conceived of an undetectable
viral load
) and they involved a man who did not use condoms with his partners (which limited what the court could officially say with respect to condom use).
The court constructed a scenario in which the absence of disclosure of HIV positive status meant that the uninformed partner could not give consent to the act, and a sexual relation without consent is a sexual assault, or at least an assault. Add to this the likelihood of an infection leading to serious bodily harm, should it occur, and the offence becomes more serious, like aggravated assault or aggravated sexual assault.
The court's test in Cuerrier boiled down to this: if the act was one which could involve a significant risk of HIV transmission (bodily harm), the non-disclosure of HIV status negates the consent of the other person and the criminal law is engaged. The problem we would later discover was the lack of clarity about where the line should be drawn on what constitutes a significant risk. Would condoms reduce the risk below the level of "significant"? A minority version of the judgment written by Justice McLaughlin speculated that condom use might do that, but because Mr. Cuerrier had not used condoms and a majority of the members of the court didn't sign on to Justice McLaughlin's reasons, this speculation didn't have the force of law.
More recently, we have started asking whether an undetectable viral load might also reduce the risk below the level of "significant", especially considering how our public health authorities are in many cases trumpeting the virtues of treatment as prevention, and for this very reason.
The uncertainty played itself out in conflicting decisions by various courts across the country, leading up to the two cases that were decided by the court on October 5th.
The Cases, Mabior and DC (Equally Simplified)
Mr. Mabior was charged with nine counts of aggravated sexual assault involving non-disclosure of his HIV status to multiple partners. What was interesting from a legal point of view, given the questions in the community, was that he sometimes used condoms and his viral load was sometimes undetectable, giving us facts that could lead the courts to clarify some of these issues for us. None of Mr. Mabior's partners was infected with HIV. Convicted on six counts at trial, the Manitoba Court of Appeal reversed four of the convictions, where either he had used a condom or his viral load was undetectable. The Crown appealed to the Supreme Court.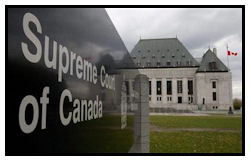 Ms. DC was charged with aggravated assault and aggravated sexual assault after a single sexual encounter prior to disclosure of her status to her partner. Her partner filed his criminal complaint in the context of his own trial for conjugal violence following their breakup four years after the alleged offence that she was charged with. (Note that he was convicted of conjugal violence, but given an absolute discharge after his complaint about possible exposure to HIV transmission was filed against her. I could go on about this, but we would be getting off track, so I will restrain myself.) She said that a condom was used, and he said not. He was not infected with HIV. Convicted at trial after the judge did some fancy footwork to describe what would allow him to conclude that no condom was used, the Court of Appeal of Québec reversed the conviction based on the fact that DC's viral load was undetectable at the time of the alleged offence, but allowed the trial judge's conclusion about the absence of the condom to stand. The Crown appealed to the Supreme Court of Canada.
Reaction to the Supreme Court Decision
It's an odd thing to watch a complicated Supreme Court decision come out and to watch the wide range of reactions to it. The media knew it was coming out and were ready to pounce on various kinds of spokespeople for comment on what it meant. The interpretations were equally widely varied.
Some people living with HIV and some public health experts and HIV doctors hailed the decision as a step forward. The coalition of community groups that had intervened at the Supreme Court called it "unjust" and "a major step backward for public health and human rights". You can't get much more mixed than that, so I thought it might be useful to pick apart the decisions to see which parts might be good or bad, in the eyes of someone living with HIV and also committed to working for the respect of our rights, with those limits to my interpretive skills that I outlined at the beginning.
The public reaction to this, as gauged by the usual deluge of comments on the web sites of various news organizations, is not for the weak of heart. It can be downright scary to read some of those comments, and they betray some profound misunderstanding of HIV and HIV transmission. It would be just sad if it were not also scary.
A New Test
The court did not sweep away the Cuerrier rule, but recognized that there were some problems with its clarity and went on to propose a new way of assessing whether there was a "significant risk of serious bodily harm". They did this by proposing an assessment of the "realistic possibility of transmission of HIV" as a way to ensure that the bar would not be set too high or too low, considering the seriousness of HIV infection. They propose an assessment of the degree of harm and the risk of transmission, which are inversely related: the more harmful the disease, the lower the risk of transmission that would be necessary to engage the responsibility to disclose. While being clear that the cases before it did not concern other sexually transmitted infections, the court did suggest that most of those would not be considered as serious as HIV, so the risk of transmission would have to be higher to engage that same responsibility to disclose.
Still vague for you? They go to provide even clearer guidance. Paragraph 94 of the Mabior decision asserts that, as a general rule, a realistic possibility of transmission of HIV would be negated by a low viral load (as opposed to undetectable viral load) at the time of sexual relations AND the use of condom protection. The court goes on to recognize low viral load as being below the threshold of 1,500 copies per millilitre. So with those two elements, there is no criminally enforceable requirement to disclose status if not asked.
What's Good About This Decision?
Well, we have some clarity. A low viral load (<1,500) plus condom use will relieve you of the criminally enforced responsibility to disclose to a partner who doesn't ask. (I add the "who doesn't ask" on my own, because if a partner asks and is lied to, that is still fraud which would negate the person's consent.) We also have the Supreme Court of Canada asserting that in such a situation, the risk of transmission of HIV is merely speculative and not realistic, which is a nod, however cautious, to the science of HIV transmission and prevention.
Drawing the line at a viral load of 1,500 was interesting. The court clearly understood the concept that even detectable but low viral loads reduce the chances of transmission and that "undetectable" can be in evolution (in Québec we went from viral load test sensitive to 500 copies to 50 copies in 1999, and then to 40 copies in 2010) and avoided drawing a moveable line that could become more onerous for people living with HIV over time. This also takes the drama out of the small "blip" in viral load, at least in terms of criminal responsibility.
Another positive aspect is to be found in the DC decision. While the definition of the "realistic possibility of transmission of HIV" test is outlined in the Mabior decision, the court in DC has a few words to say about the proof of the absence of a condom. The only evidence presented about the use of a condom came from the accused and the complainant, who contradicted each other and who were both characterized as "not credible" by the trial judge. He had to find another source of corroborating evidence to draw a conclusion. He found that by speculating that a brief note in DC's medical file from seven years earlier, when she had asked what would happen if a condom broke, was proof that she had lied to her doctor and that no condom had been worn. The Supreme Court said that this "speculative edifice the trial judge built" is not evidence that no condom was used. That might have some impact on the elements of future accusations going forward, but it might also be so specific to this case that it will have none at all.
On the Other Hand ...
We were really hoping for a judgment that would say that condom use OR undetectable viral load would relieve a person of the duty to disclose, but we got an AND. This might have been the Supreme Court being especially cautious about transmission and dramatic about the impact of HIV even in 2012. I'm not one to lack caution or to underestimate the impact of HIV, even today, but I do tend to see this as a "belt and suspenders" situation (see my article on that here). All of which to say that I do still think the burden on people with HIV is too high, and likely because of the fears of the common person about HIV. When some news organizations announced this from the other perspective, focusing on the situations where disclosure is not required, and their readers seem generally outraged, which is scary and depressing for me.
This has to be a little worrisome for public health authorities and those engaged in prevention activities, too. After 30 years of "use a condom" messaging. the Supreme Court seems to be saying that condoms alone are not enough. While I think, as noted above, that this is overly cautious, I wonder what the prevention impact will be.
The court does not take judicial notice of the effectiveness of condoms. Taking judicial notice of something means that it is a fact so notoriously recognized that it does not need to be proven in court. They do recognize that the virus does not pass through latex, but accept the expert testimony from the Mabior trial that human error and breakage reduce the rate of effectiveness to about 80%. This could be difficult to have to prove every time and the high assessment of the human and product failure probably led to the double requirement.
Another big danger that I can see is the possible evolution of the treatment as prevention approach toward obligatory treatment. For people who are not on treatment because their current CD4 levels do not indicate treatment for their own health according to the guidelines, low viral load as defined by the Supreme Court is not necessarily a reality. They will not be relieved of the obligation to disclose by using a condom, so they will either have to disclose their status or start taking treatment early and use a condom.
What I didn't see anywhere in the judgment was any responsibility on the part of the partner of the person living with HIV. Not that I expected it: the criminal law doesn't really have room for the concept of "shared responsibility" that has long been the message of public health and which is well-known in civil law. No, the whole responsibility for HIV prevention is again falling on the shoulders of people living with HIV and I guess everyone else will be protected by the criminal law and not their own sexual habits.
I'm sure there are people who will read this who will wonder what is the big deal with disclosure. I have gone on too long here already, so I promise to share my thoughts on disclosure in a future post.
The Supreme Court drew a clearer line for us. It just wasn't where we thought it ought to be.
Get email notifications every time this blog is updated.
---
Add Your Comment:
(Please note: Your name and comment will be public, and may even show up in
Internet search results. Be careful when providing personal information! Before
adding your comment, please
read TheBody.com's Comment Policy
.)