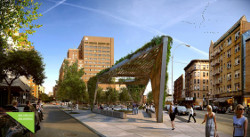 Image from aidsmemorialpark.org.
Every World AIDS Day -- December 1st -- the world unites to commemorate those we have lost to the AIDS pandemic and to recommit to ending the disease and seeing a truly AIDS-free generation.
And since the start of the pandemic, widely held as 1981, New York City has long been held as an epicenter of the disease, with the now-defunct St. Vincent's hospital as one of the pioneers in treating and seeking to understand the virus. St. Vincent's established the HIV Center and offered in-patient and outpatient treatment, as well as HIV/AIDS education, support groups, and founded the Airbridge Project -- a care coordination program for people who frequently traveled to Puerto Rico. (As a fun little aside, St. Vincent's was featured in Tony Kushner's now infamous play "Angels in America"); New York City was also the birthplace of ACT-UP, the world's first AIDS advocacy organization; and was home to one of the largest populations affected by the epidemic in the country.
Advertisement
Yet, as of now, save for a bench in Hudson River Park, there isn't a permanent memorial AIDS space within the city.
But this is all posed to change with the advent of the proposed AIDS Memorial Park. The site is being proposed in the West Village, a rectangular space bordered by Seventh Avenue, 12th street, and Greenwich Avenue. According to a recent interview in NEXT Magazine the park will have three main elements: a planted canopy creating a sheltered area of the park, a reflective water feature for meditation and a "narrative surface" with meaningful and engaging words.
The AIDS Memorial Park, which was designed by studioa+i, has already passed the Manhattan Community Board 2's approval, but still must be cleared by the NYC Parks Department, the City Planning Commission, and the Landmarks Preservation Commission. The approval is expected to be handed down this month, but the park must still continue to raise money before construction can begin.
Want to help make the park a reality? Sign up for updates, donate to the cause, and most of all, spread the word! Tweet about it (@AIDSMemPark) and find them on Facebook.