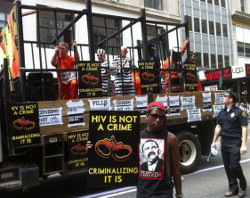 Image from visualaids.blogspot.com
Last Friday, the Supreme Court of Canada ruled that a HIV+ person cannot be prosecuted under criminal laws for choosing not to disclose their HIV-status to sexual partners as long as they use a condom and have a "low-viral load."
While on first glance the ruling -- unanimous no less (9-0) -- appeared to be extraordinary news for people living with HIV/AIDS and their advocates and allies, on closer examination, the ruling only serves to further disenfranchise those living with the disease.
For one, it further disenfranchises those who are in later stages of the disease, or with high viral loads, who would still be subject to criminal prosecution even if they used a condom with their sexual partners. The ruling goes against science, which has shown that condoms, when used properly, are an effective tool against HIV transmission, and precariously pivots upon one's viral load at the time of the sexual encounter in question, even when the sex is consensual and protection is used. In short, the ruling makes it clear that condom-use will not protect someone from HIV criminalization and prosecution, which creates a chilling precedent.
Secondly, the ruling will only add fuel to the fire in the stigma, discrimination, and fear around the disease. Rather than encouraging and empowering people to take control of their sexual health and decisions, the ruling only perpetuates the false idealization that HIV criminalization laws will keep people safe, when in fact these laws have been found to deter testing, treatment, and disclosure out of fear of prosecution. As one person put it, "Take the test, risk arrest."
Thirdly, and perhaps most troublingly, is the fact that the Supreme Court of Canada fails to define what a low viral load is, or what threshold the disease's presence would constitute a "low viral load." Once again, as with vulnerability, we see the ways in which people living with HIV/AIDS and their right to respect, access to programs, and living a life free of villainization and criminalization all comes down to the mere sum of their viral load. First, it was the eligibility of programs, including subsidized housing and healthcare programs that precariously hinged on the viral loads of people living with HIV/AIDS, and now we see how this already marginalized community's safety from criminalization hinges upon one's viral load. What's more, the Supreme Court of Canada's ruling completely fails to consider how the access to HIV medications is steeped in financial abilities, which in and of itself is saturated by race, class, and gendered inequalities, which is why we often see those who are most marginalized -- low-income, people of color who are homeless or have histories of homelessness -- with the highest viral loads. And unfortunately, this ruling will only continue the overrepresentation of people of color in incarceration.
O Canada, we expected more.
Decriminalize the disease.