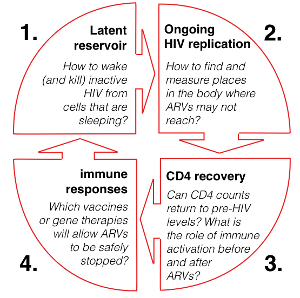 Click image to enlarge.
While ARVs extend life expectancy by 30 years or more, why is this not the same as for HIV negative people, and will there be a cure?
The recent increased focus on these questions, especially in relation to a cure, covers four main areas of research.
Some research looks at how to eradicate HIV completely but some is looking at a functional cure (where you would still be HIV positive but treatment could be stopped).
Within a few weeks of infection, HIV gets inside very long-lived CD4 cells that then enter a resting or sleeping stage that can be anywhere from dozing to in a coma. These cells are not affected by ARVs which is why treatment is lifelong.
Even one infected cell would be enough to restart infection, even if it was the only infected cell after 50 years of treatment.
Advertisement
One aspect of cure research is looking at how to wake the HIV in these cells and studies using vorinostat have shown this might be possible. Another looks whether HIV might still be reproducing in other parts of the body such as the gut.
Thirdly, researchers are trying to find out why CD4 counts do not completely recover after starting treatment. They are also looking at how HIV can cause the immune system to be over-activated when not on treatment, and whether this is reversed when viral load becomes undetectable. This research overlaps with many of the questions about HIV and ageing.
Finally, even if latent HIV is activated, a new immune response may still be needed. Gene therapy can make some CD4 cells resistant to HIV. Or a vaccine? A few people can control HIV without treatment either from infection or after stopping treatment and their responses may be key.
Cure research at the meeting was reported in HTB and is available here.