This Is My Story: An Interview With VillageCare's Emma Devito
October 8, 2012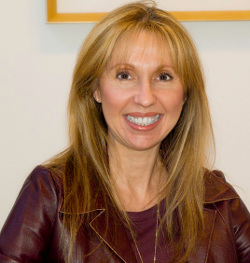 VillageCare's Emma DeVito
As we move on from National Gay Men's HIV/AIDS Awareness Day 2012, we continue the September 24 issue's series of distinguished HIV community leaders remembering gay men they knew in the HIV epidemic's early days.
We are delighted to welcome VillageCare's Emma DeVito, who heads one of New York State's and the nation's most important AIDS service organizations. Emma tells us how important informal families were, when birth families were disowning their gay sons with AIDS, or hiding them away and shutting out friends and partners, and even the concept of marriage equality was years away from being discussed in mainstream politics. Today, at least, some of us can say, Of course I'm family, I'm his husband.
Positive Voice: Emma, thank you for making time for us in your busy schedule! By the time this interview appears, we will have just celebrated National Gay Men's HIV/AIDS Awareness Day, and we'll be ramping up to celebrate the 30th anniversary of NAPWA's founding, this coming June. That makes sharing our collective memories even more relevant than usual. We hoped you could tell us about one or two gay men whom you most remember from the early days of the epidemic ...
Emma DeVito: Sure! I think one of the things that influenced me in trying to participate, or contribute in a very small way, to the AIDS epidemic was a childhood friend I grew up with, who we called Rudy. He was a wonderful, caring, warm, smart individual.
Advertisement
I grew up with Rudy, we were friends, and we stayed friends all through high school and college. And there was always something, I thought, a little bit different with Rudy. He was a really good, good friend, somebody you could talk to, and he was smart-as opposed to a lot of the boys, who were always trying to... sometimes they were rude, sometimes they were not as friendly, they were very motivated in, umm, other ways. Rudy was always a true friend.
And we had stayed friends for very many years. He went on to college, I went on to college, and very often during that time-we didn't have the emails and i-phones that we have today-we would write letters to each other. He found it very lonely when he went to college, he had wanted me to go to the school he went to and I ended up going somewhere else, but we stayed in touch. Eventually he graduated and moved out to San Francisco and I stayed in New York. His parents lived here in the City, so, from time to time, he would come and visit, but those visits became... not as often.
So I went to San Francisco once, with my family, I had gotten married and had my first kid, and I told Rudy I was going to visit him. And he was ecstatic, we hadn't seen each other for awhile. So he came to the hotel, and we went out to dinner, and he took us around, and we had a great time. He loved my daughter, and my daughter loved him, and he was the same old Rudy that I knew.
By then he had established himself in San Francisco, he had bought a small home with a "roommate," he said. We never me the roommate, but he spoke nicely about him. And I remember, when we got back to the hotel, my husband said to me, I just want you to know, your friend Rudy is gay. And I said, What are you talking about, I've known him all my life, not that I care, but he would have told me. And he said, well, I'm just letting you know.
So time went by, and then I happened to meet Rudy's mom on the street, and I said to her, I haven't heard from him in a while, what's going on, how is he doing, is he traveling? And she said, well, you know, he's not doing that well. I said, what do you mean? She said, he's not doing well and he will probably come back to New York.
Which he did. And, unfortunately, it was at the very, very beginning of the AIDS epidemic, no one knew what was going on, and they did bring Rudy back. But Rudy wasn't allowed to see anyone-for whatever reason, they were afraid, I don't know what they were. But kept calling and asking to see him, and that was never possible.
And then they moved him to Florida. The mother and father had gotten divroced, and the father lived in Florida, so they moved him down. And I think, unfortunately, the partner who had lived with him for years was also excluded from the whole end of life and grieving process, which I think is a shame.
So that was my first real encounter with the disease, which, at the time, no one knew what it was, and then, later on, it was clear that he had died of AIDS. And during that time, there weren't the meds that we have today, even those that came in the early nineties weren't available.
So that's one story.
Then, I guess, there are stories of people I worked with, even here at Village, who were colleagues. And one day they were here, and the next day I was visiting them in their apartments. To a certain extent, we were able to provide services to them, which I think was great, because they had friends, and family, and people who cared around them. And obviously those deaths were horrific, in how they devastated the body and the spirit and soul of the person. But, from that perspective, people were cared for. And I'm sure my stories are like many other stories.
Thank you Emma! It's always a pleasure.
More From This Resource Center
---

This article was provided by
National Association of People With AIDS
. It is a part of the publication
Positive Voice
.
---
| | |
| --- | --- |
| No comments have been made. | |
Add Your Comment:
(Please note: Your name and comment will be public, and may even show up in
Internet search results. Be careful when providing personal information! Before
adding your comment, please
read TheBody.com's Comment Policy
.)