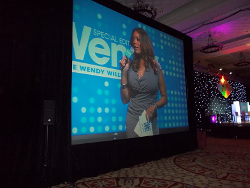 The Wendy Williams Show comes to USCA.
We're just back in D.C., jet-lagged and sleep-deprived, from the National Minority AIDS Council (NMAC)'s annual United States Conference on AIDS (USCA) and 25th anniversary celebration in Las Vegas.
What was important this year? Opportunities and barriers.
The Conference began with a pre-conference Summit of major national HIV organizations (Executive VP Steve Bailous represented NAPWA) to unveil the "Declaration to End AIDS in America" and talk about how we can work together to make that happen.
The Declaration recognizes that we really can end AIDS in America-and that getting there is going to be hard. "For the first time in over thirty years," it says, "it is possible to envision an America free from HIV/AIDS. But accomplishing this will not be easy. It will require bold, visionary leadership and the commitment of all of us to successfully translate the promise of this moment into a world without HIV/AIDS. Science and research have given us powerful tools; now we must decide to act. We, the undersigned, commit ourselves fully to realizing this dream and invite you to join us."
Advertisement
Good words -- but only words, without action to back them up. Summit participants led by NMAC's Paul Kawata, TAEP's Robert Greenwald, and others discussed how to work together to overcome two of the greatest barriers to realizing the epidemic-ending promise of the science we now have: shrinking government funding, and overcoming this country's cultural reluctance to stop addressing the HIV epidemic and associated problems like injection drug use as criminal and moral issues, instead of setting distaste aside and facing them as the public health issues they are. We have to implement the Affordable Care Act (ACA), intact. We have to keep funding the Ryan White Act, which will change with full implementation of ACA but still be needed. We have to get past conversations about what elected officials can and cannot "condone," which are more concerned with who can feel morally pure than about mitigating the harm of behaviors like injection drug use that we regret but can't permit. These things are inescapably political, and we'll have to work hard to make our case and make it stick.
The Conference itself, like all major HIV conferences, was half carnival and half solid presentations and workshops on issues that matter to people living with HIV. Wendy Williams held a special edition of The Wendy Williams Show. NMAC's Paul Kawata brought the house down, teaching the conference attendees, how to sing Whoop! Whoop! as she came on stage. The Sisters of perpetual Indulgence made an appearance. All great fun.
The real work of USCA focused, we think, on three areas: women's issues, scientific progress towards a cure, a concerns of an aging population of PLWHA.