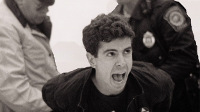 William Lucas Walker/IFC Films
On September 21st, the documentary "How to Survive a Plague" was released to universal acclaim, with activists and reviews calling it one of the most powerful documentaries in history. The film, directed by David France, chronicles the creation of ACT-UP (AIDS Coalition to Unleash Power), the country's first AIDS activist group, and the country's response -- or the lack thereof -- to the disease during the beginning of the AIDS pandemic in the 80s and 90s.
A number of reviews have drawn parallels between ACT-UP and Occupy Wall Street, citing both movements' composite mixture of college grads and college-aged individuals already steeped in social justice politics; for ACT-UP, the burgeoning gay civil rights movement (the acronym "LGBT" would not be born for nearly another two decades), and for Occupy, the equally nascent movement calling for the dismantling of (unilateral) capital flows that strangle the middle and lower classes.
And surprisingly or not, director David France has welcomed these comparisons, crediting Occupy for its ACT-UP-esque protests and refusing to write-off Occupy as a diminishing one-trick pony.
"Occupy, at its first anniversary, is not too different than ACT UP was at its first anniversary. We see at the beginning of How to Survive a Plague a movement that began as just an opposition movement. We see them pour out into the streets at City Hall and just flop down in the road ... I know that a lot has been said about Occupy's lack of demands, its inability to focus on a message beyond this 99 percent idea, and I think if we look at the history of ACT UP, it would caution us to be more patient with Occupy and to allow the people on the ground to develop an idea of, not just what they don't want, but what they do want."
These comparisons have led many to wonder: can Occupy and the reinvigoration of youth-led activism can help spark youth involvement in AIDS activism? While there are a number of youth-based organizations involved in AIDS activism, such as C2EA (Campaign to End AIDS), it appears that a reinvigoration is needed. There has been counterintuitive rise in HIV among youth and a lessened vigilance to safe-sex, and in one especially eye-opening NPR story, one respondent wrote on Facebook that having sex with someone who is HIV-positive is analogous to having sex with someone with a cold. Similarly, while HIV testing among youth is actually rising, condom use is simultaneously declining, with young MSM of color engaging in riskier behaviors.
Instead of standardized curricula, perhaps schools should schedule a field trip for students to learn more about the global pandemic of HIV/AIDS, and how a collective of determined and dedicated individuals helped change the discussion and ultimately, the course of AIDS in the United States and the world. It may just be the spark that leads us toward an AIDS free generation.
Want to get involved with Housing Works' youth programs? Great! Find us on Twitter at @HWYouth to learn about programs, events, and activities.