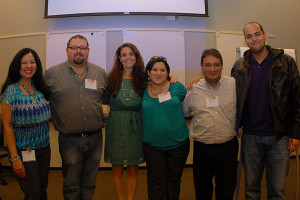 The graduates of the 2012 Dennis deLeon Sustainable Leadership Institute. From left to right Arthur Wynn Jr. (Birmingham, AL), Jean Hernández (Birmingham, AL), Clay Hutchison (Beaumont, TX), Allison McGuire (Birmingham, AL), Alexandra Bachran (San Antonio, TX), Steven Vargas (Houston, TX), Eddy Fuenmayor (Parrottsville, TN) and absent in the picture Blanca Estela Reyes (El Paso, TX).
New York, N.Y. -- Community leaders from Alabama, Georgia, Tennessee and Texas gathered to discuss issues impacting Latinos in the south, as well as to share strategies for enhancing and developing leadership skills to address health disparities amongst the rapidly growing Hispanic population in the Southern States. The meeting was convened by the Latino Commission on AIDS during the Second Annual Dennis deLeon Sustainable Community Leadership Summit that took place in Atlanta, Georgia on September 18 and 19, 2012 and was organized in collaboration with key stake holders and leaders from Georgia.
Named after Dennis deLeon, former president of the Commission and a tireless advocate on behalf of Latinos, people of color, Lesbian, Gay, Bisexual and Transgender communities, and other marginalized populations, The Dennis Deleon Sustainable Leadership Institute constitutes a space for emerging community leaders to enhance and develop leadership skills in order to impact HIV/AIDS local, state and federal health policy affecting Latinos in the Deep South.
The Summit marked the graduation of emerging community leaders representing the following entities: AIDS Alabama, UT Southwestern Medical Center of Dallas, the Division of Preventive Medicine University of Alabama at Birmingham, Rural Medical Services, Inc. of Tennessee, Our Lady of the Lake University from San Antonio, TX, the Association for the Advancement of Mexican Americans from Houston, TX, Centro de Salud Familiar La Fe, Inc. from El Paso, TX, and the Triangle AIDS Network of Beaumont, TX.
The Summit gathered presenters from the American Civil Liberties Union Foundation of Georgia, the Georgia Latino Alliance for Human Rights, Georgia Department of Public Health Infectious Disease and Immunization, American Institutes for Research and the Centers for Disease Control and Prevention.
The Summit addressed structural and health policy issues such as the difficulties HIV positive Latinas face in accessing care, the impact of anti-immigrants legislations, the need to address substance use amongst Latino youth, and the need to enhance the participation of Hispanics in community-wide HIV testing events throughout the south.
This article was provided by Latino Commission on AIDS.