The church is a great place to spread love. So why has fear and ignorance kept many, but not all churches from using their influence to speak to the hearts and minds of their parishioners about the spiritual, mental, and emotional effects of the AIDS plague?
In the beginning, we all thought that HIV was a gay disease. That seemed to give many religious denominations that oppose homosexuality, license to discriminate. That seemed especially true for the black church. Many pastors of black churches were moved to address the HIV epidemic in the black community by the many deaths in their congregations, and they found themselves ministering to the needs of the broken families. The rates of new infections in the heterosexual community that statistics show prove that HIV does not discriminate, but it does disproportionately affect the Black community. So as long as the church does not address the spiritual needs of those affected and use its influence to help us win this war with HIV, we will be hard pressed to overcome.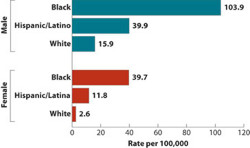 Prejean J, Song R, Hernandez A, Ziebell R, Green T, et al. (2011) Estimated HIV Incidence in the United States, 2006-2009. PLoS ONE 6(8): e17502. doi:10.1371/journal.pone.0017502.
* This overview highlights key information about those most affected by HIV/AIDS in the United States and reflects the most current data available from CDC as of March 2012. Creating an overview of the HIV epidemic in the U.S. requires combining different indicators of the epidemic, such as prevalence, incidence, transmission rates, and deaths. Therefore, multiple measures are used to provide a comprehensive picture of HIV in this country. The most current indicators reflect different years because of the time it takes to collect, compile, analyze and summarize HIV/AIDS data from all the states. For more information on the incidence and prevalence of HIV and AIDS, including definitions of terms and how trends are tracked, visit the CDC's HIV/AIDS Statistics and Surveillance. For information about HIV and other risk populations, including women, youth, older Americans and other racial/ethnic minority populations as well as data by state or region and about AIDS diagnoses, visit www.cdc.gov/hiv or check out the fact sheets listed below.
Click image to enlarge.
The time for excuses is long since over. The data is in, if that was ever an issue, and now is the time to build on the momentum that is growing in the church community. In reality, HIV is an opportunity for the Black community in general, and the Black church specifically, to prove how important unconditional love is in creating the healing environment that is needed to overcome this and other diseases.
At the International AIDS Conference 2012, I was inspired by a documentary called "The Gospel of Healing". It reminded me that "the church" is not some nebulous thing that is separate from the people that inhabit it. It is as bold and responsive as the people that attend. I saw how folks like Renee Beamon of the Beautiful Gate Outreach Ministry in Delaware are serving the HIV community with the kind of love and information that is saving and changing lives. Along with her husband, Pastor Sylvester Beamon, they have bridged the gap that may have existed in the past between religion and tangible support for families of, and people who are diagnosed with HIV.
As a result of their efforts, the efforts of many others in the faith community, and the dire need for increased vigilance in the fight against HIV, I am optimistic about what can happen in spite of the slow response of the Black church. My wife and I see this as an important branch of service in any initiative to rise for Wellness, Awareness, and Recovery! We are committed to doing what we can to educate and engender hope to those churches that are receptive, beginning with our own Turner Chapel AME, in Marietta, Georgia.
So let's stop talking about the Black church like it was bigger than us, or as if it isn't greater than AIDS. Neither of those assertions are true. I am love. You are love. We are love. All is love!
Read Reggie's blog, RISE4WAR -- Focusing on Wellness, Awareness and Recovery.
Get e-mail notifications every time Reggie's blog is updated.