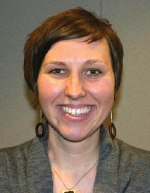 Jessica Terlikowski
Just 53 days remain until Election Day.
That's 53 days.
Fifty-three days to help voters understand that everything from HIV prevention to health care to housing to food stamps to LGBT rights to women's reproductive health and justice is on the line this Election Day.
Fifty-three days to mobilize people who live with and care about HIV/AIDS to get to the polls early and on Election Day.
Fifty-three days to fight against the voter suppression efforts taking place in too many states.
Fifty-three days to bird-dog candidates with questions asking how they will address HIV and the health care crisis in the U.S.
Fifty-three days to light a fire within our community and ensure that every person who lives with, is at risk for, and cares about HIV/AIDS has their voice heard on November 6.
And there are even FEWER days for people to REGISTER to vote, with each state having its own registration deadline -- a deadline that is swiftly approaching no matter where we live.
For the last five months, AIDS United has worked to make sure the HIV community has what it needs to get the vote out this election season. We have held webinars and on the ground trainings and strategized with grantees and partner organizations on how to ramp up their involvement in the elections. We collaborated with Florida, North Carolina, South Carolina partners to hold events featuring local and national leaders at the Republican and Democratic conventions to shine a light on what Medicaid expansion means for people living with HIV and how health care access is critical to turning the tide on U.S. HIV epidemic.
Packed rooms at each event listened to esteemed speakers: Dr. Joseph O'Neill, National AIDS Policy during the Bush Administration and President's Emergency Plan for AIDS Relief (PEPFAR) architect, Jeff Crowley, former director of the White House Office of National AIDS Policy for President Obama and the force behind the development and implementation of the U.S. first National AIDS Strategy, and congressional HIV/AIDS champions Representative Barbara Lee (CA-9) and Representative Maxine Waters (CA-35). Though they served under the leadership of two different parties, both former AIDS directors agreed that there is much that can and should be agreed upon across the aisle to end HIV in the U.S. and around the world. Both O'Neill and Crowley spoke to the importance of increasing the number of HIV-positive people who can access and stay in care.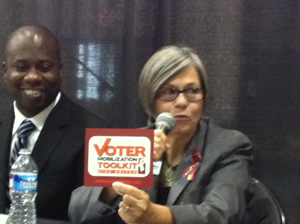 Advocates at each event shared how they are using the election as an opportunity to educate voters, candidates, and elected officials about the needs of the HIV/AIDS community. Metro Wellness and Community Centers in Tampa is registering clients. North Carolina AIDS Action Network is asking North Carolinians to pledge to vote.Regional AIDS Interfaith Network is using the AIDS United voter mobilization toolkit to educate voters about the issues at stake. North Carolina Harm Reduction Coalition is training law enforcement and veterans on how to talk with conservative lawmakers about the value of improving sterile syringe access and other harm reduction services. These are just a few examples of grassroots efforts to ensure that people living with and at risk of HIV/AIDS are informed and engaged in the civic process.
AIDS United grantees and partners in Alabama, Georgia, Illinois, Ohio, Pennsylvania, and Virginia are also building and mobilizing their states so that the voices of their HIV/AIDS communities are heard at the polls on November 6.
Over the next 53 days, you can count on AIDS United to continue to move full steam ahead with our efforts to engage, educate, and mobilize. Can we count on you to join us? Email organizing@aidsunited.org to let us know!
Jessica Terlikowski is AIDS United's director of regional organizing.