Screening Tests
While HIV is monitored using routine tests, your doctor may recommend additional tests to monitor your health as you get older. These include:
Bone density scan: A scan of your lower spine and hip that measures your bone density. It is recommended that you have a bone density scan every two years.
Fasting blood glucose test: A blood test for diabetes. It is recommended that you have this test every three to six months.
Lipid profile tests: These blood tests check total cholesterol, LDL ("bad" fats), HDL ("good" fats) and triglycerides. It is recommended that you have these tests one to two times a year, depending on your risk factors for heart disease.
Kidney function test: Because kidney function declines with age and because certain anti-HIV drugs are processed through the kidneys, it is recommended that you periodically have a blood and/or urine test, to check your kidney function.
Blood-pressure monitoring: A blood-pressure monitor measures the force of blood against the walls of your arteries and indicates your risk of developing heart disease.
Screening for colorectal cancer: A few tests can detect cancer of the colon or rectum. Tests include a stool test, a digital rectal exam (where a doctor inserts a gloved finger into the rectum to feel for abnormalities) or a scope inserted into the rectum. Your doctor will let you know how often you should be screened.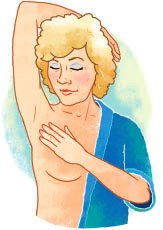 For women only:
Pap test: A doctor collects cells from the cervix, which are then examined under a microscope. A Pap test is used to look for cell changes that indicate the presence of cancer or changes that could lead to cancer. It is recommended that sexually active women with HIV have a Pap test every six months to a year.
Breast exam: To detect possible early signs of breast cancer, your doctor will check for lumps or other abnormalities in your breasts, nipples and armpits. It is recommended that women have a breast exam once a year, usually along with a Pap test.
Mammogram: A mammogram uses a low-dose X-ray to examine each breast. It is used to look for different types of tumours and cysts. It is recommended that women over 40 have a mammogram once a year.
Pelvic exam: A pelvic exam is a physical exam of the internal and external pelvic organs. It is usually combined with a Pap test every six months to a year.
For men only:
Prostate exam: It is recommended that men over 40 have a manual digital exam of the rectum once a year. Your doctor may also order a PSA blood test, which screens for prostate cancer.
At times, when things feel like they're spiraling out control, I remind myself of the areas where I am exercising control. So, I make sure that I'm taking my meds, doing my exercise and eating and sleeping in a healthy way.

-- Louise, 53
Coping With Loss
It is wonderful, and even miraculous, that many people with HIV are now living long enough to experience middle age and beyond. Living with a chronic illness like HIV can be difficult at the best of times, however, and this can affect your quality of life. Losses you may have experienced as a result of being HIV-positive -- such as the loss of health, employment, income, youthful good looks or the loss of friends who have died because of AIDS -- can be devastating.
Taking Care of Yourself
Here are some ways to combat isolation and improve your overall quality of life:
Get involved in your community.
Create a strong social support network.
Exercise your mind and stay mentally active.
Manage stress and depression.
Eat a healthy diet.
Sleep well.
Get outdoors and exercise physically.
Cultivate a positive outlook.
Quit smoking.
Avoid excessive alcohol.
Have a spiritual practice.
Have a healthy sexual relationship.
Comment by: Paul G
(Quadra Island, BC) Tue., May. 12, 2015 at 10:06 pm UTC
CATIE provides excellent resource materials, BUT this five year-old publication continues to misrepresent the prevalence of HIV among persons who are 50+. Canada has no prevalence data by age. The 12% number indicated in the article is likely the share of 50+ persons using incidence data. In British Columbia, the median age of HIV+ persons on HAART is slightly less than 50 years of age.
Comment by: Tammy Bettelli
(Marlboro.NJ) Tue., Jul. 8, 2014 at 6:20 am UTC
I work for an exclusive Assissted Living community and one of our residents has HIV..I would like to have a resource come in and educate..talk to our care managers..can you please recommend someone?
(Please note: Your name and comment will be public, and may even show up in
Internet search results. Be careful when providing personal information! Before
adding your comment, please
read TheBody.com's Comment Policy
.)