"Premature Aging" and HIV: Dispelling Myths and Calculating Risk
September 19, 2012
Here's the bottom line on "accelerated aging" among people with HIV: It's probably not as bad as you think.
Plenty of scary headlines have made their way across the Internet in recent years, decrying the body-decaying effects of getting older and portraying the sense that HIV (or HIV meds) causes people to suffer these problems at far higher rates far earlier in their lives. And by "far earlier," some experts felt we were talking as many as 20 years earlier, according to some of the first research that explored the issue.
But the problem that often occurs with early research is that it's ... well, a bit premature in its findings. "There certainly is more of a trend for HIV-positive people to be a bit younger" when they develop certain health problems, says Amy Justice, M.D., Ph.D., a professor of medicine and public health at the Yale School of Medicine. "But when I say a bit younger, we're talking about somewhere between one and six years -- we're not talking about 20 or 30 years."
Justice should know: She is one of the world's leading researchers on aging and HIV. As the lead investigator of the massive Veterans Aging Cohort Study (VACS), it's her job to delve into one of the largest troves of information in existence and help us all better understand the ways in which HIV intersects with other health problems that emerge as we get older.
What she and her team have found is rewriting much of we thought we knew about aging and HIV. It's also helping us figure out some concrete steps we can take to prevent or treat health problems we associate with "premature aging."
A Rose by Any Other Name
To begin with, our whole approach to the idea of "early aging" misses the mark, Justice says. "If you talk to anyone who is a geriatrician -- who studies aging -- they will say this concept of 'premature aging' is a misnomer," she explains. "If you look at anyone with chronic disease, they look older than someone without chronic disease."
The problem, Justice says, is not that people with HIV are "getting older" more quickly. Instead, what happens is that HIV, like many other chronic illnesses (such as diabetes), sometimes triggers or worsens other health issues -- many of which we're naturally at greater risk for as we get older. "Are people who are sick and have HIV more frail, more likely to have problems with their health, than someone who's not? Of course they are," Justice says. "Why do we have to invoke 'premature aging' when we talk about that?"
Defining the Risk
Through her work with VACS, Justice and her colleagues have uncovered some of the most reliable information we've learned to date about the timing of various health problems in people with HIV.
Here's how the study works: More than 7,400 people living in or near eight U.S. cities are enrolled in VACS. The HIV-positive people are "matched" against HIV-negative people who otherwise have extremely similar characteristics (such as age, location and race). The study then follows these people over time and records when they develop various health complications.
When comparing the HIV-positive people to the HIV-negative people, VACS has found that HIV-positive people: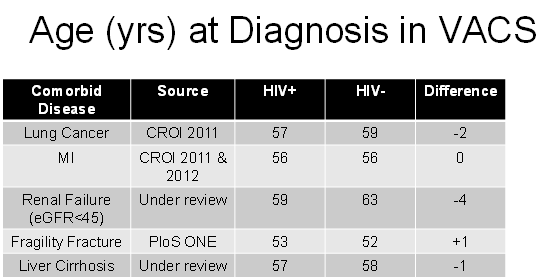 A slide from a presentation given by Amy Justice at an HIV/AIDS conference in 2012. (Click the image to enlarge it.) It compares the average age at which HIV-positive people and HIV-negative people enrolled in VACS were first diagnosed with certain key health problems. ("MI" is short for "myocardial infarction" -- i.e., a heart attack.)
Develop kidney failure about four years earlier.
Develop lung cancer about two years earlier.
Develop cardiovascular disease as much as six years earlier -- but do not begin to experience heart attacks earlier at all.
Develop liver cirrhosis about one year earlier.
Fracture a bone due to bone weakness one year later.
This isn't the only research being done to make more accurate estimates of how much "earlier" people with HIV develop health problems. Less than two years ago, a major study funded by the National Cancer Institute found that previous estimates drastically overestimated how much earlier people with HIV develop certain cancers, because it didn't properly take people's ages into account.
But why is it that studies such as VACS manage to find such a smaller age difference than earlier studies had found? Which findings should you believe more?
---

This article was provided by TheBody.
---
Comment by: Robert
(Largo,Fla) Fri., Mar. 20, 2015 at 9:20 am UTC
If hiv dos'nt age you faster then why is it when you have not seen someone in say about a year .and they had became hiv t they look so much older? I have seen this with friends many times. I have had people ask me what happened to me ,that I had aged over nite.
Comment by: sasha
(texas) Wed., Feb. 27, 2013 at 6:26 pm UTC
Where do you go to take care of yourself when your primary doctor sends you to this doctor and that doctor and that doctor sends you to another doctor not knowing what the meds are doing to you Ex. due to hiv meds our bodies are falling apart and my leg was almost cut off and I did get a stent and they wanted to do an angiogram when my nerves are dying help me help myself for my bones are also so bad I finally asked for a b12 shot or something and 4 days later my doctor put me on 50,000 mgs of d2 can anyone help me please I have fought for to long to give up now.......
Comment by: TIM
(LONDON[UK]) Tue., Jan. 29, 2013 at 12:33 pm UTC
I am a 57 yr non smoker,gym goer,and eat reasonably healthily.diagnosed in 97 hiv/aids started haart immediately.since then i have suffered lip-atrophy,kidney failure, liver problems,arthritis,neuropathy and oh yes i,ve had 2 heart attacks requiring bypass surgery.i also have to live with crippling fatigue. thanks to the NHS. I've had several courses of Newfill for my facial wasting[and yes, people think i look younger than my years]but that is an illusion.i am no professional,and whether it's down to the hiv or the side effects of the medication nobody can tell me that you don't age a lot faster with hiv.how can shoving 20 pills a day into your body NOT have a detrimental effect.some times there is a lot to be said for anecdotal evidence.
Comment by: Mark
(Aztec, New Mexico) Fri., Oct. 26, 2012 at 10:45 pm UTC
Not all pozzies have an AIDS diagnosis, which the study uses as a criteria. I am more than 27 years positive, took Crixivan for 11 years and AZT for 13, but never had an AIDS diagnosis. I have had all of the nasty side effects associated with first-line cocktails and also believe the ongoing inflammation caused by living with the virus long-term also has had an effect. I have no doubt my lifespan will be abbreviated. I am beginning to think most of these studies are rather useless because of the wide range of variables.
Comment by: Paul
(Edinburgh Scotland uk) Mon., Oct. 1, 2012 at 7:27 am UTC
In having had h.I.v. For 17years I find now that people are
Amazed at my age 56, 31-10-56. I alwayz looked older when I was 15 but now that I'm older they say that I am that age, I think for me its incidental, I had a wild life AMD lived it to the macs,I believe that if you can feed your self well and only occasionaly indulge your self you can make it. paul
Comment by: allen s.
(so Illinois) Fri., Sep. 28, 2012 at 11:20 am UTC
by the time I was 5o my hair was 20% grey now at 54 Iam 90% body hair included been full blown 30yrs
Comment by: richard k.
(ft lauderdale, fl) Fri., Sep. 28, 2012 at 6:34 am UTC
I think the important thing to consider which she mentions, is that HIV is an immune compromising disease, so that as the body ages, HIV+ individuals will be at higher risk than non-compromised individuals. However, immune compromised individuals in the general population that are HIV- also include cigarette smokers, excess consumers of alcohol and drug abuse. This is why I believe it is imperative for HIV + individuals to eliminate additional immune compromising factors in order to live longer, healthy lives.
I fail to understand given the above average use of those three factors in the gay population and especially in the HIV+ population that doctors do not intervene on behalf of their patients.
Comment by: SÚrgio
(Brazil) Thu., Sep. 27, 2012 at 3:53 pm UTC
I am not so sure about an early aging to positively charged people. I am a 48 years old male, who is positive now for 21 years. I am on meds for 11 years. I started meds when my CD4 count was 44. I work out very hard, practice judo and boxing. I am in many senses stronger and healthyer than when I was negative. I have colleagues in my work that, being 10 years younger than me, look and feel 10 years older than me. I have a healthy diet, go to work every day by skateboard, I do not drink or use drugs. Again, i feel younger than when I was 26 years old. I love my job, I am married with a six years old daughter, and, in spite of being positive and on meds, I plan to live at least until 80 years old. So, I think that all this studies about aging in positive people are just guidelines, but not a plain truth for all positively charged people on earth.
Replies to this comment:
Add Your Comment:
(Please note: Your name and comment will be public, and may even show up in
Internet search results. Be careful when providing personal information! Before
adding your comment, please
read TheBody.com's Comment Policy
.)