Here's the bottom line on "accelerated aging" among people with HIV: It's probably not as bad as you think.
Plenty of scary headlines have made their way across the Internet in recent years, decrying the body-decaying effects of getting older and portraying the sense that HIV (or HIV meds) causes people to suffer these problems at far higher rates far earlier in their lives. And by "far earlier," some experts felt we were talking as many as 20 years earlier, according to some of the first research that explored the issue.
But the problem that often occurs with early research is that it's ... well, a bit premature in its findings. "There certainly is more of a trend for HIV-positive people to be a bit younger" when they develop certain health problems, says Amy Justice, M.D., Ph.D., a professor of medicine and public health at the Yale School of Medicine. "But when I say a bit younger, we're talking about somewhere between one and six years -- we're not talking about 20 or 30 years."
Justice should know: She is one of the world's leading researchers on aging and HIV. As the lead investigator of the massive Veterans Aging Cohort Study (VACS), it's her job to delve into one of the largest troves of information in existence and help us all better understand the ways in which HIV intersects with other health problems that emerge as we get older.
What she and her team have found is rewriting much of we thought we knew about aging and HIV. It's also helping us figure out some concrete steps we can take to prevent or treat health problems we associate with "premature aging."
A Rose by Any Other Name
To begin with, our whole approach to the idea of "early aging" misses the mark, Justice says. "If you talk to anyone who is a geriatrician -- who studies aging -- they will say this concept of 'premature aging' is a misnomer," she explains. "If you look at anyone with chronic disease, they look older than someone without chronic disease."
The problem, Justice says, is not that people with HIV are "getting older" more quickly. Instead, what happens is that HIV, like many other chronic illnesses (such as diabetes), sometimes triggers or worsens other health issues -- many of which we're naturally at greater risk for as we get older. "Are people who are sick and have HIV more frail, more likely to have problems with their health, than someone who's not? Of course they are," Justice says. "Why do we have to invoke 'premature aging' when we talk about that?"
Defining the Risk
Through her work with VACS, Justice and her colleagues have uncovered some of the most reliable information we've learned to date about the timing of various health problems in people with HIV.
Here's how the study works: More than 7,400 people living in or near eight U.S. cities are enrolled in VACS. The HIV-positive people are "matched" against HIV-negative people who otherwise have extremely similar characteristics (such as age, location and race). The study then follows these people over time and records when they develop various health complications.
When comparing the HIV-positive people to the HIV-negative people, VACS has found that HIV-positive people: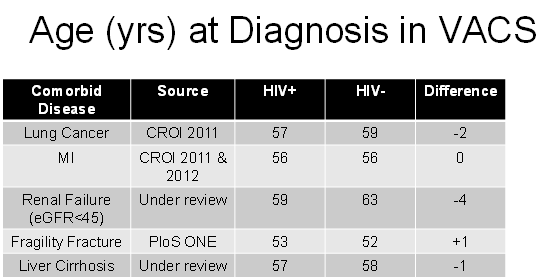 A slide from a presentation given by Amy Justice at an HIV/AIDS conference in 2012. (Click the image to enlarge it.) It compares the average age at which HIV-positive people and HIV-negative people enrolled in VACS were first diagnosed with certain key health problems. ("MI" is short for "myocardial infarction" -- i.e., a heart attack.)
Develop kidney failure about four years earlier.
Develop lung cancer about two years earlier.
Develop cardiovascular disease as much as six years earlier -- but do not begin to experience heart attacks earlier at all.
Develop liver cirrhosis about one year earlier.
Fracture a bone due to bone weakness one year later.
This isn't the only research being done to make more accurate estimates of how much "earlier" people with HIV develop health problems. Less than two years ago, a major study funded by the National Cancer Institute found that previous estimates drastically overestimated how much earlier people with HIV develop certain cancers, because it didn't properly take people's ages into account.
But why is it that studies such as VACS manage to find such a smaller age difference than earlier studies had found? Which findings should you believe more?