Life, Death and Photographs
By Brooke Davidoff

September 13, 2012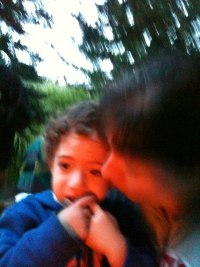 Myles and Mom.
I finally had a dream I was dying of AIDS. I was living in a concentration camp-like place, just watching other people get sick, patiently waiting my turn. There were winding stairwells and the place kind of resembled a fire station training building, it was a huge square, a cold dark and ugly building. (Or maybe I was on an episode of Ghost Adventures?) Anyway, my husband Keanen was there for a visit, Myles was not. I got taken out to go shopping in San Diego, a place I remember well. I was in the Padre Store in Mission Valley. I was actually pissed off when I woke up and I was not in fact back home in San Diego.
I also woke up angry for my son. I thought of all the events we have had in the last 2 years and how there are very few pictures of him and me together. How if I died when he was 5, that the amount of pictures he would have of him and his father are like 100 to 1 the ones he would have of him and his mommy.
When my father died it was one of the first things I realized. He took ALL the pictures of us kids and mom when we were growing up. From family vacations to holidays, birthday parties, the zoo, Disneyland, the beach -- everywhere. Pics, pics of my mommy and us kids. For every 25 pictures of my mother and me, there is maybe 1 of my father and me.
I do not have ONE picture of myself at Myles' 2nd b-day party. Not ONE. I do remember it, I was there. Looking back at the pictures he would have no idea of that when he gets older, and that pisses me off. It's not like I keep this disease a secret.
I guess I thought the in-laws or my husband would pretend less that I was fine, and we can just get pictures next year, or maybe the next. Maybe this is more important to me than any of them since they don't have to think of their own death. And maybe the loss of my father and a random disease diagnosis makes one ponder these issues. It's just a picture, some might say. In the last 3 years of my life nothing is "just a picture" anymore.
There is not one Mom, Dad and Myles picture from his b-day this year, or Thanksgiving last year, or the year before. Seems all we have are Xmas pictures of the family and I'm not even Christian.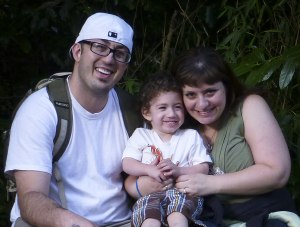 Myles with Mom and Dad.
Am I the only one of the family who even thinks I could die at any time, and my son would be left pictureless? He'll have to grow up and learn to use Photoshop so he can have pictures of us together. I try to take them myself and usually end up with a face and a shoulder.
My mommy is coming to town. We'll have to go photo crazy so everyone on our Facebook accounts thinks we're crazy. But I know she will "get it." She also lost my father and her own parents not too long before. She realizes you have to live for today, and not take tomorrow for granted. Once we're gone pictures and memories are all that's left. Until someone close to you dies you have no idea how important the pictures are. Her little girl has AIDS; I think she "gets it."
I'm close to death, a lot more than I care to be. I have NO grandparents left alive. My husband is only missing one. I'm missing a parent while he's got two, and two step parents. I know about 10 dead kids from my high school, from a motorcycle crash just months before his high school graduation on our high school campus, to breast cancer to adenocarcenoma cancer, to people slipping drugs in friends' drinks and having them OD at a party without anyone knowing.
I know life is not forever. I know one day I'll be a memory, a bunch of words on paper both printed and handwritten, and a pile of photos for my son to keep in a box, or hang on the wall when they don't make him cry. I don't want him to want more when this day comes.
Get email notifications every time this blog is updated.
---
Add Your Comment:
(Please note: Your name and comment will be public, and may even show up in
Internet search results. Be careful when providing personal information! Before
adding your comment, please
read TheBody.com's Comment Policy
.)