The Food and Drug Administration (FDA) in July approved Truvada as the first medication to help prevent HIV infection. As expected, the approval came with restrictions.
Truvada, a combination of tenofovir (Viread) and emtricitabine (Emtriva), is one of the most prescribed medications for HIV in this country. For HIV prevention, the use of Truvada is called "PrEP," for "pre-exposure prophylaxis."
"[We] commend the FDA's approval of [Truvada] for the use of [PrEP] to prevent HIV transmission. This approach can prevent many new infections and could dramatically impact HIV transmission worldwide," said Kenneth H. Mayer, M.D., Medical Research Director and Co-chair of The Fenway Institute at Fenway Health. "My colleagues and I are delighted to have helped to demonstrate the utility of this promising approach for HIV prevention."
David Ernesto Munar, President/CEO of the AIDS Foundation of Chicago, said, "Our challenge now is to implement PrEP as strategically as possible, and to ensure the people who need it most, those who are most at risk for HIV, have access."
Advertisement
"This is an enormous turning point, a real game changer, in the fight against HIV," said Jim Pickett, AFC's Director of Prevention Advocacy and Gay Men's Health. "The toolbox we have now has Truvada as PrEP. We can look forward to more sex acts being protected, especially among individuals who have already chosen, for whatever reason, to not use condoms consistently."
According to a press release from the FDA, "Truvada is to be used for [PrEP] in combination with safer sex practices to prevent sexually-acquired HIV infection in adults at high risk."
The FDA said Truvada for PrEP should be used as part of a comprehensive HIV prevention plan that includes risk reduction counseling, consistent and correct condom use, regular HIV testing, and screening for and treatment of other sexually-transmitted infections, stating that "Truvada is not a substitute for safer sex practices."
Truvada now carries a Boxed Warning on its drug label alerting health care professionals and uninfected individuals that Truvada for PrEP must only be used by people confirmed to be HIV-negative before being prescribed the drug and tested at least every three months during use to reduce the risk of developing drug resistance. Both the antiviral and the PrEP dose is one pill taken once daily.
Truvada maker Gilead Sciences worked with the FDA to create a Risk Evaluation and Mitigation Strategy (REMS) for Truvada PrEP. The REMS focuses on a prescriber training and education program in counseling and managing individuals who are taking or considering Truvada for PrEP. The REMS looks at the elements of a comprehensive HIV prevention strategy, the importance of adhering to the recommended daily dosing regimen, and the serious risks of taking Truvada for PrEP if already infected with HIV or of becoming infected while taking it.
According to the press release, "Truvada's safety and efficacy for PrEP were demonstrated in two large, randomized, double-blind, placebo-controlled clinical trials. The iPrEx trial evaluated Truvada in 2,499 HIV-negative men or transgender women who have sex with men and with evidence of high risk behavior for HIV infection... Results showed Truvada was effective in reducing the risk of HIV infection by 42% compared with placebo in this population. Efficacy was strongly correlated with drug adherence in this trial."
It was also shown in iPrEX that there was a 92% reduction of risk for HIV in participants who took Truvada in the prescribed once-daily dose.
"The Partners PrEP trial was conducted in 4,758 heterosexual couples, where one partner was HIV-infected and the other was not (serodiscordant couples)," the press release continued. "The trial evaluated the efficacy and safety of [both] Truvada and [Viread] tenofovir versus placebo in preventing HIV infection in the uninfected male or female partner. Results showed Truvada reduced the risk of becoming infected by 75% compared with placebo.
"No new side effects were identified in the clinical trials evaluating Truvada for the PrEP indication. The most common side effects reported with Truvada include diarrhea, nausea, abdominal pain, headache, and weight loss. Serious adverse events in general, as well as those specifically related to kidney or bone toxicity, were uncommon."
As a condition of approval, Gilead Sciences is required to collect and analyze samples from individuals who become infected with HIV while taking Truvada to see if they've developed drug resistance. The company is also required to collect data on women who become pregnant while taking Truvada for PrEP and to conduct other research.
"Today's decision is the culmination of almost 20 years of research involving investigators, academic and medical institutions, funding agencies, and nearly 20,000 trial participants around the world, and Gilead is proud to have been a partner in this effort," said Norbert Bischofberger, Ph.D., Executive Vice President, Research and Development and Chief Scientific Officer, Gilead Sciences.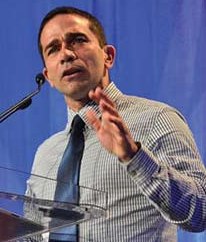 Moises Agosto
The following is from a statement from Moises Agosto, Director of Treatment Education, Adherence, and Mobilization for the National Minority AIDS Council (NMAC):
"While PrEP shows substantial promise as a supplement to current HIV prevention efforts, it is by no means a panacea and is only effective when used in conjunction with traditional prevention and risk reduction strategies, such as condom usage.
"Anti-retroviral medications, like Truvada, are extremely powerful drugs with the potential for serious side effects. As such, PrEP should only be used by individuals who are highly vulnerable to HIV infection, including those in sero-discordant couples, sex workers, and gay men. Its efficacy is also directly related to an individual's adherence to a regimen, and should only be used by those who can commit to taking it regularly. Finally, use of PrEP by individuals who may already be HIV-positive could increase the risk of drug resistance.
"In recent years, there have been a number of promising developments in biomedical interventions -- from treatment as prevention and pre-exposure prophylaxis to microbicides and vaccine research. These advances have resulted in the greatest expansion of HIV prevention tools than at any other time in the history of this epidemic. Coupled with the reforms included in the Patient Protection and Affordable Care Act, as well as the National HIV/AIDS Strategy, we are in a position for the first time in over three decades to finally end this epidemic. Today's decision is another important step in realizing that goal."