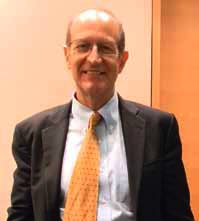 Vaccine chief: The NIH's Vaccine Research Center is headed by Dr. Gary J. Nabel.
With an annual budget approaching $31 billion, the National Institutes of Health (NIH) is the medical research agency of the federal government and the largest source of funding in the world for medical research. The NIH is also a driving force behind AIDS and HIV vaccine research; 10% of the agency's budget -- $3 billion -- goes toward HIV/AIDS, funding research conducted at academic, commercial, and private labs, as well as at NIH headquarters in Bethesda, Maryland.
Some 75 buildings are scattered throughout the 312-acre NIH campus. During the International AIDS Conference, the agency hosted a press tour of two of those buildings, offering a closer look at the role the NIH plays in clinical research and treatment.
The Vaccine Center
Opened in 2000, the Vaccine Research Center is a five-story facility where research is done to find vaccines not only for HIV, but for influenza, Ebola virus, and other diseases that pose global health risks.
Gary J. Nabel, M.D., Ph.D., director of the Vaccine Research Center, opened the tour, explaining how the facility serves as an "intellectual hub" by putting all the stages of vaccine research and development under one roof.
Basic research is first conducted to find a promising vaccine candidate. A vaccine is of little use, however, if it can't be efficiently and safely mass-produced, so it undergoes test production for good manufacturing practices and quality control. From there, a successful candidate then goes to clinical trials to determine how safe it is for patient use. Results from the trials are reviewed in a series of assessments. If the vaccine candidate doesn't pass this process with flying colors, it goes back to basic research, and the cycle begins again. The three-phase cycle can take 10-18 years for a would-be vaccine to complete.
Advertisement
Nabel said that the search for a vaccine has been elusive, because, "HIV is constantly mutating, changing its genetic make-up and protein structure."
"HIV is a sugar-coated virus," Nabel explained. Sugars produced by the body are converted into proteins by the virus. "This makes it invisible to the body's immune system, which does not perceive the virus as a threat."
However, Nabel offered some perspective on the search for an HIV vaccine. Although it took 17 years to develop a vaccine against hepatitis B, he pointed out that a polio vaccine took 45 years.
"A vaccine is at least 10 years into our future," Nabel said. "What we've learned is that HIV is a very crafty virus."
While one or two vaccine candidates look promising, it will be at least until mid-2013 before an assessment can be made, and a little longer to evaluate more mature data, Nabel said. Even if a vaccine were discovered today, it would take at least four years of additional testing and evaluation before it could become publicly available.
The Clinical Research Center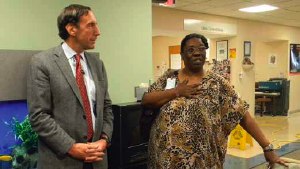 Clinical care: Dr. Henry Masur introduces Senora Mitchell, a medical clerk who has been with the Hatfield Clinical Research Center's HIV clinic since 1987. "I love my work," Mitchell said. "I get to make a difference every day."
Modest accommodations: You might expect that an examination room in the most prominent medical research hospital in the country, if not the world, would look better than this. But Masur noted that taxpayers pay for NIH facilities, so the exam room looks the same as at any other doctor's office.
Next stop on the tour was the Mark O. Hatfield Clinical Research Center, a hospital where 1,500 clinical trials for a variety of illnesses (including HIV/AIDS) are conducted. Opened in 2005, the Hatfield Clinical Research Center is connected to the Warren Grant Magnuson Clinical Center, built in 1953, to form the largest hospital in the U.S. dedicated to clinical research.
The Clinical Research Center has spawned numerous treatments, from the first pediatric chemotherapy to development of AZT, the first anti-HIV drug. The center houses an HIV clinic that treats 500 patients, only one or two of whom are ever in-patients.
Dr. Henry Masur is the research center's Director of Critical Care Medicine, but has focused the major part of his career on HIV and its associated complications. Although a research institution, Masur said the clinic recognizes the importance of keeping HIV-positive patients connected to care. That's why while half the clinic's nursing staff is in research, the other half of the nurses are also case managers.
Hepatitis C is a major concern for people who are HIV-positive, Masur said. There are 3-5 million people who have hep C out of 314 million Americans. While the current standard of care for hepatitis C can sometimes be difficult to tolerate and only helps to clear the virus in about one-third to one-half of patients, recent advances have raised the cure rate to 75% and higher. Masur said advances in treatment look even more promising, comparing them to the advent of protease inhibitors and combination therapy for HIV that came in 1995.
As people are now living longer with HIV, Masur said the research center is beginning to look at aging and other complications. "We'll soon be examining neurocognitive issues," he said. "Beyond anecdotally, does it happen, and if so, what can we do to reverse it?"
"Knowledge is bi-directional," Masur said. "What we learn in the lab will help patients. But there is a lot we can learn from patients and put to use."