Securing Care for Women Living With HIV
Challenges and Solutions for HIV-Positive Women
September/October 2012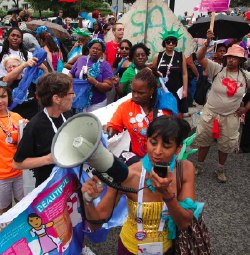 Organizing principal: Megaphone in hand, Naina Khanna, Director of Policy and Community Organizing, WORLD, rallies demonstrators at the International AIDS Conference in July. Photo: ©IAS/Steve Shapiro, Commercialimage.net.
Five years ago, women had the dubious distinction of surpassing men as the majority of people in the world living with HIV. And in some countries, including Cambodia, Mozambique, and Rwanda, women now comprise nearly two-thirds of people living with the virus.
In the U.S., the HIV epidemic looks very different. Women comprise over a quarter of the estimated 1.2 million people living with HIV in the U.S. -- not including transgender women, for whom no accurate data are available. In 1984, women represented only 8% of HIV infections in the U.S. Thus, even at a national level, the trend is troubling. Data from 2012 show that in the District of Columbia, rates of new HIV diagnosis among black women have doubled. In Maryland, 35% of all AIDS diagnoses are among women, and in the U.S. Virgin Islands, 36.4% of people with an AIDS diagnosis were women in 2009. And when you drill down further, particularly in the U.S. South, in some counties, HIV infection rates among females may be even higher. Let's be clear: this is not a numbers game anyone wants to win.
Of even more concern, in the United States, HIV acquisition among women is correlated with race, poverty, experience of trauma, mental illness, substance use, and vulnerability to assorted social stigmas -- the same factors that reduce likelihood of positive health outcomes in people living with HIV. That is, these socioeconomic factors increase vulnerability to poor health outcomes, with or without an HIV diagnosis. U.S. women living with HIV are disproportionately likely to be women of color (over 80%), especially black and Latina, and living in poverty, compared to men living with HIV. According to the HIV Cost Services and Utilization Study (HCSUS), 64% of HIV-positive women in ongoing medical care had annual incomes under $10,000, compared with 41% of HIV-positive men in care. More than twice as many HIV-positive women (76%) as HIV-positive men (34%) are living with and caring for at least one child under the age of 18. Thus, care systems for HIV-positive women must account for caretaking responsibilities, including provisions for minor children.
Alarmingly, data show that adherence to anti-retroviral therapy tends to decrease among women living with HIV as the number of children under 18 living in the home increases. This is no real surprise. As women, we tend to prioritize caring for others over ourselves. Sometimes it's a matter of practicality -- we only have so many dollars to go around and hours in the day and bus vouchers. Sometimes it's a matter of stigma -- we don't want others to see us taking our meds or going to medical appointments. And frequently it's a reflection of how we value ourselves, especially as poor women, women of color, women living with HIV. We have internalized that our health, our wellness, our wellbeing is too often not a priority for our society and political leaders -- so why should we make it a priority for us?
Transgender women are especially likely to live in extreme poverty, to face exceptional barriers to safe housing, employment, and access to quality health care, and, if HIV-positive, are less likely than other populations to receive antiretroviral therapy and more likely to experience negative interactions with health care providers. Transgender women are also disproportionately likely to face violence in their communities.
Advertisement
Although researchers within the U.S. and internationally have known for years that women who have experienced violence and trauma are at elevated risk of acquiring HIV (even in non-conflict settings), new data released in 2012 show that women with HIV in the U.S. are twice as likely to have been victims of intimate partner violence and suffer post-traumatic stress disorder at a rate five times greater than HIV-negative women. Rates of violence faced by transgender women are likely to be even higher -- data released in 2011 by the National Coalition of Anti-Violence Programs showed that transwomen comprised 44% of all LGBTQ murder victims. The same study found that over half of LGBTQ violence survivors did not even report attacks, with the highest rates of non-reporting being among transgender women of color. Not that surprising, given that transwomen also face disproportionate sexual, physical, and verbal harassment at the hands of police, according to Injustice at Every Turn -- A Report of the National Transgender Discrimination Study. Research shows that women, including transwomen, who have experienced trauma are less likely to be adherent to medication and are more likely to face multiple barriers to care overall.
Systemic violence against women also persists. Women living with HIV in the U.S. continue to report significant reproductive rights violations, despite medical progress and research and treatment advances that clearly demonstrate HIV-positive people can live a long and healthy life, avoid passing the virus to children with appropriate care and treatment, and even avoid passing the virus to their sexual partners, when viral load is suppressed and other factors that increase vulnerability (such as genital sores or ulcers) are not present.
Importantly, for many women living with HIV, motherhood may be one of the only socially valued identities available to them. As described by Michelle Berger in Workable Sisterhood, many women living with HIV in the U.S. already exist at the intersection of race, class, and gender oppression, in addition to societal stigma about any behaviors they engage in, or life experiences they have had -- even prior to HIV diagnosis. "When they became HIV-positive all the positions they occupied -- drug user, sex worker, poor woman, were already concentrated, or saturated, with a set of representations and assumptions about those positions." Thus, HIV becomes just another one of several stigmatizing social markers. Yet having a socially valued identity may impact HIV-positive women's feelings about themselves and may inspire them to take better care of themselves. In one study, HIV-positive women reported that pregnancy and childrearing provided them a socially sanctified feeling of being important and valued. Motherhood became a highly valued identity that helped mitigate regret related to HIV acquisition and other life circumstances.
One study, published in AIDS Patient Care and STDs in May 2010, demonstrated that of 181 predominantly African American HIV-positive women in care in two urban HIV medical clinics, only 31% reported a personalized discussion with their HIV provider about their own fertility desires and intentions. Of those 31%, 64% had initiated the conversation themselves with their providers. The same study found that age was a strong predictor of provider-patient communication about pregnancy, with women under the age of 30 being six times more likely to have had a general conversation about pregnancy with their providers. Another study of 118 HIV-positive women conducted at the University of Rochester found that 54% of participants in that study had been sterilized. The study found high rates of "tubal regret" among participants, and pointed to a need to counsel women living with HIV about reversible methods of contraception. And research conducted by the U.S. Positive Women's Network found that women living with HIV self-reported high rates of coerced abortion, tubal ligation, and sterilization. When HIV-positive women do have conversations with providers about their fertility plans, some health care providers perceive the pregnancy-related needs of women living with HIV to be limited exclusively to the prevention of vertical transmission. In addition, data collected by the U.S. Positive Women's Network suggest that HIV criminalization laws, currently on the books in 36 states and U.S. territories, may deter women from HIV testing, from accessing care, and may intimidate them with regard to disclosing sexual behavior to providers.
Despite the fact that there are many other diseases and genetic disorders with higher risk of parent to child transmission, and that assisted reproduction is not only permitted but often encouraged in such cases, HIV status has been used as a special reason to deny HIV-positive women the right to conceive naturally or with assistance; the right to comprehensive family planning and counseling service; and the right to retain custody of their children.
Given last year's HPTN 052 data, which demonstrated a 96% reduction in HIV transmission among heterosexual serodiscordant partners when viral load was suppressed, people living with HIV and/or their partners who want to conceive should be counseled about a range of options, including natural conception and now pre-exposure prophylaxis (PrEP) for the negative partner. Prevention justice demands that a range of HIV prevention options be available, including options that are controlled by women. But women's bodies are not only about making babies. Fully upholding our human rights includes upholding our right to be sexual beings who experience joy and erotic pleasure. And for some of us, that means not using condoms, with our partner's knowledge and consent. This will require a conscious effort of providers counseling patients who have experienced stigma, sometimes multiple concurrent stigmas, to provide accurate information about risk.
More From This Resource Center
---

This article was provided by
Positively Aware
. It is a part of the publication
Positively Aware
. Visit
Positively Aware's website
to find out more about the publication.
---
| | |
| --- | --- |
| No comments have been made. | |
Add Your Comment:
(Please note: Your name and comment will be public, and may even show up in
Internet search results. Be careful when providing personal information! Before
adding your comment, please
read TheBody.com's Comment Policy
.)