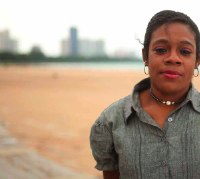 Tamara Wilson, HIV-positive since 1999, volunteers at Chicago Women's AIDS Project. She credits her mother with helping her to manage her HIV, and TPAN for helping to save her life. Photograph by Chris Knight.
In the mid-1900s, there was the rise of so-called "risk factor epidemiology." People became much more focused on individual determinants, the individual behaviors and characteristics of people that put them at risk for disease. And these things are important.
But it turns out there's increasing evidence that in order to really make headway with the HIV epidemic in this country, and in the world, there's going to need to be more attention paid to some of the social factors that drive people's behavior and also set them up to acquire infection.
It appears, for example, that the connections between black people in the U.S. differ to some extent compared to the connections among white people in the sense that there are more disassortative relationships, or relationships between people with different risk factors. There's more of a tendency for African Americans to have relationships with people who have much greater risk for HIV than they themselves do. There's also the issue of partnerships that overlap in time, or sexual concurrency. In addition, they tend to find partners within their communities, which are often segregated. Sexual concurrency has been found to put people at greater risk for HIV than serial monogamy, even if people in both groups have had the same number of partners over the same period of time.
The thing that is really, really important is the observation that it is the social context of life in the United States that really contributes to those partnership patterns. It's pretty clear that black people as a whole tend to live under very different circumstances in the United States than white people do. And some of these characteristics that we have been studying, like incarceration for example, not only contribute to HIV, but they're also emblematic of the oppression that minority populations are living under in the United States. A history of incarceration, for example, which is experienced by black men more than any other group, primarily as a result of the war on drugs, lowers the possibility of employment and increases the risk of poverty, while at the same time disrupting the stability of long-term partnerships. Incarceration and death due to violence and disease in black men lead more black women to enter into relationships with men who have greater risk factors for HIV than they do.
Advertisement
This doesn't mean that each and every minority, each and every African American, in the United States is poor and oppressed. But as a whole, it is these types of factors that contribute to the spread of HIV, STDs, and in fact different rates of other diseases, such as diabetes and heart disease. Black people are at greater risk of acquiring HIV infection independent of their own low-risk behavior compared to other groups.
I would also emphasize that we do have personal responsibility for our behavior. However, I think some people tend to look at this work and say, "Oh, they're just blaming the environment, blaming the majority population." That's really not exactly it. While we do have personal responsibility for our behavior, I think it's very critically important to realize that black people have substantially increased risks than other populations, even with the same behavior. And this has been demonstrated. This is true for black gay men as well as for black heterosexual men and women.
I would say to black women living with HIV, keep the faith. Teach your sons and daughters all the lessons you've learned. You have a wealth of experience, and certainly resiliency.
We need to work in whatever ways we can to change the social and economic factors that are putting our people at risk, and putting our children at risk.
It would help if everyone in the United States had health care. It's astonishing to me that, apparently, health care is not a right. It remains an open question in the United States that people should have health coverage, even though it's clearly most cost effective for the nation as a whole. This is a civil rights issue. That's what I mean by working to change the economic factors that put people at risk.
Health care availability, affordability for all, would make a huge difference in terms of transmission of HIV, and also in terms of the personal health of people who are living with HIV.

Editor's note: Adaora A. Adimora, M.D., M.P.H., received her medical degree from Yale University School of Medicine and Master's in Public Health in epidemiology (the study of how disease spreads among people) from the University of North Carolina at Chapel Hill (UNC). Dr. Adimora's work as both a physician and an epidemiologist has focused on infectious disease, particularly HIV and its disproportionate effect on minority populations. Her groundbreaking research includes the publishing of the first national data on concurrent sexual partnerships in women and analysis of the contextual (social, economic, and environmental) factors that promote concurrent sexual partnerships among African Americans in the United States. She has testified before a Congressional committee on the HIV epidemic and, for World AIDS Day in 2010, was invited to the White House to speak in a panel discussion. -- Enid Vázquez