How One Therapist Helps HIV-Positive Women Learn to Take Care of Themselves
September/October 2012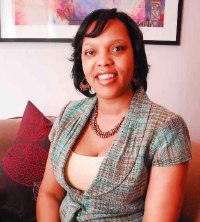 Kesha Burch, L.C.P.C.
For more than 10 years, psychotherapist Kesha Burch, L.C.P.C., has counseled HIV-positive women at the Chicago Women's AIDS Project (CWAP). Whether positive or negative, the women she counsels face similar problems, she says, with health being an added and important concern for those living with HIV or any other chronic illness.
"The HIV-positive women I work with have the same types of issues, but it's even more important that they address emotional and life concerns because their health depends on it," says Burch. While women often focus on interpersonal problems and family stress, improved health is always an underlying goal of Burch's work at CWAP. "Stress that comes from emotional and psychological problems can be a threat to a woman with HIV," she says, pointing out that stress and depression are known to increase mortality for positive women.
Nevertheless, she finds that many women worry about their lovers and families more than they do about themselves, even in the face of HIV.
"Women in our society are rewarded for taking care of other people," Burch said. "We often don't think about taking care of ourselves independent of someone helping us with that or coaching us through it. We may not be socialized to be assertive. And of course, all of that really comes through in thinking about how to negotiate safe sex practices and so on and so forth.
"You don't want to get away from all the nurturing," she notes, "but how do you take care of other people and take care of yourself as well? There has to be some balance. Hopefully, counseling helps women achieve greater balance. It's about feeling empowered enough to be themselves and to pursue things that they're worthy of having in their lives," says Burch.
Advertisement
Instead, she finds that many women settle for less than they deserve, which can begin a cycle of more unhappiness in their lives. Others have problems establishing healthy relationships and may have negative coping skills, experiencing difficulty with attachment (including having many sexual partners) and figuring out who is worthy of being with them. These women often feel that they have to accept bad behavior in order to be in a relationship or are confused about what they have to do to be in one.
"There are also issues around disclosure and that relates back to self-esteem and self-worth. It's important for them to communicate with partners for their own health and also so that they can be truly known and accepted and loved," she said. "This is similar to the things that other people are dealing with, being true to themselves."
Once a woman has a healthier relationship with herself, her other relationships are healthier too. Burch cites support groups and support buddies as being important for positive women, along with caring friends, family members, and supportive partners.
"We were created to be in relationships with each other. It's not just about romantic relationships, but about learning how to be a good parent and how to have a healthy friendship ... all kinds of relationships that are essential to human existence," she says. "Everyone needs a support system, and the healthier your support system, the better off you are. It's about the people in your life who are for you and support you. That helps anybody's mental health and physiological health as well. It helps anybody to become more resilient and do better."
What's different for people living with a chronic illness like HIV, she says, is that the same skills they use for creating healthy relationships also work in managing their health care.
"Sometimes negative issues can seep into their attitudes towards their health, their health care, and their provider. When I talk to them about using skills in a relationship, I recognize that those assertiveness skills can help them ask for what they need from their medical provider so they don't just think that they go to their doctor and are told what to do, but report things that are of concern to them and ask, can we check into this?" Burch said. "Sometimes I rehearse with them. 'What would you like to say when you go to the doctor?' I had a client who felt that her doctor wasn't listening to her. There were some things that she thought needed to be addressed, but she was complaining about it to other people and not taking it back to the doctor to say 'this really worries me' or 'I wish that at my last appointment we could have talked about this.'.
"So I helped her narrow down her complaints and her concerns to three things per visit, because there's some reality there too. The doctor cannot spend 90 minutes on a visit. The alternative was for her to feel consistently frustrated with her experience with the doctor," Burch said. "She didn't realize she could ask for what she wants. For the first item on her list, she was able to get a referral to a specialist. That also then reduced her anxiety and worry about what was going on with her.".
She notes that not being able to communicate with a provider or understand what was being asked of them could lead some people to not take their medication correctly.
Burch pointed to other practical things people can do to support their self-worth and value. "It could be as simple as putting on make-up. It could be signing up to take a class or to stop talking to someone who is not doing right by them -- any behavioral steps that reinforce the message that they're of value.".
Going for counseling, she believes, is one big step towards self-care.
"When you show up to therapy, that's just in and of itself an affirmation that you're worthy of a better life and this is part of what you are going to do about it," Burch says. "There's always some kind of spark I see that pulls women in, something I can't describe that gives them just a little bit of hope that things could be different. Especially for the women who are dealing with addiction, it's that little piece of themselves that helps to pull them out, to show up on the doorstep of a detox or drug treatment program. There's a ton of internal strength and resiliency there, and that's something that I reflect back to them sometimes. 'Look at all that you've been through to get to this point.'.
"When you see that spark, that's the essence of who that person really is," says Burch. "The trick is to get them to see it, despite their circumstances."
She sometimes suggests that people make positive affirmations, keep a journal, and read certain books or authors. While she can help weed out negative beliefs people have about themselves that they may not even be aware of, these activities can keep people focused on messages that are the opposite of the negative beliefs and feelings. "It's about changing that message," she said.
She sometimes has clients take time to just relax and sit silently. Many people are often too busy running around doing everything they have to do to give themselves time for reflection and hearing what's inside them, she said.
Perhaps the most important part of her work, she believes, is treating people with kindness and respect. "That's really at the core of the Chicago Women's AIDS Project," she notes. "The mission statement is about empowering women, seeing the value in each and every woman."
More From This Resource Center
---

This article was provided by
Positively Aware
. It is a part of the publication
Positively Aware
. Visit
Positively Aware's website
to find out more about the publication.
---
| | |
| --- | --- |
| No comments have been made. | |
Add Your Comment:
(Please note: Your name and comment will be public, and may even show up in
Internet search results. Be careful when providing personal information! Before
adding your comment, please
read TheBody.com's Comment Policy
.)