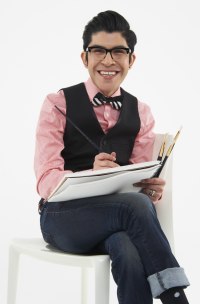 Mondo Guerra
The first time Denver fashion designer Mondo Guerra was interviewed by TheBody.com two years ago, he had just recently disclosed his HIV status on television as a contestant on the eighth season of the hit fashion competition show Project Runway. Since that time he's become a committed HIV advocate. He's currently the spokesman for Project I Design, a campaign encouraging people living with HIV to work with their doctors to tailor the treatment plan that's right for them. Mondo sat down with Kellee Terrell to talk about what's happened since his historic disclosure -- and his own past adherence challenges.
Tell us a little bit about what's changed in your life since the last time I interviewed you for TheBody.com.
Well, the biggest change is that I'm no longer a loser; I'm a winner!
[Laughs] Were you really a loser before?
No no! I'm just talking about winning Project Runway All Stars. As far as my HIV work, that's changed dramatically. I've worked with Merck on two different campaigns for the past two years. I've really applied what I shared with the world on Project Runway to how I've been living with HIV for the past two years. I have this opportunity to speak and lend a voice to a cause that is so much greater than so many doubts and fears.
I know how that is, because I was that person two years ago. I had so much doubt and I had so much fear; there was so much negative in my life. Now that I've owned this disease, and not let it define me anymore, it's been such a blessing to able to talk about it. That's what really helps me. The beauty of Project I Design is that I get to travel the country and talk about that, and so many people are so willing to talk and share their personal stories with me. I really to try to approach each person's story and apply it to how I live my life, because I think if they're willing to share a piece of what they do with me, then I should share what I do with them. It's a give and take. I think that is so important with the fight against HIV: We really have to share this information and communicate, and know what our struggles and our triumphs are, and what we're going through and how our relationships are working -- not only our relationships with ourselves, but also with our families, and most importantly with our doctors.
Advertisement
Tell me about the I Design campaign, and the importance of tailoring your treatment plan along with your doctors.
The campaign is really about empowering people living with HIV to take a tailored approach to the disease, because all of us living with HIV are different. We all have different needs, and so our treatment plans should reflect that. And you're not going to find out right away what all those needs are. So it's really important to have an open dialogue with your doctor, and to have a doctor that you really trust, that you can go in and share all your information with.
It took me a while to find the right doctor, and it can get frustrating. You start doubting you'll ever find the right doctor. Once you do, it should be someone you feel connected and safe with. Once that happens, when you go in for your appointments, be prepared, know what you need to talk about. There are so many times that I've gone into the doctor's office and left feeling like I didn't get the information I needed -- I didn't talk about this, and I didn't talk about that. It's so important to be prepared not only with questions, but to really communicate with your doctor; your doctor should be like one of your best friends.
You know you have your normal checklist to talk about CD4 count and viral load, and maybe some of the side effects that you're getting from the treatments, but you know now that these treatments are allowing us to live longer, healthier lives, we also have to keep in mind that there might be other health concerns. It's so easy for us living positive to be so focused on our treatment for HIV that we kind of forget what else we need to talk about: mental health, diabetes, heart disease, cholesterol levels, whatever it is. I think asking questions is the most important thing.
There were a lot of times where I failed with my own treatment because I wasn't asking questions. Your doctor can prescribe you something, but you want to be able to say "So why do I need to take this? What are the side effects? How am I going to feel the next day? How long is it going to take me to get used to this drug?" You have to think about the bigger picture. It's not just about taking treatment.